Featured on the LifeStyle Channel's Grand Designs Australia, Warburton house is a serene and curvaceous, plant-covered delight.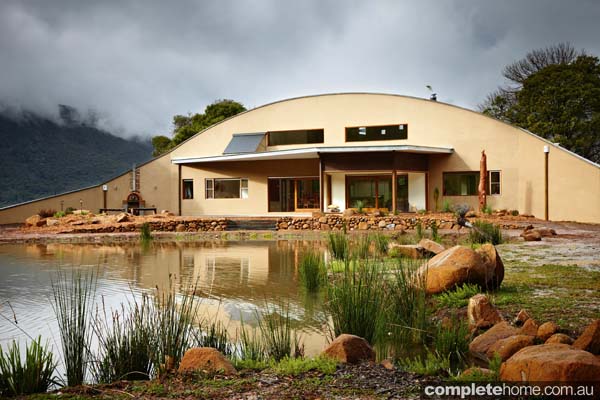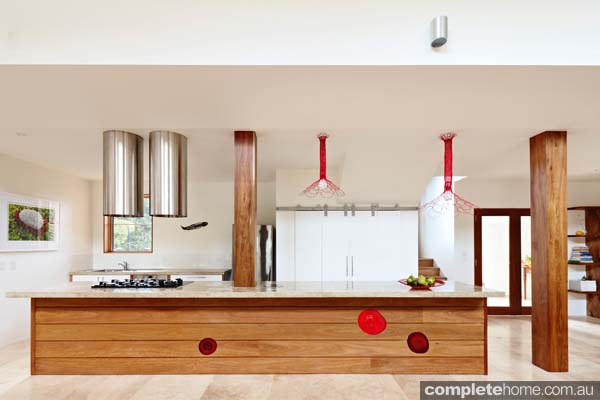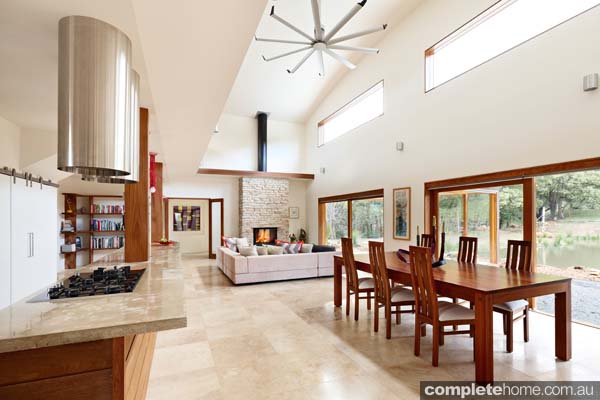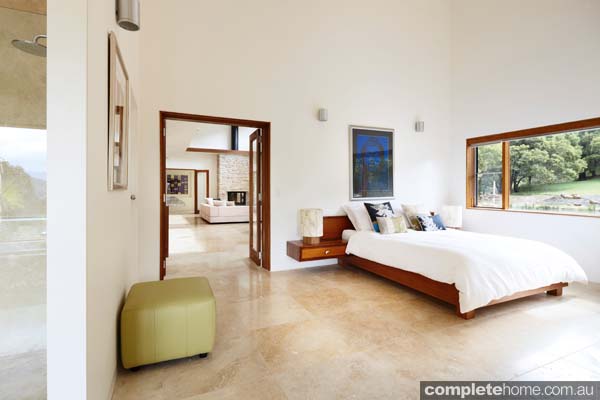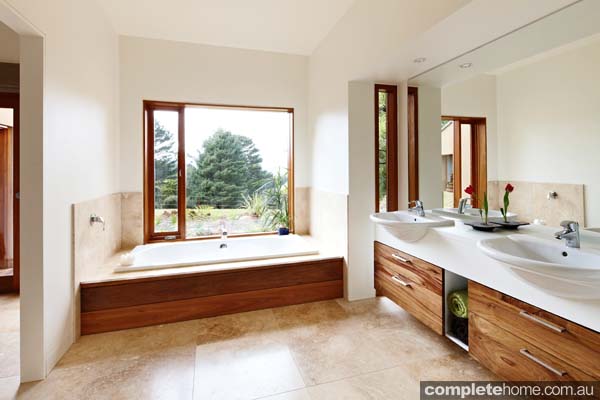 GRAND DESIGNS AUSTRALIA Episode 4 Series 3
HOUSE Warburton
LOCATION Warburton, Yarra Valley, Victoria
COST $691,000
DATE COMPLETED July 2012
When Hailey Cavill and Tyrone Jaspers decided on a tree change, it was Warburton's artistic community, 75-minute commute time to Melbourne and nearby trout-fishing streams that beckoned. They started to question their needs and wants after being "underwhelmed" by existing houses on the market, deciding instead to build from scratch. For the couple, who originally met in 2000 when Hailey rented a house owned and built by Tyrone in Port Melbourne, their Warburton abode was their first joint building project.
An Internet search uncovered an overgrown but intriguing 1.5-hectare block with a spring running through it that played host to a massive decommissioned concrete reservoir that once supplied water to the town. Tyrone, a builder and sculptor, was able to convince Hailey of the site's potential beyond her initial perception that it appeared like sheer "hard work".
A former corporate marketer from London, Hailey moved to Australia in 1995 and established her business, Cavill + Co, which helps the corporate sector to form partnerships with charities. To combine her social entrepreneurial work with the hillside lifestyle, Hailey reconfigured the business (which has built $25 million in partnerships over the past 17 years), so that more could take place online, with less time on the road.
Finding Warburton-based architect Alvyn Williams, of Soft Loud House Architects, came via a recommendation from a local café owner. With the idea of designing a house around things that people care about, the couple was asked to consider how they wanted to live and what being at home meant for them. The architect's written brief — which explored functional, budget, experiential and lifestyle requirements, perception of architecture, experience of space from childhood to present, and the client's aspirations and values — "stretched our vision," Hailey recalls.
Two very different sketch design concepts followed. "One was a direct reflection of the client's stated wants, the other took them to the threshold of what's comfortable and explored the edges of their personalities," Alvyn explains. The couple opted for the latter, which had picked up on Tyrone's fascination for underground homes, while drawing inspiration from Warburton's hilltop terrain to arrive at the curved green roof house design.
Detecting Hailey's strong commitment to Feng Shui, Alvyn commissioned the services of geomancer Juergon Schmidt to undertake an energy analysis of the site, with Feng Shui being one component of that. "It sounds esoteric but it's a practical way of getting more information about a place," says Alvyn, who interpreted feedback from the analysis and incorporated it into the design in consultation with Hailey and Tyrone. A key recommendation was to remove the concrete reservoir and to forget about suspending the house over water. According to Juergon, leaving it would have the potential consequences of a poor relationship, illness and lack of money. Although sceptical, Tyrone was accepting of these recommendations, which aligned with good design principles. Detailed architectural drawings followed, heeding the geomancer's advice.
Removing the reservoir and site clean-up took about seven months ahead of the 16-month build, forfeiting some time to rain. Building the home was a family and community affair. Tyrone worked alongside each of the tradespeople and undertook the balance of the work, ably assisted by his father William, an artisan blacksmith who trained in Europe. Neighbour Ross Gooding, an industrial designer, also provided invaluable ideas and skilled labour. The fireplace, made from stones hand-picked by Tyrone and William from a quarry in Mansfield, Victoria, is one example of the fine craftsmanship evident throughout.
"I was particularly interested in acquiring new skills including working with the Formcraft system that has been used for all the supporting walls," Tyrone says. Formcraft provides excellent insulation and is comprised of polystyrene (made from waste products), steel and concrete.
It's the design of well-proportioned spaces with "the right amount of volume" that is responsible for the home's feeling of spaciousness without imposing a gigantic footprint, Alvyn explains.
The floor plan is simple and logical yet manages to surprise. The entry foyer leads to the open-plan kitchen, dining and lounge area, with all of the major rooms in the home benefitting from a northern orientation. "We were lucky that our block was on a spur and not shaded by the terrain," Tyrone points out.
Bookending the eastern end of the living zone is a master bedroom and ensuite reminiscent of that found in a modern spa retreat, while to the west is Hailey's office and storeroom. Unassumingly, to the right of the kitchen stairs lead to a laundry and toilet on the landing, en route to a mezzanine that seemingly unfurls into myriad other mysterious enclaves. A guest bedroom and ensuite is one such space that's bound to attract an endless trail of visitors. There's bountiful storage in the roof space at one end, while a third bedroom and quirky, cave-like office for Tyrone is tucked into the other. "The relationship of the spaces and the way we like to live fit together with a great sense of harmony," adds Tyrone.
Testament to the benefits of passive solar design is the home's exceptional thermal comfort. The north-facing sunroom abutting the lounge area is the place to be in winter. The winter sun heats the floor while an innovative double-glazed sliding door helps to regulate the temperature and release heat in the living space as desired. That's supplemented by in-floor hydronic heating. Window size and placement also harnesses natural light and cross breezes.
Some 4500 indigenous plants on the roof, installed with the help of 20 friends, make for a stunning green roof and substantially contribute to the home's superior insulation. "I certainly scratched my head pondering how I was going to get the soil up on the roof," recalls Tyrone. Fortunately his research led to We Blow, a process that involved having about eight tonnes of soil literally blown from a truck parked on the main road through a pipe, 200m over a creek and directly onto the roof. Rainwater harvesting takes care of all water supply needs on the property, with an estimated 75 per cent of that heated gratifyingly free by the Apricus evacuated tube solar hot water system.
Warburton has become the perfect backdrop for Tyrone to indulge in his passion — forging recycled metal into collectable pieces of unique outdoor art. He also has a talent for landscape sculpture, which he describes as "a transient form of art using what is on site and natural or native and reassembling it to create something new and intriguing". It was the process of building the home and being able to control the quality and finish that he found particularly rewarding. "Top quality isn't always about pouring money into the job, it's about accuracy, care and thought," he says.
Hailey can't imagine a more serene context from which to indulge in her hobby of painting. And for someone who also loves to cook, not only is the kitchen designed with entertaining family and friends in mind, the Yarra Valley's renowned food stores are also close at hand.
"I feel so privileged to be able to live in such a wonderfully nurturing house that keeps us really cool in the hot months and cosy in the cold months," she says.
"It's a home that was designed specifically for us and is a true reflection of both of us. Because everything works just as we want it to, home feels so relaxing and comfortable," adds Hailey, who finds the hotel experience of work-related travel a stark contrast.
The couple prudently considers their home to be an ongoing project, with stage two to see the completion of the mezzanine area/guest lounge fit-out. Stage three plans include the creation of an open structure and deck over the billabong inclusive of a fold-down bed — an idyllic spot for relaxation or yoga by day, or indeed an amazing outdoor camping experience by night. Hailey and Tyrone prefer the sense of continuous enjoyment of a home that stems from anticipating new luxuries or sub-projects, then working hard to bring those to fruition over time.
WARBURTON HOUSE PROJECT TEAM
ARCHITECT Alvyn Williams, Barry O'Brien, Sean Gallagher — Soft Loud House Architects (1300 732 050, softloud.com.au)
BUILDER Tyrone Jaspers (tyronejaspers.com)
LANDSCAPE DESIGN Soft Loud House Architects (softloud.com.au)
ARTISAN BUILDER-SCULPTOR Tyrone Jaspers (tyronejaspers.com)
STRUCTURE
Structural engineering Coulthard Shim Consulting and Civil Engineers (03 9735 5200) Geomancer/Feng Shui Energy Ecology — Juergen Schmidt (08 8398 0614)
CONSTRUCTION
Artisan builder sculptor Tyrone Jaspers (tyronejaspers.com) Concrete footings and slab Great Terrain Services (0417 327 129 or email gtsconcrete@live.com) Polystyrene concrete forms Formcraft (Vic) (08 9353 4161 or formcraft.com.au) Steel construction Structural Challenge (03 8795 7111 or email dominicieria@gmail.com.au) Timber Bowerbird (03 5966 5966 or bowerbirdtimber.com) Green roof supplies Ken Hitchcock Designs (03 9822 2748 or stonemerchants.com.au) Masonry William and Tyrone Jaspers Plasterers A Cut Above Plastering (0408 100 289) Windows BJ & BF Williams (03 9720 4032) Fireplace Wignells of Melbourne (03 9417 3315 or wignells.com.au)
FIXTURES AND FITTINGS
Heating (hydronic) Alpine Heating (03 5964 7513) Solar hot water Apricus (1300 277 428 or apricus.com.au) Glass roundels Healesville Glass Blowing Studio (03 5962 2211 or hgbs.com.au) Designer lighting Volker Haug (03 9415 9636 or volkerhaug.com) Blinds Blinds by Bayliss (02 9360 7200 or bayliss.com.au) Big ceiling fan Big Ass Fans (07 3297 0100 or bigassfans.com.au) LED downlights Solarphase Alternative Power Solutions (03 5777 5035) Rangehood Qasair Rangehoods (03 9482 7088 or qasair.com.au) Plywood/kitchen flat packs and fittings Allboard (03 9721 5700 or allboard.com.au) Designer lighting ECC (03 9821 5300 or ecc.com.au) Bathroom and kitchen fittings and appliances E&S Trading (03 9811 5300 or estrading.com.au)
FURNITURE AND FURNISHINGS
Cushions and lamps Cloth Fabric (02 9699 2266 or clothfabric.com) Pizza oven William and Tyrone Jaspers (tyronejaspers.com) Metal sculptures Tyrone Jaspers (tyronejaspers.com) Bean Bags Bag2bed (0419 886 366 or bag2bed.com.au) Bedroom painting Three Stories Art Space — Ali Griffin (03 5962 5688 or email ali@threestories.com.au)
SERVICES
Paint Paint Right Nunawading (03 9877 4800) Electrical Valley Electrical & Communications (0418 103 487 or email valleyelect@bigpond.com) Plumbing Harrison Ford Plumbing (03 5966 9404 or email hfp@gpknet.com.au) Solid plastering Steelco Solid Plastering (0418 313 812 or steelcosolidplastering.com.au) Buddhist blessing Venerable Robina Courtin (email robinacourtin@mac.com) Landscaping — roof membranes/waterproofing ARSS (03 9597 0611 or arss.com.au) and Phillip Johnson Landscapes (03 9886 9793 or phillipjohnson.com.au) Landscape design/planting Phillip Johnson Landscapes (phillipjohnson.com.au) Soil blown on roof We Blow — Paul Jennings (0438 069 080 or weblow.com.au) Plants for roof Larkman Nurseries (03 9735 3831 or larkmannurseries.com.au) Aquatic plants Oz Watergardens (03 9737 9663 or ozwatergardens.com.au) Architectural rock Castella Quarries (03 5962 9080) Crushed rock, sand and cement Yarra Junction Garden Supplies (03 5967 1367) Native plants Kuranga Native Nursery (03 9760 8100 or kuranga.com.au) Totem poles William Jaspers and Hailey Cavill
By Marg Hearn 
Photography by Rhiannon Slatter
From Grand Designs Australia magazine Vol. 2 No. 3