Jamie Oliver, one of the world's most engaging, entertaining and passionate chefs, chats about his must-have kitchen appliances and his checklist for a dream kitchen.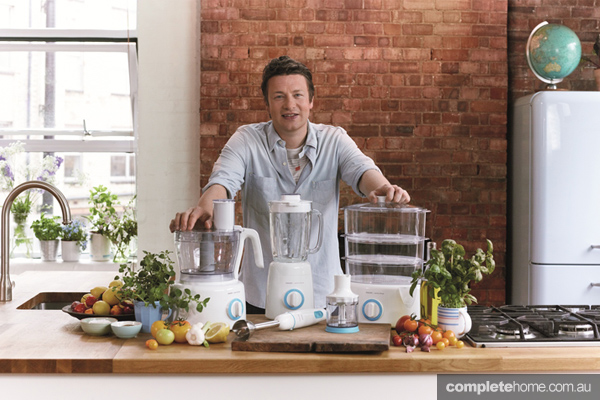 Tell us about your new appliance range with Philips.
Jamie: I choose my partners very carefully, but what's always important to me is to work with people who get what I do and share my passion for making the very best kitchen kit. The guys at Philips totally got this from the start, and have been happy to listen, take my thoughts on board and help me create amazing products. When you're a chef or a home cook, you want appliances that look good on your work surface, make your life easier, and work brilliantly to help you rattle out great food every time.
I'm a total geek when it comes to all of my products — whether it's books, pans or kitchen kit — so I have a say in everything, right down to the noise that the button makes. The guys from Philips have been brilliant at working with my suggestions, but it's very much been a two-way street — they've had ideas that have really impressed me too.
Why cornflower blue in the packaging?
Jamie: The inspiration behind the range, which includes the Philips Jamie Oliver Hand Blender, Blender, Steamer and Food Processor, was really simple: I wanted them to be beautiful, elegant and slick. Often, kitchen appliances have so many different options and functions that they become confusing to use. With this range, I wanted to strip it right back to simplicity and real power: really good engines, really good gearing, really nice motions — and be beautiful to look at.
Every tool has a splash of lovely cornflower blue, the colour I chose to match the clean retro shapes we've used — this stuff is meant to be shown off, not hidden away in cupboards. They're really easy to use and I can't wait for people to try them as I truly believe they'll help busy families get fresh food on the table every day.
What's the top appliance you recommend home cooks invest in?
Jamie: The Philips Jamie Oliver HomeCooker is a great piece of kitchen kit — it makes life much easier and time in the kitchen less stressful, particularly if you're a busy working person or a parent. Simply rack it up then leave it to tick away while you get on with other things — the whole point is that it stirs things for you.
I use it in lots of ways — mostly on weekends when I'm at home with my family. And in the week, my wife really enjoys using it. She loves steaming food, so the HomeCooker is great as you can use the top to cook meat, fish or vegetables, while stirring a delicious sauce, stew or risotto at the bottom. It means you can cook the whole meal in one go.
What's your idea of a dream kitchen?
Jamie: One with plenty of room so that you can move about easily and have all your kit out and ready to go. I suppose my dream kitchen is the same as most foodies — somewhere you can cook great food in a relaxed way because you feel comfortable and the space really works for you.
What do you love to cook for your wife Jools?
Jamie: At the moment, we're cooking a lot of slow-roasts because it's cold outside and it makes the house smell amazing. In the summer, it's a question of seeing what's looking good in the garden and creating beautiful little salads and pastas.
Why do you love educating people about food? Where does that passion come from?
Jamie: It comes from being a father, and it comes from caring about what people eat — I would like to think that anyone with an interest in food, and especially people that run restaurants, would have some sort of interest in what food does to people. For me, food should be a joy and make you feel good — if you're eating rubbish all the time, where's the joy in that? It's not going to make you feel good. So I think it's really just a passion for making food better for everyone.
You've taught the public so much about food; what is the most important message you hope they take away?
Jamie: That eating good food doesn't have to be more expensive or difficult, and it doesn't have to take a long time — the main excuses I get are: "I haven't got the time" or "I can't afford those ingredients". It's all about knowledge — if you've got the know-how, you can rattle out a delicious, inexpensive meal in next to no time.
Can you give us an example of a day in the life of "Jamie Oliver"?
Jamie: There's never a day that's anything like the day before. Sometimes I'm filming; sometimes I'm writing and editing recipes for a new book — which is what I'm doing at the moment — and sometimes I'm doing interviews or having meetings or testing new recipes for the Jamie's Italian restaurants. Every day is different and that's how I like it.
Jamie's Tools by Philips (picture above) are beautifully crafted and offer great value for money and less stress in the kitchen. The Tools were featured in Jamie's 15 Minute Meals TV series and book, and include a Hand Blender $79.95, Food Processor $179.95, Blender $89.95, and Steamer $69.95. Available from David Jones and Target stores.
From Kitchens & Bathrooms Quarterly magazine Vol. 20 No. 2