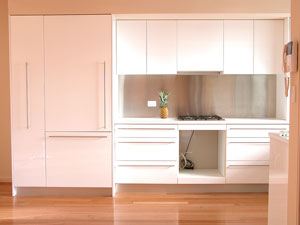 If there's one room you could choose to renovate, chances are it would be the kitchen. Here are some tips to help you create a stylish and functional cooking environment

Obviously, all kitchens are different. Some are large family gathering areas while others are more akin to sleek galley-style affairs. Regardless of the size, what you want is to enjoy your kitchen and that means functionality with style. The latest colours, finishes and appliances for your kitchen can make all the difference to how you perform and how you feel about spending time in this special space.
For practical purposes, when planning to renovate your kitchen it's a good idea to think about what you need to have within your kitchen space; how much storage and benchtop space you need and what type of refrigerator, oven and cooktop will suit your purposes. For sociability, try to make the kitchen space a welcoming place for your guests to relax in while you prepare fabulous food. Clever lighting can also make all the difference to the ambience and practicality of the kitchen.
Another aspect to consider is the colour of the finishes you choose in relation to the size of your kitchen. Dark cupboards and benchtops can make a large space appear more intimate, while lighter colours can make a small space appear larger. It's also prudent to work out what appliances you need in advance and where they would fit best for practicality and the finished look.
Simon Hodgson, member of the National Chair Committee for Kitchens and Bathrooms for the Housing Industry Association of Australia, as well as the Sales Director for Nouvelle Kitchens, has witnessed interesting trend changes for kitchen designs in the last year. According to Simon, "We are gradually moving away from the dramatic look of stark minimalism. He sees a trend from stark veneer products to a warmer, earthier feel and look in kitchens." According to Simon, "There is a definite resurgence in natural products and finishes that suits the Australian way of life, and how we like to bring the outside into the home — and take the inside out."
As Simon points out, "Australians are a nation of 'early adapters'. We take up new technology and designs quickly, and while that is definitely the case in homewares and technology for the home, there's a fresh consumer and designer movement towards durability and classic styles, with traditional and even hand-painted finishes used in the latest kitchen designs."
BENCHTOPS
For benchtops, you want something attractive as well as functional. Benchtop finishes can include myriad choices, such as natural stone, laminates including eco-friendly varieties, man-made or reconstructed stone, stainless steel, timber, glass and marble. According to Impala Kitchens, CaesarStone is the leading choice for kitchen benchtops. Physical properties, including being scratch and stain resistant, make it a popular alternative to traditional materials because it requires little maintenance.
For hygiene purposes, if you are using the benchtop for preparing food, you should avoid a surface that might trap dirt, grime and liquids and cause the growth of harmful bacteria. Some benchtop materials such as the popular Corian® allow for non-porous joins, but if this is not possible with the surface you have chosen, insist on it being installed with the least amount of joins possible.
KITCHEN CABINETS
Cabinets and cupboards can now come in all shapes, but it is important that you check the finish quality of the cabinet's interior as well as the outside finish.
One of the latest trends is mixing the shapes and sizes of cabinets and 'stacking' the wall cabinets. You can also mix the sizes and introduce material inserts or glass into the upper cabinets. In line with overall kitchen design trend observations, natural wood finishes are popular for kitchen cabinets and cupboards, and there is an emphasis on maximising storage for the growing number of kitchen appliances available.
SPLASHBACKS
Splashbacks protect your kitchen walls from cooking oils, grease and water. Stainless steel and glass are the most popular finishes, but it's increasingly popular to make a statement with more adventurous splashbacks featuring colour and texture. A splashback can now be a design focus, bringing your kitchen to life with a burst of colour and character, without being overpowering or creating the illusion of a smaller space.
According to Impala Kitchens, "Glass splashbacks are still an obvious choice, however innovative Impala designers are using alternatives such as mirror splashbacks or decorative tiles. Mirrors in kitchens are chic, giving a look of stylish inner-city apartments and providing an illusion of space when needed."
APPLIANCES ADD FUNCTION AND STYLE
Appliances can make all the difference to how a kitchen works and looks. Stainless-steel appliances remain red hot, adding an aura of professionalism or a vintage feel to a kitchen. Currently, primary colours like yellow, red or blue are big in appliance finishes. In fact, commercial-grade appliances properly scaled for residential applications are a huge trend. Whether we rarely cook, or our friends and family consider us gourmets, we want to at least look like we are professional chefs.
Appliances that blend and match with the kitchen cabinetry for a seamless, uninterrupted look are also very popular. Because kitchens are more likely to be part of an open floorplan connecting to other living areas of the house, appliances are also getting quieter.
For the increasing number of small inner-city apartments and their correspondingly petit kitchens, appliances are getting smaller. The Italian brand Ilve, usually known for its generous proportions and sleek lines, is now combining those qualities to create the perfect solution for kitchens that are tight on space by introducing squared-edge appliances that easily fit in smaller spaces and provide a stylish, streamlined finish. Another trend in appliances is the introduction of specialty appliances such as the wine cooler, ice cream maker and cappuccino machine.