Passive solar design and open-plan living make for ideal holiday homes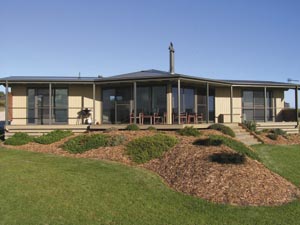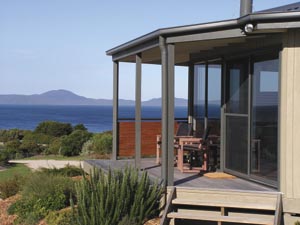 Perched overlooking the ocean at Wilsons Promontory, two of Total Kit Homes' dwellings provide a comfortable, trouble-free escape for holiday makers. The owners of Limosa Rise in Yanakie wanted to provide luxuriously appointed, self-contained accommodation for couples. They chose the two-bedroom Walker design and the single-bedroom Parkinson.
The units provide expansive windows to capture the breathtaking views of Wilsons Promontory. Each unit contains a fully equipped kitchen, wood heater, air-conditioning, ensuite bathrooms and an outdoor deck complete with a barbecue. The spacious bedrooms, living areas and modern decor together create a comfortable environment that's perfect for holiday relaxing.
Total Kit Homes' designs are equally ideal for permanent living or holiday homes. They suit small blocks or large acreages, bush environments, town living and coastal locations.
All Total Kit Homes' designs offer flexibility of floorplan and achieve a 5-Star Energy Efficiency standard or better. Total Kit Homes is experienced at incorporating the building code requirements in bushfire areas and has been doing so for many years.
Holiday destination Limosa Rise in Yanakie.