Total Kit Homes is able to offer advice and recommendations regarding bed-and-breakfast and resort-style accommodation based on its range of smaller homes.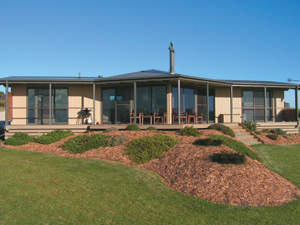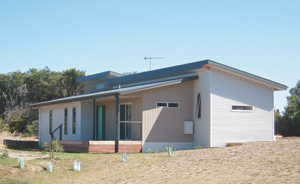 The company has been involved in the supply of high-quality accommodation in the Grampians and Mallacoota in Victoria, the Hunter Valley and Nelson Bay in NSW and in Tasmania.
Pictured are two Total Kit Homes dwellings which provide a comfortable, trouble-free escape for holiday makers. The owners of Limosa Rise in Yanakie wanted to provide luxuriously appointed, self-contained accommodation for couples. They chose the two-bedroom Walker design and the single-bedroom Parkinson.
The units provide expansive windows to capture the breathtaking views of Wilsons Promontory. Each unit contains a fully equipped kitchen, wood heater, air-conditioning, ensuite bathrooms and an outdoor deck complete with barbecue. The spacious bedrooms, living areas and modern decor together create a comfortable environment that's perfect for holiday relaxation.
Flexibility of design and floor plan
Total Kit Homes' designs are equally ideal for permanent living or holiday homes. They suit small blocks or large acreages, bush environments, town living and coastal locations.
All Total Kit Homes' designs offer flexibility of floorplan and achieve a 5-star energy efficiency standard or better. Total Kit Homes is experienced at incorporating the building code requirements in bushfire areas and has been doing so for many years.
Kits include flooring, Colorbond roofing, aluminium windows (timber optional extra), choice of external cladding, timber- or plaster-lined internal walls and ceilings, verandahs and decking where shown on the plan. Kitchen, electrical, plumbing, PC items, service connections and septic systems are not included in the price.
Company profile
Originally trading as Total Log Cabins and supplying purely log-cabin-style homes, Total Kit Homes expanded its external cladding range as well as its range of designs. Total Kit Homes is the original kit home supplier for Tasmania. The company now offers an enormous range of designs and finds itself continually adding to these when home buyers request something unique.
Total Kit Homes' success in Tasmania resulted in a branch of Total Kit Homes being established in Victoria. The Victorian office caters to all the mainland states, utilising Tasmanian timbers and head office architectural drafting staff.
Total Kit Homes has a proven record of innovation in design. It takes into account landscape features, historical criteria, environmental concerns and client requests when any design is being developed or modified. Total Kit Homes believes change, flexibility and new ideas are vital forces in the building industry.
The company uses established Tasmanian and mainland products as well as trialling new products. This encourages improvement in the standard of materials used in the kit home industry, which is beneficial to all potential homebuyers. Total Kit Homes has award-winning designs for you to work with and all may be changed to suit your needs and lifestyle.