Many people dream of building their own home. A kit home you can build yourself turns that dream into reality and also saves you money.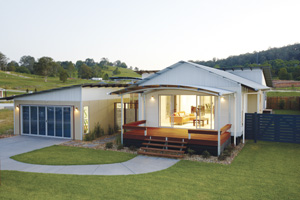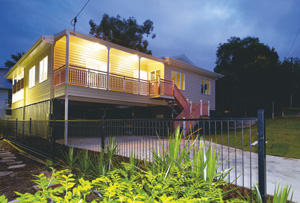 Kit homes are ideal for a country weekender, a retirement dwelling or a spacious family home. Kit Homes offer flexibility, value for money and convenience. Most standard kit home designs can be modified to suit customers' requirements and many kit home companies even allow clients to design their own homes.
These homes are a building option seen more often in the country than in city regions. Kits often have the features of an architect-designed dwelling at a fraction of the cost and are essentially the packaged plans and components of a house (with some exceptions) delivered to your site by truck, ready for you or your builder to construct. The kit comes complete with prefabricated steel or timber frames, exterior cladding, interior lining, full insulation, ceramic tiles, wardrobes or built-ins, smoke detectors and kitchen and bathroom appliances.
However, not all kit homes have the same inclusions in the basic price. As Jodie Flynn from Just Kits advises, "Do your research, as most companies have different standard inclusions, so be sure to check what's included with the kit you're getting. For example, some suppliers may offer the basic shell of the home but not fit out the kitchen and bathroom." You should check whether items such as the slab/floor, wiring/switches/electrical accessories, plumbing/taps/fittings, built-ins, kitchens, sanitary ware, tiles and paint are included in your kit.
Before deciding on a kit home company or design, talk to former clients to see how the kit home was put together, how complete it was, the quality, what they had to provide, the ease of building, what wasn't included and the instruction manual.
"Talking to someone who has gone with the same company that you're thinking of buying your kit from is always helpful," Flynn says. "Seeking out long-established companies is a good start, too, as well as finding out whether they offer quality inclusions as part of their package."
According to the Valley Kit Homes team, money-related matters are often important considerations when it comes to choosing a kit company. "The final decision has a lot to do with the price of the home and whether you're able to find a salesperson that appreciates what you want and ultimately works with you to create your dream home, within your budget," the company says.
Once the kit leaves the factory, you are responsible for the insurance. Ensure your kit supplier has attached a certificate of home building warranty insurance, which will cover you for any problems with the kit's components.
Building a kit home is a hands-on role and can be done by you as an owner builder, by a subcontractor organised by you once you have obtained a permit from the Office of Home Building or by a licensed builder. If you use a builder, expect the price of the kit to double. Some kit home companies will offer a build option whereby their builder puts the house together.
As part of the assembly is done before delivery, this means not only reduced costs but greater accuracy. The wall frames and roof trusses are complete and ready to lift into place.
According to Greg Wardlaw from Ezy Homes, there are two main benefits to building a kit home as an owner/builder. "First, there are substantial cost savings that can be made by eliminating builder mark-ups and by doing some of the work," he explains. "Second, building a kit home allows people to be in control of the result and to build the house they want. The goal of the owner builder is to build it better for less."
The team from Valley Kit Homes agrees: "Kit homes offer owner builders the option of creating their own dream rather than having a home that looks like everyone else's. They can customise the design and create different looks and exterior finishes, which guarantees that no two homes will ever be the same.
"And, of course, buying a kit home allows people to be more hands-on with the project and feel a greater sense of accomplishment as they've actually helped in a big way to achieve their dream," they add.
For those opting to owner build a home, the team from Bush & Beach has this advice: "First and foremost, those who want to build their own kit need to complete the owner-builder course through certified industry associations. They also need at least 12 months to complete the home, which includes time needed to seek quotes from subcontractors and also allows for building."
Brett Rossiter from Jarrah Homes also has this short and sweet piece of advice for owner builders. "Read through the manual, take your time and don't hesitate to ring the company if you have any questions," he says.
If you don't have the time to undertake the project yourself, then perhaps finding a builder to construct your kit home is the best option for you.
Research is the key when it comes to finding the right builder for the job. "Check out local builders in your area and make sure they're approachable and willing to listen, and also check their licences — this will ensure they are reputable and will do a good job," Rossiter from Jarrah Homes says.
"Try to talk to other people the builder has constructed for," the Valley Kit Homes team adds. "And see if you can look at the builder's handiwork — don't just take it for granted that he knows what he's doing."
So your dream home is finally complete — now what? 
It's all about sitting back, relaxing and enjoying life in your stylish new home, as Rossiter from Jarrah Homes explains: "At the end of the job, find your favourite spot on the verandah, open a bottle of beer or wine and feel your whole body relax as you listen to the sound of bubbles fizzing out of the bottle and say, "I've done it!"
Steps to building your own kit home:
Select the plan you like best and discuss with the kit company any changes you wish to have done. You will then receive a written quote.
Once the quotation has been accepted, house plans are prepared by the kit company for local council and contractors.
You then lodge the plans with council for approval.
Once you have council approval, your contractor can construct footing and foundations to floor level and install sub-floor drainage.
Take a look at the instruction manual before you start building.
You receive the first stage of your kit home.
To erect the kit to lock-up stage, follow the instructions in the construction manual. Your plumber and electrician can then install pipes and wiring in the frame.
It's now time to think about the delivery of internal materials and personal choice items.
Install the internal materials such as insulation, plasterboard and doors.
Install the kitchen and have the plumber and electrician connect the stove, hot-water system, taps and power-points.