This family friendly pool and garden design is both contemporary and chic.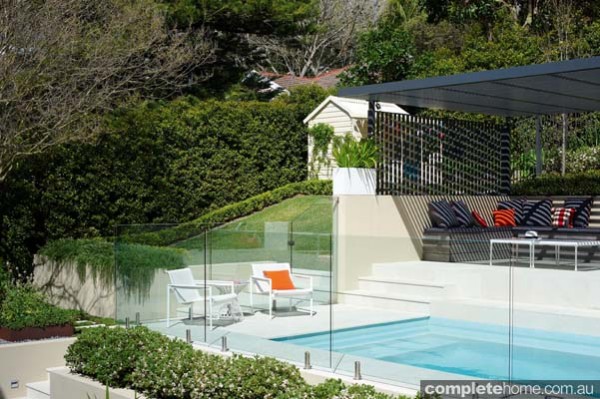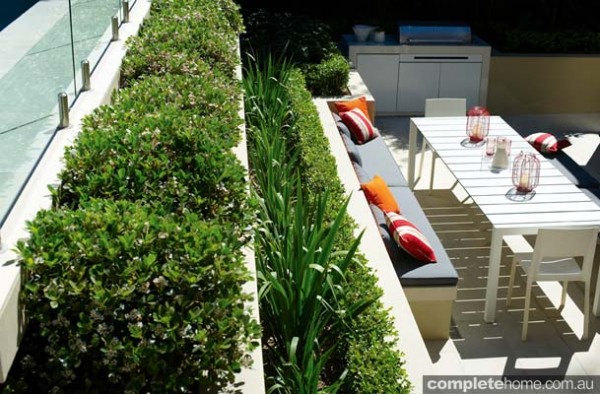 Secret Gardens of Sydney were presented with the challenge of transforming a complicated and dated outdoor area into a family friendly space. A contemporary design was adopted in line with the client's tastes.
The owners of the property have a young and growing family, so the design of the pool and outdoor area had to meet a number of practical requirements. An entertaining area for the adults and a pool for the kids to splash around in was essential. They also wanted space for a vegetable garden and ample play areas for the children.
The growing size of the family was taken into consideration when selecting the dimensions and layout of the pool. A size was chosen that would allow for a number of people to enjoy swimming together without it being so large that it dominates the outdoor living area. There is also ample space around the pool that provides easy access into the water as well as plenty of space to sit back and soak up the sun's rays. The shaded outdoor lounge area provides great protection from the sun for those who prefer to avoid it and is also a great spot for adults to sit with friends and watch the kids splash around in the pool.
A purpose-built cupboard was placed adjacent to the pool to house all the pool equipment and toys, keeping the area safe and clutter-free. The storage cupboard was also designed to store all the outdoor cushions that were custom made for the bench seats and outdoor table and chairs. This ensures that, when not in use, they are stored out of sight and that the brightly coloured fabrics will be preserved.
The barbeque was designed to be recessed as part of the garden walls and a custom-made cupboard and bench were incorporated to ensure a seamless finish in the entertaining area.
The children are catered for with a cubby house and lawn area to play on. The vegetable and herb garden was kept close to the kitchen. Due to its striking aesthetic and functional purpose, rosemary was chosen as a border plant.
The combination of clean lines in the construction and a focus on the horticultural aspects of this outdoor area has resulted in a design that is family friendly without sacrificing any of the desired contemporary chic aesthetic.
Landscape design by Secret Gardens of Sydney, secretgardens.com.au
By Matthew Cantwell
Edited by Petri Swart
Photography by Nicholas Watt