Why enjoy one outdoor living area when you can have three?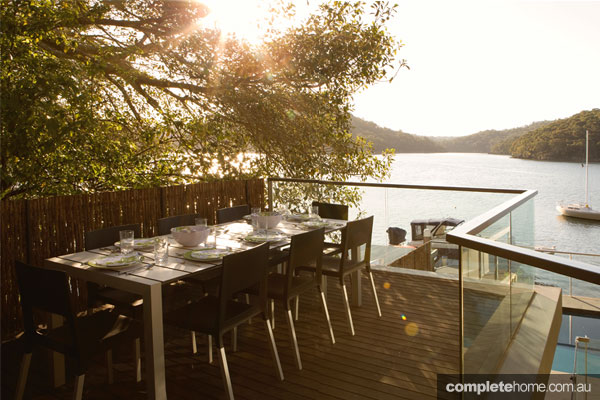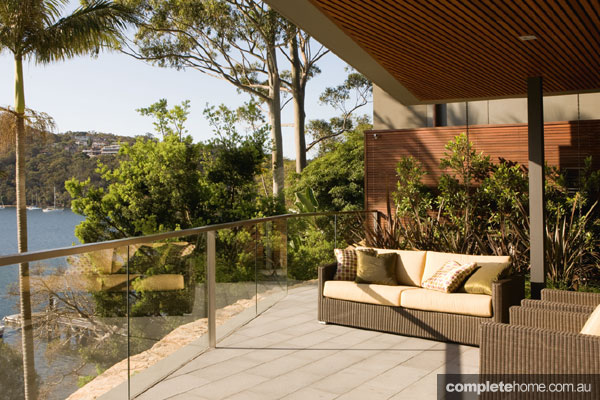 Mike Steven of Landart Landscapes was called on to create a simple and low-maintenance garden that would reflect the home's stunning surrounding environment for the owners of this multi-level abode. With such unobstructed water views, the aim was to work with the landscape and enhance all other components with natural fl owing gardens to suit the headland environment in which the home is situated.
The three outdoor living areas are brought together by a staircase of floating stairs that fl ow from the top outdoor balcony down to the grass and pool area below. The top balcony is fi tted with simple glass fencing as not to hamper the views beyond, enjoyed from the comfort of the outdoor lounge setting — perfect for watching the sun set with a glass of wine in hand. Australian hardwood screens serve as a backdrop to the native plantings, which soften hardscape elements such as the large-format pavers. Floating stairs lead to the beautifully situated dining area that sits under the shade of a neighbouring tree. Fitted with hardwood decking and natural paper bark branches, which were used as balustrading to soften the divide, this space echoes the organic look and feel of its surrounds.
The simple glass fence theme continues down to the pool area and frames the deep blue pool, along with the natural bluestone tiles which were laid over concrete. Three palm trees sit side-by-side next to the poolside bar, which is perfect for entertaining guests come summertime. The existing palms are uplit with spotlights, as are the native plants that border the staircase and the native planting scheme continues from the home's front entrance to the bayside pool at the rear of the property. Large downlights also enhance the sandstone rockface, making it come alive at night with lights and shadows.
The wall near the grass area is a mixture of rendered, painted block walling and natural Australian sandstone. The Australian sandstone was used in to tie the area in with the rocky outcrop and the garden's natural surrounds. All in all the three living areas and garden surrounds pay tribute to the property's natural environment by echoing its beauty without dominating it.
Written by Kate McKee
Photography by Jason Busch
Originally from Outdoor Rooms Issue 19