TV chefs like Manu Feildel love them. Restaurateur and chef Matt Moran reckons they spice up any get-together. And cooking guru Jamie Oliver claims they're the ultimate foodie must-have. But it's not only celebrity chefs giving the thumbs up to outdoor kitchens
Andrea Mead from Heatlie says more Aussies are embracing the idea of cooking in the comfort of their own backyard entertaining spaces. "Australia's warm, sultry climate and relaxed outdoor lifestyle is perfect for it,"
For existing homes, people are seeing that the value of their property has increased so they are looking to add value with renovations rather than moving. For new home builds it really is as standard now as having an ensuite to the master bedroom.
she says.
–
And these days, with modern outdoor kitchens you can cook virtually anything your imagination can dish up. Using a diverse range of components like pizza ovens, side burners, barbecue hoods and hotplates, it becomes easy to sauté, sizzle, grill, bake, roast or fry.
–
The rise of the outdoor kitchen as a must-have in entertaining spaces is revolutionising the way we live. In fact, John McGran from
Lifestyle BBQs
says the outdoor kitchen has become an essential component in both new and established homes.
Do your research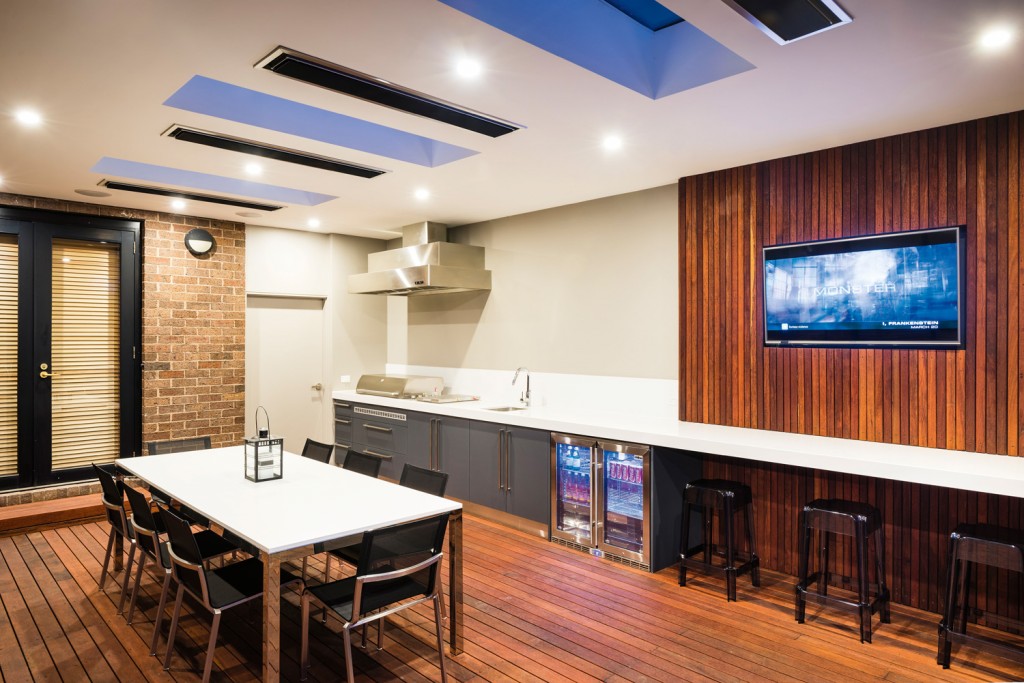 Look at showrooms and browse through magazines to get an idea of the style you like and the elements you want to have. Make a wish list of everything you'd ideally like, then work out what you can afford and what can fit in the allocated space. Think about how you entertain and the type of food you like to eat. Would you get use out of a rotisserie, a pizza oven, a wok burner or a teppanyaki plate?
Do you like to cook seafood on a barbecue plate or is grilling steaks on a flame more your thing? Would you like to be able to roast meats as well?
Once you know what you've got to work with in terms of finances, take some measurements of the available space in your backyard. If space is minimal, you won't be able to have the whole kit and caboodle, but that doesn't mean you can't have a fabulous outdoor kitchen that meets all your needs. Essentially, the more space you have, the fancier it can get, but you don't need a lot of room to do it well.
From basic to bellissimo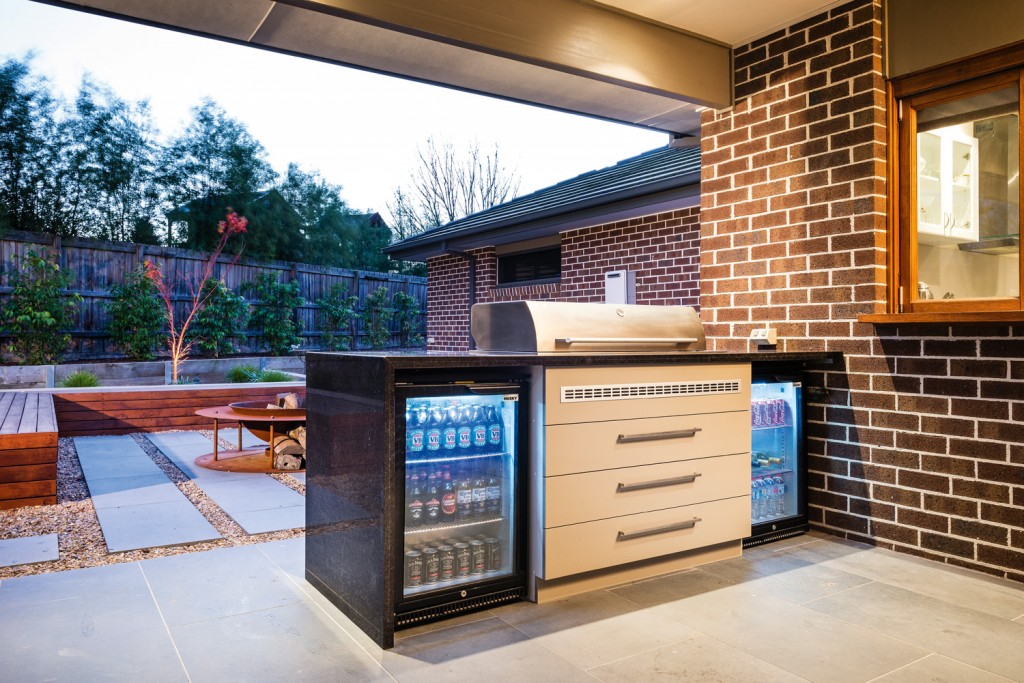 Simple outdoor kitchens can range from a barbecue with accompanying cooking facilities to state-of-the-art layouts that feature multiple cooking possibilities, and all the bells and whistles.
You can buy a modular kitchen and have the system built in place, or go with a custom-designed kitchen and choose your cooking components and colour scheme in the cabinetry to match your decor. Components can include a barbecue, wood-fired oven, dual sinks, countertops, bar fridges, utensil and numerous storage cupboards in a variety of configurations. New on the outdoor dining scene are outdoor dishwashers — no need now to leave the party to head indoors and stack the dishwasher or wash by hand!
New-look contemporary outdoor kitchens can also feature built-in seating at bar height so you can pull up a stool, pour a cool drink and watch the backyard chef in action.
Fire it up!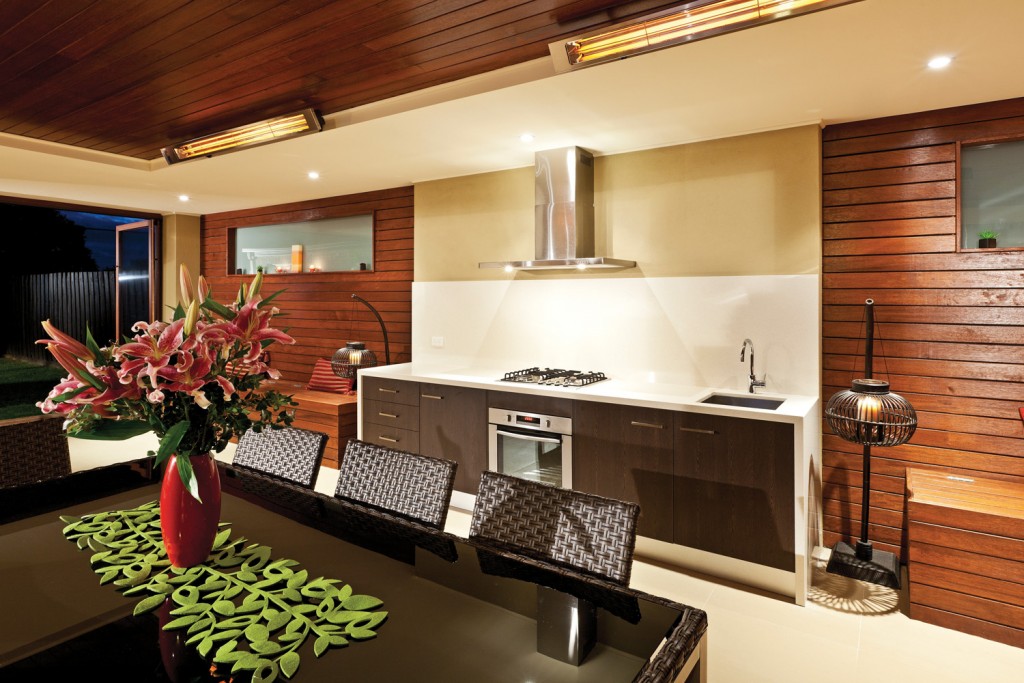 Most Australian households have a barbecue but if you're looking for something a bit different for your entertaining area, why not try a woodfired oven? They are easy to use, look great, and allow you to cook restaurant-quality fare in the comfort of your own backyard.
Woodfired ovens can be freestanding, built-in or portable and they come in quite a range of sizes to suit all applications. If you're looking for a modest addition for a moderately sized patio or verandah, a single-shelved pizza oven might be for you, or one fixed with wheels so you can store it away when not in use. If you're looking to cook for large crowds, a traditional stand-alone or built-in option might be more suitable.
In terms of style and design, there are the more traditional options sporting the rustic look. This includes clay, stone and brick-made varieties. For those who prefer a more modern appearance, there are models that feature sleek stainless steel or contemporary powdercoated colours.
Shaped to fit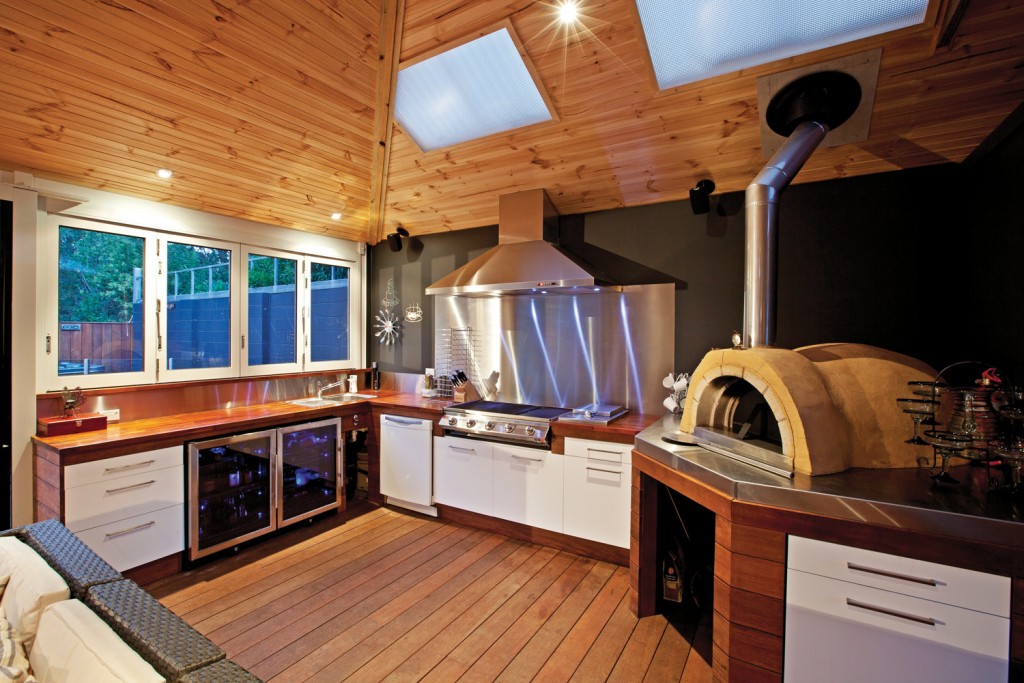 Outdoor kitchens will usually comprise several zones: an area to prepare, to cook and serve, and to clean up afterwards. These zones or components of the kitchen can be built in different layouts, island kitchens, curved or U-shaped, L-shaped, freeform, and custom-designed.
Stand-alone island kitchens allow free-flowing movement around the cooking areas and are perfect for balconies or smaller spaces. L-shaped kitchens can fit narrower spaces and along walls, and U-shaped kitchens tend to be bigger and often have bar stool seating.
If your kitchen doesn't have seating as part of its design, add a table and chairs nearby where the chef of the day can relax and dine with everyone after the cooking is finished.
Modular approach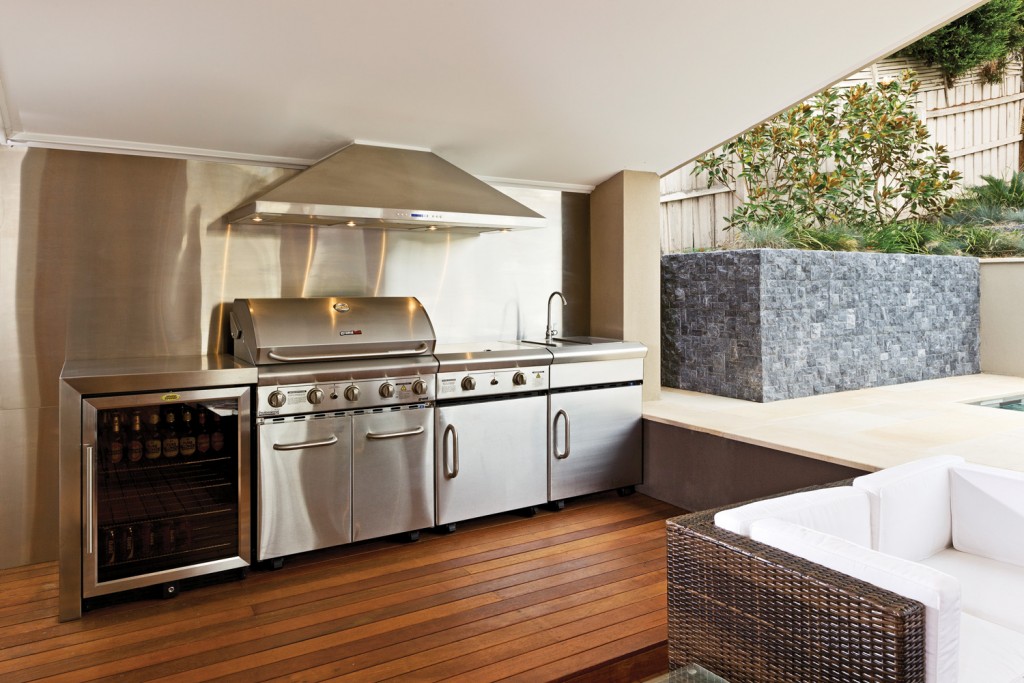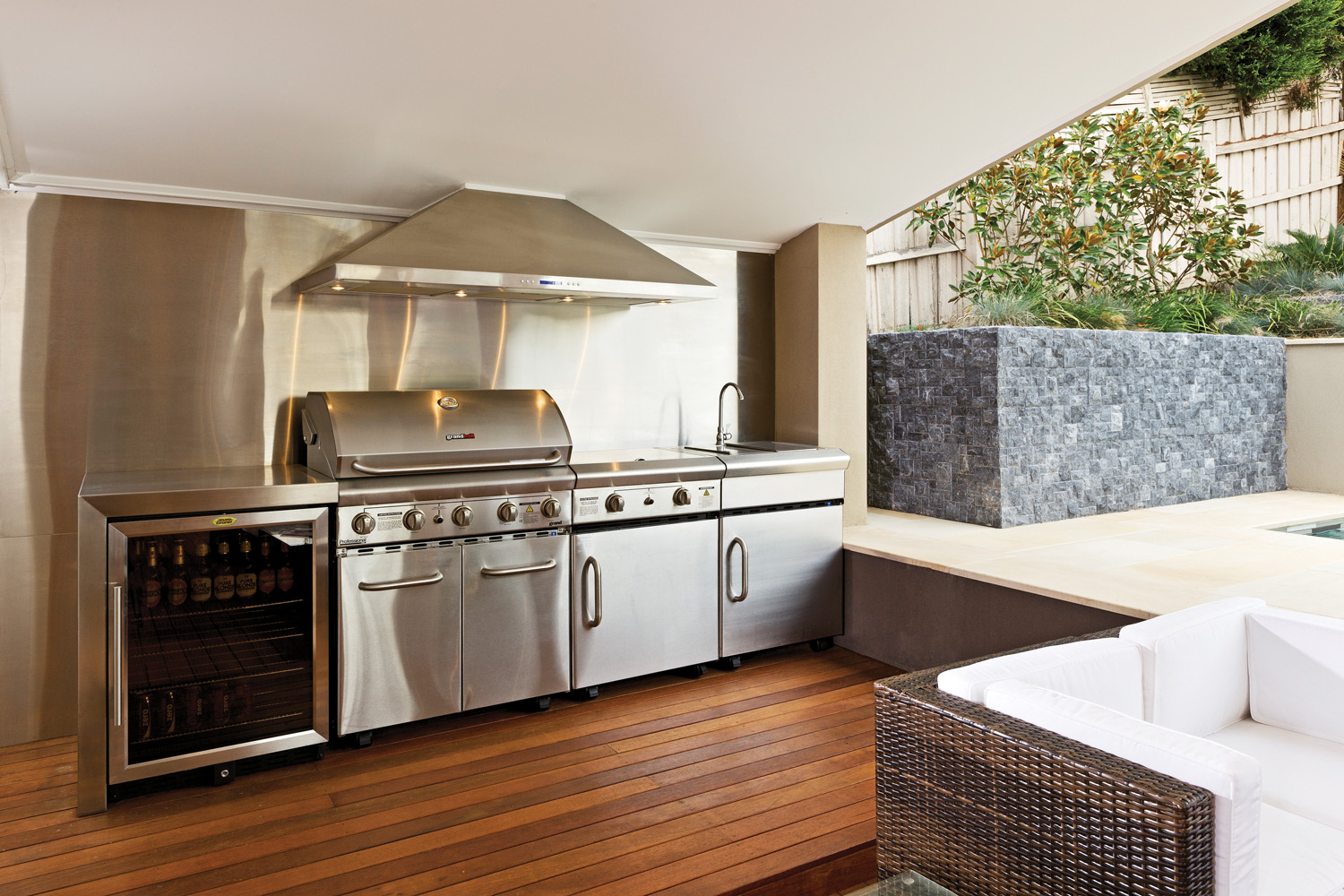 What we like to cook and how we like to entertain varies from family to family, so you need an outdoor kitchen that suits your specific needs. A great approach is to seek the help of a company such as MyAlfresco that specialises in modular outdoor kitchen solutions. What you have at your disposal is a selection of components (barbecues, rangehoods, bar fridges, pizza ovens, cabinetry, sinks and taps) that you can mix and match to create an outdoor kitchen that is uniquely yours.
But the choices don't end with the components themselves. The best companies will offer you a selection of colours and materials for some of the key elements. MyAlfresco, for example, offers cabinetry in a choice of nine colours and you have 13 options to choose from for the benchtops. Choice is important but so is quality, so ask about the warranty. And make sure the company provides good after-sales service as well as expert, up-front design advice.
Sizing it up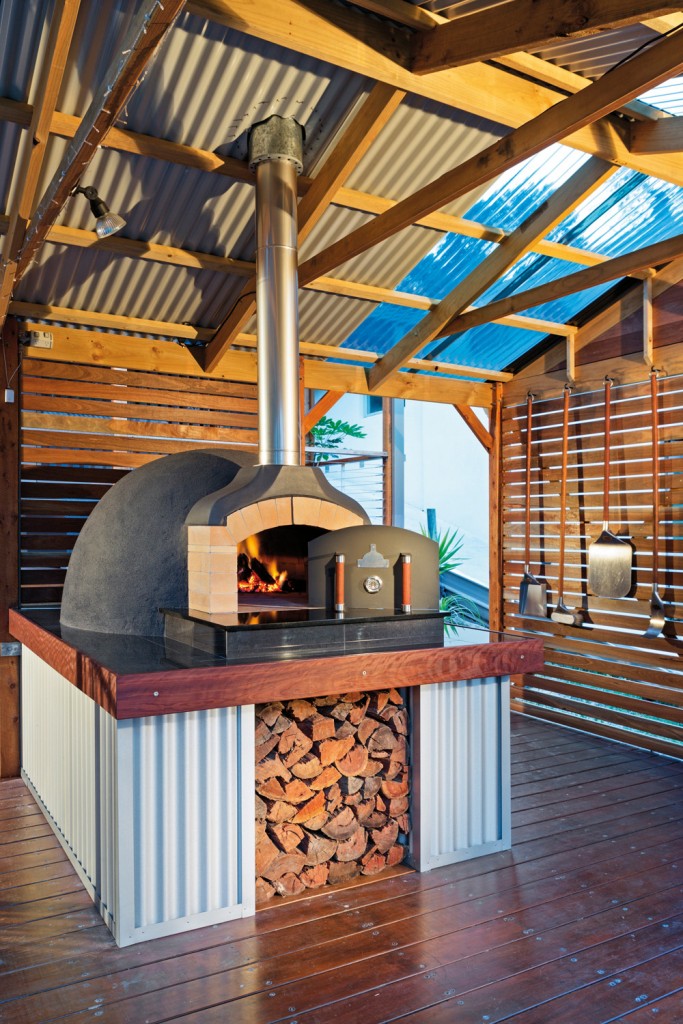 Talk to those in the know and the message is clear. If you have the space, don't skimp on size.
Generous countertops allow you more space to slice, dice and generally organise your meal components ready for cooking. Not enough counter space means heading indoors to finish your meal prep. Another important consideration is sink size — will you be washing dishes and serving platters outdoors, or just rinsing a few glasses?
When designing the outdoor kitchen there may also be additional elements you'd like but can't initially afford, for example a stand-alone pizza oven. Think ahead so you can allow space in your design for future expansions or even upgrades into the future.
Safety and placement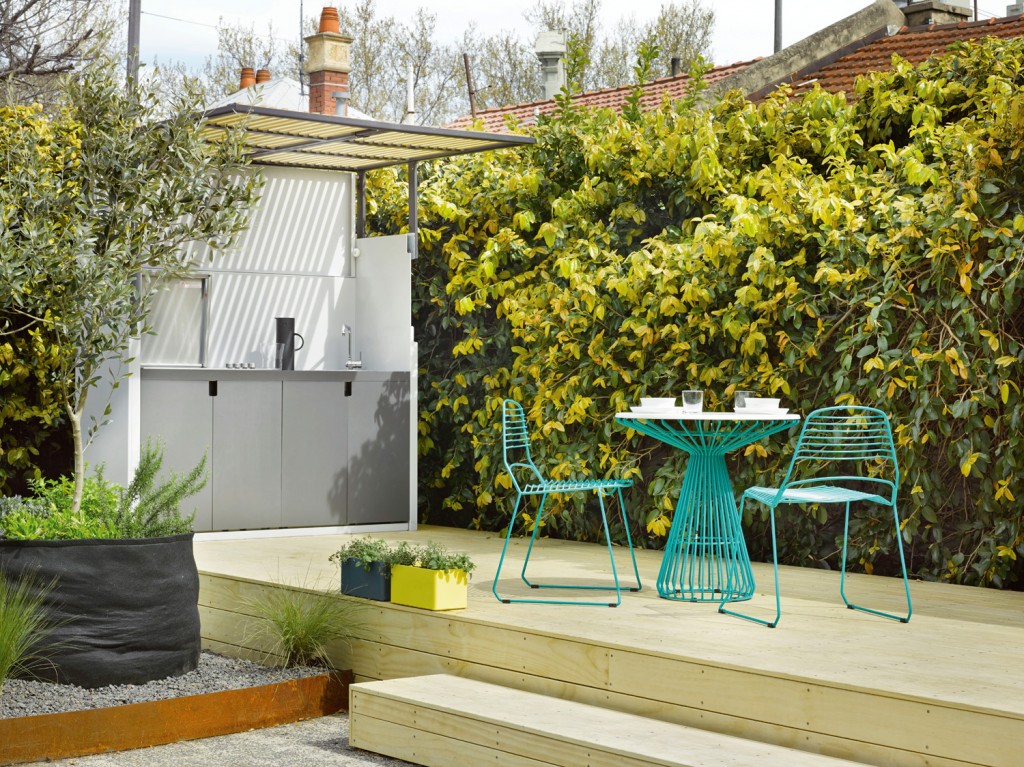 Proximity to the home and other entertaining spaces will give your kitchen a sense of connectedness. But due care should be taken when deciding on placement.
Andrea says it's worth investigating local council regulations regarding their definition of an outdoor space. "The outdoor space needs to be open to a certain degree, otherwise it constitutes an indoor kitchen and different rules will apply," she says.
Ideally your kitchen would be best under some cover on a deck or outdoor area, with a pergola to protect it. John says it's good advice to have a roof over the outdoor kitchen if at all possible as you'll get more use from it. "You'd hate to have to cancel a barbecue just because a summer storm is rolling in," he says.
A cover overhead is also a good idea if you plan on incorporating a glass-door drinks fridge. "The unit should not be exposed to direct sunlight. If it is, it will be overworked and eventually fail. At that point you'll likely discover that the manufacturer does not guarantee the fridge for that level of exposure," he says.
Of course, proximity to gas and plumbing outlets is also important. The further away you are, the more it will cost to have the necessary modifications made.
Practical aspects aside, placement of your kitchen where you can appreciate the vista of your garden or other attractive elements is also worth mentioning. After all, you can't leave the poor chef staring at a brick wall while he or she whips up dinner!
Lighting it up
There's nothing more frustrating for a backyard chef than to not be able to see what they're cooking. If you want a perfectly sizzled steak or al dente pasta, the right lighting is critical. "Task lighting helps you to cook your meal and then mood lighting creates a softer relaxing atmosphere afterwards," says Andrea. Dimmer switches are also a good idea so you can adjust them as the mood takes you.
Planning an outdoor kitchen is also a good time to consider if your garden lighting could do with an upgrade. When guests are gathering around, sipping drinks while you cook, or when they're seated at the outdoor table enjoying their freshly cooked fare, a well-lit landscape adds to the night-time ambience and provides a pleasing outlook.
Some companies, such as MyAlfresco, offer a complete outdoor kitchen service, which includes help with everything from lighting to heating. This can be a great time saver and the best way to get the best solution for your needs.
Going the distance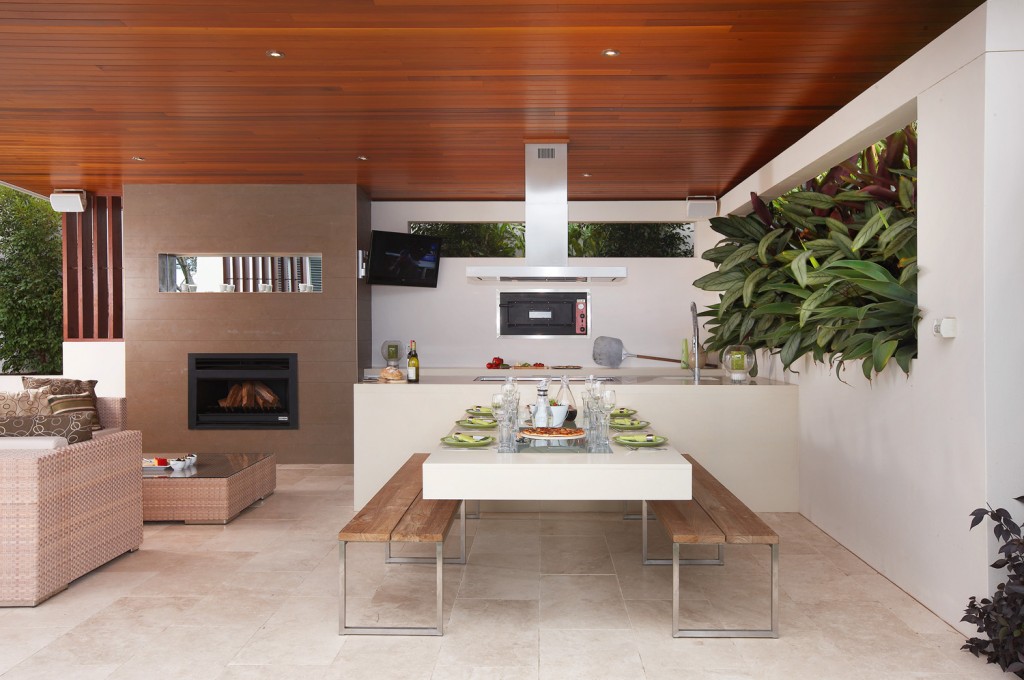 Even if under cover, your outdoor kitchen will be exposed to the elements so always choose durable materials. Modern countertops are constructed from a variety of materials — natural stone is a popular option as it doesn't retain heat, is durable and looks fantastic. Stainless steel is another stylish long-lasting option, and timber cabinetry is hardwearing with an ageless appeal.
Finally, within the kitchen area, spaces can be segmented by decorative screening, pots or decorative wall art. Add comfortable furniture so after dinner your guests will be relaxed and will want to stay for a while.
Originally from Outdoor Design & Living, Volume 31