From courtyard to pool, these modern outdoor spaces guarantee a pleasing outlook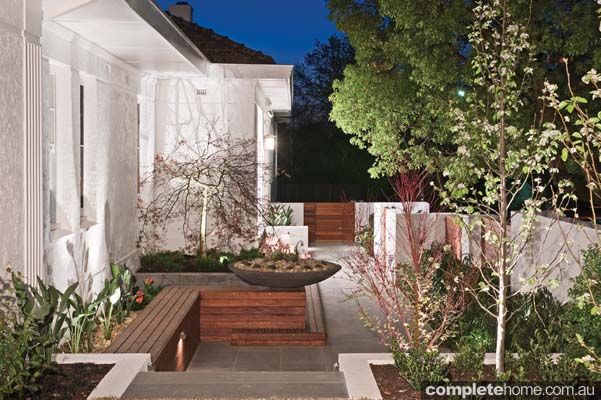 As the property sat on a block with a severe slope, a skilled landscape designer was needed to come up with a plan to transform the near-unusable outdoor spaces that wrapped around the highly contemporary home. The call went out to Steve Taylor of COS Design.
The variance in levels proved more of an opportunity than a challenge to Steve who decided to carve the outdoor areas into clearly defined zones, the largest being the area containing the new swimming pool. As the pool area is in full view from inside the home, it had to present a pleasing outlook at all times.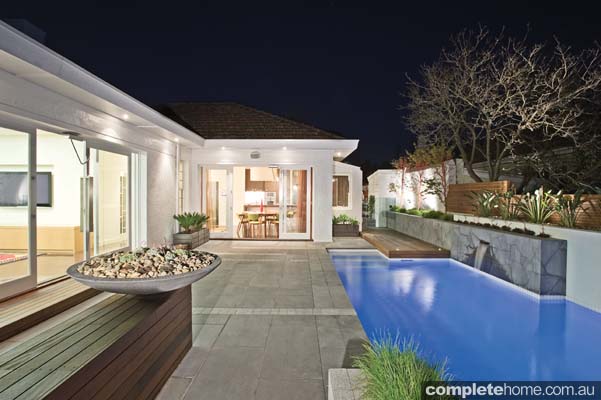 Steve introduced a random bluestone retaining wall that creates interest, adds texture and incorporates a sheer descent water feature. This complements the bluestone pavers and cobbles and contrasts the fresh white tiles of the pool's interior. Then there is the timber sundeck that seems to "float" over the pool and a cosy dining space tucked into in a timber-enclosed nook right next to the house.
A few short steps away, a courtyard beckons. This area, also designed for alfresco dining, features a built-in timber bench and timber slat privacy screening. The timber sits in contrast to the bluestone paving and picks up on the warm tones of the rust-effect, wall-mounted light box.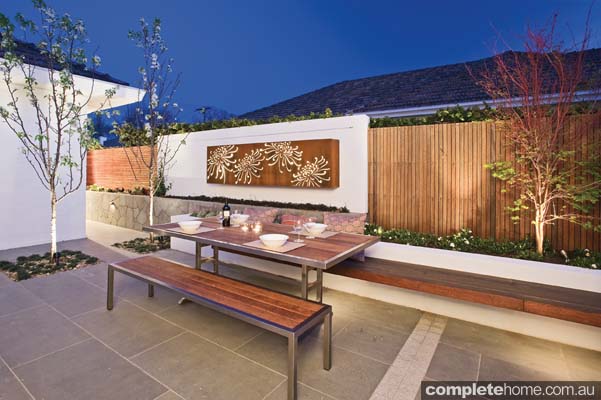 From the entertaining courtyard to the walled front garden, materials have been repeated. This ensures each area has a common look and feel. The emphasis is on natural materials (stone, river pebbles and timber) with decorative elements, such as metal artworks and shallow feature planters, used as design accents.
Plants play an essential role in the reinvention of the various garden spaces. Steve decided upon an interesting mix of plants that includes bird of paradise, assorted succulents, cycads, mondo grass, dwarf magnolia, crepe myrtles and liriope. As feature plantings, Steve used ornamental pears and Japanese maples, giving the outdoor spaces a subtle Asiatic feel that softens the clean lines of the overall garden design.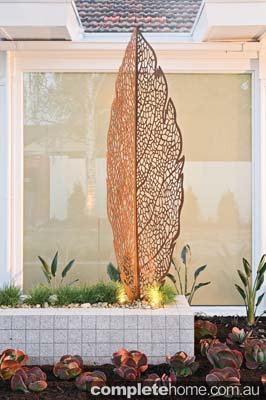 Also worthy of mention is the fact that 20,000L of water storage was installed under the paving. These tanks collect rainwater from the roof and feed it into the drip irrigation system. Burying water tanks like this is a great way to introduce an eco-aware and sustainable element into a landscape without marring the look of the space — and it's something that can be considered whether starting with a blank canvas or contemplating a major garden renovation.
Written by Karen Booth
Photography by Tim Turner
Originally from Backyard and Garden Design Ideas magazine, Volume 12 Issue 5