It looks like an ordinary suburban house, on a busy street just 7km northwest of Melbourne's CBD. But behind the low brick fence and newly planted citrus are not only thriving vegetable gardens and more fruit trees but also a fish farm teeming with around 150 trout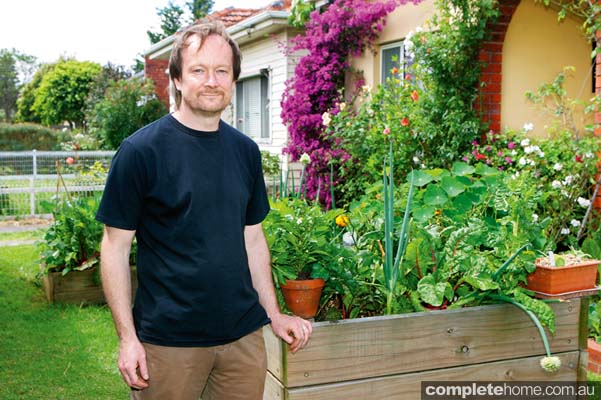 Robert Kershaw's block is only 400m² but just about all of it not occupied by the house is given over to food production. Besides the fish and some chickens, Robert says the family grows "a huge variety of fruit, vegetables and herbs: zucchini, lettuce, corn, tomatoes, pumpkins, potatoes, strawberries, raspberries, rosemary, lemongrass, coriander, basil, beans, grapes, apples, lemons, oranges, mandarins, bananas, Kaffir and Persian limes, and rhubarb".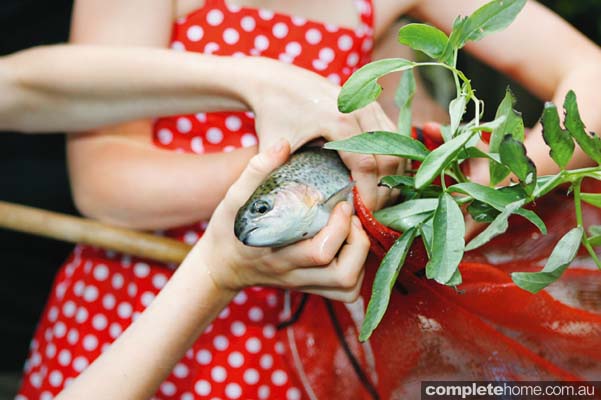 Most of this profusion comes from soilless aquaponics with growing media of scoria and clay beads. "Trout and vegetables are grown in a symbiotic relationship, enabling both to thrive. In addition, I have raised beds, wicking beds, pots and espaliered trees along our paths and driveway," says Robert.
The principle behind closed-loop aquaculture is simple: fish poo provides nutrients for plants, which in turn purify the water they grow in before it cycles back to the fish tanks. You just have to remember to feed the fish.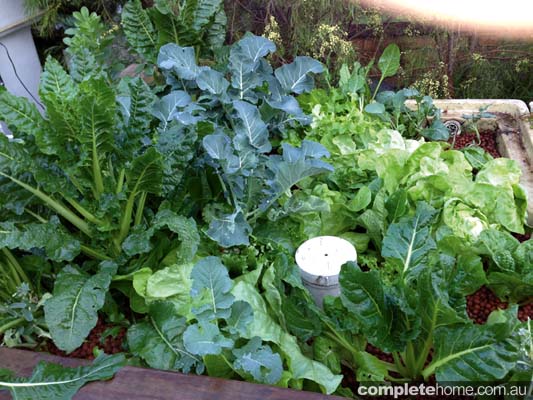 Growing fish and vegetables in a mutually dependent relationship, explains Robert, "gives the family vegetables in abundance from a very small area as well as fantastic fish for eating". And talk about a conversation starter. "My house is on a main road in Thornbury," says Robert, "so the aquaponics system and garden beds in the front yard are in full view to passers-by. Everyone does at least a double take. "Many people stop to have a good look and if I'm in the garden some will comment or ask a question or two."
Sustainable gardening
Robert, who works at the Bureau of Meteorology, constructed his first aquaponics system from recycled materials — "two old bathtubs and a milk float I reclaimed from the tip. The second system is a commercial kit I bought second-hand."
So, just like chickens, the fish provide not only food but fertiliser. Robert also tops up the gardens occasionally with sheep, cow and horse manure. Pest control is easy. The cat takes care of rodents while other threats are dealt with through companion planting, spraying with molasses and picking off snails and caterpillars by hand.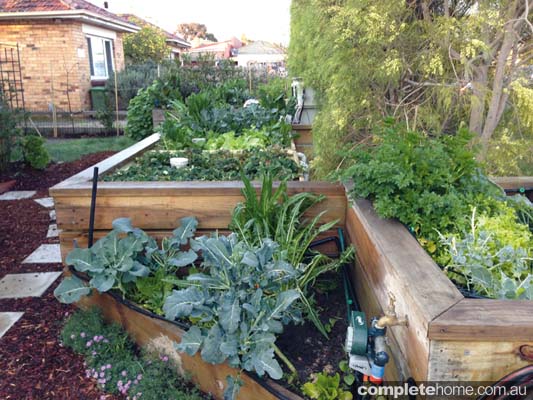 What makes the garden even more impressive is the fact that Robert has only been gardening for six years, though he's now studying horticulture at North Melbourne TAFE. His inspiration comes from his own parents as well as his Italian father-in-law. The whole family — including wife, Elena, who works in publishing, and their children, Lulu and Kofi — work in the garden.
Robert has three compost bins and recycles "avidly", as he puts it. He harvests water with a 1000L rainwater tank that feeds all the garden beds via drip irrigation. The main problem Robert has had to deal with is Melbourne heat waves. "The harsh summers are problematic for the European trout because they thrive in cooler temperatures. As the water temperature rises, there is less oxygen in the water. "To combat this problem, I've recently added a refrigeration unit to one of the systems."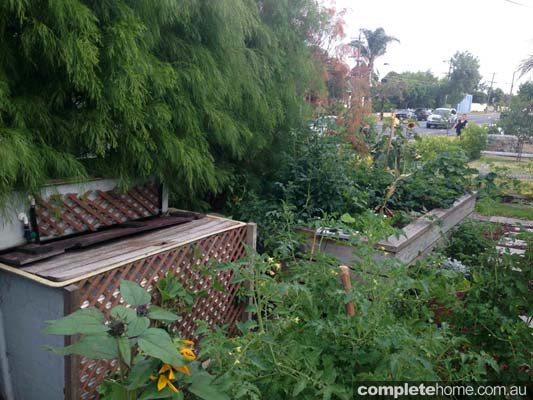 As you might have gathered, Robert's proud of his garden but his passion is fish farming. He rears rainbow trout (Oncorhynchus mykiss) and brook trout (Salvelinus fontinalis), which he buys as 5–7cm fingerlings from a fish farm in Macclesfield. He then grows them to mature fish, around 30cm long and weighing 1–2kg.
Reaping the rewards
Not surprisingly, Robert believes organically grown food is healthier and tastes better. Last November, at the Sustainable Homes & Communities Awards, Costa Georgiadis of Gardening Australia presented the family garden with a Highly Commended award for water efficiency and sustainable gardening.
The whole family loves to cook, says Robert. "I love the simple things such as fresh spinach and fried eggs, or a tomato, cucumber and basil salad. I also love to smoke trout. Fresh herbs go into pretty much everything we cook.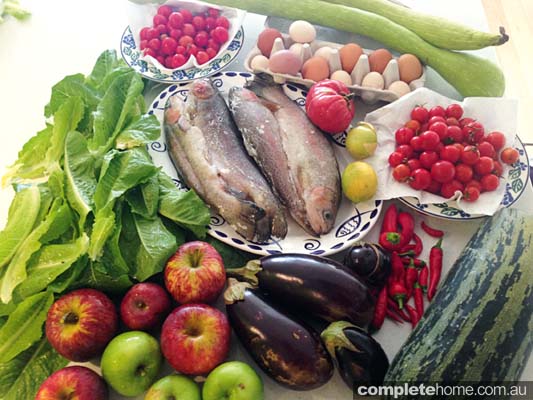 "My daughter likes to bake cakes and desserts, so the sweet things such as rhubarb, apples and strawberries are her favourites." As for preserving, the family makes pesto from basil and wine from their fragolino grapes. They also freeze fish and fava beans when there's an overabundance. Besides fish and grapes, their strawberries, zucchini and cucumber are especially prolific.
Robert is also involved with Cultivating Community (cultivatingcommunity.org.au), a non-profit organisation dedicated to improving access to heathy food for people living in poverty, so of course he believes in sharing the bounty.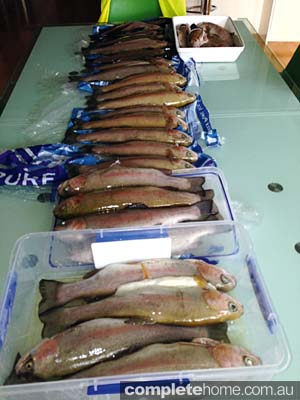 "I share the garden's produce, including the fish, with family, friends and neighbours," he says, "and they do the same with me. This enables us all to eat more seasonal produce and share our gardening experiences, and allows our children to experience first-hand where their food comes from and the effort involved in producing it."
You can meet Robert and learn more about his aquaponics and gardening methods at the Darebin Homemade Food & Wine Festival. See What's On, page 95, for more. information. darebinarts.com.au/foodandwine.
Robert's top tips
Molasses insecticide: Dissolve molasses in a little warm water with a drop of washing-up liquid and spray on leaves. Molasses raises the sugar content of plants and kills insects.
Companion planting: I intersperse ornamental plants with vegetables.
Compost: Everything that has an organic base — eg paper, cardboard, sawdust, cotton clothes — can be used as compost, shredded to speed up decomposition.
Weeds: Place old newspaper down before spreading mulch to keep weeds at bay.
Powdery mildew: To avoid powdery mildew, it's best to water in the cool of the day and spray plants weekly with a solution made from one part cow's milk to 10 parts water.
Words by Chris Stafford
Photos by Robert Kershaw & Costa Athanassiou
Originally from Good Organic Gardening magazine, Volume 6 Issue 1