Big things come in small packages and while this pool house may be small, it sure packs a punch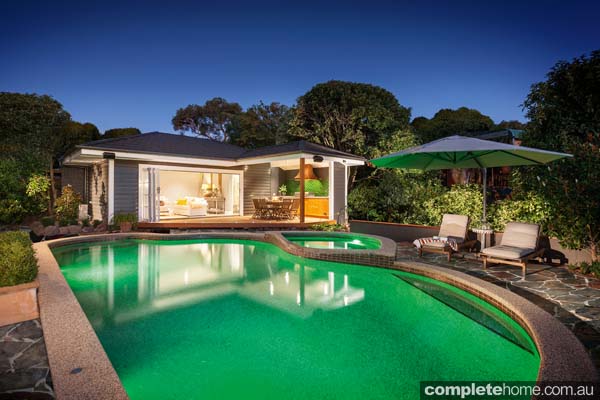 What started off as a sad patch of lawn with nothing but a clothesline has been transformed into a wonderful patch of paradise. Steve Magliano and his team at Acorn Garden Houses took on the task of creating an extra special pool house perfect for entertaining a crowd or for simply relaxing on the couch with the family. The company has definitely created the right balance of space in this ultra-stylish but completely practical pool house.
"The owners wanted the pool house to be an inviting room so family and friends felt comfortable and at home in the space," explains Steve. "The design inspiration came from Hamptons-style gardens and beach cottages, beautiful spaces incorporated into the garden of beautiful homes, a retreat as such; a place for family and friends to come together and enjoy."
When first looking at the poolside paradise, the eye is drawn to the deep-green tiles lining the outside wall of the deck. These beautiful handmade fishscale tiles act as a splashback for the pool house's outdoor kitchen. One of the key elements for the homeowners was to have a fully functional outdoor entertaining area that meant not having to return to the main house for anything. The area is completed with an inbuilt barbecue, sink and fridge, and features a marvellous solid copper vintage rangehood.
Large bi-fold doors open up into the welcoming lounge area. Crisp colours set off the simple but classic furnishings. Complete with pull-out sofas, the pool house easily transforms into a private guest house for visitors.
The bathroom uses classic white lining boards and subway tiles on the walls. Charcoal floor tiles keep the room user friendly. The white dresser-style vanity and wood-framed mirror complete the Hamptons-look bathroom, which is as accessible as it is beautiful.
Just because the pool house seems like an oasis doesn't mean that it is completely cut off from the world of technology. An integrated sound system can connect with any iPhone for music both inside and out, and there is full Wi-Fi accessibility to allow the owners to work from the outdoor space without Internet dropout. A large TV also features in the lounge, something that goes down a treat with the owner's teenage children and their friends.
Acorn Garden Houses specialises in these designs and it's not hard to understand why. This luxury poolside retreat is a credit to its ability and really is a special place for family and friends to share for many years to come.
more info?
Acorn Garden Houses
1300 655 659
acorngardenhouses.com.au
From Home Design magazine Vol. 16 No. 4