Some of the biggest names in the industry, including multi award-winning designers, are coming to Sydney for the Australian Garden Show 2014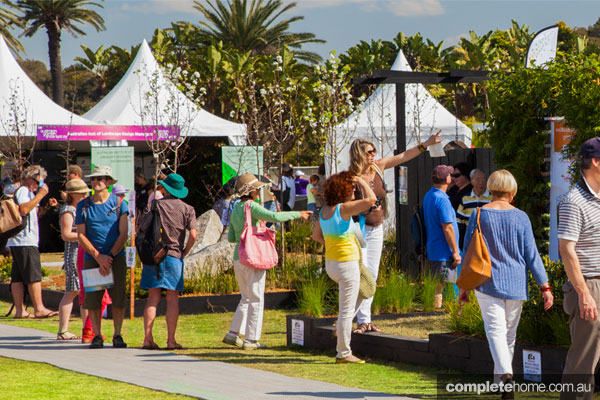 The Australian Garden show in Sydney is the year's biggest gardening event, and it's set to be an exciting installment. The team have lined up a collection of brilliant minds and designers to come together at this year's show. There's Australian Jim Fogarty, who has just won Best In Show win at the UK's Hampton Court Palace Flower Show; at last year's show he exhibited a Gallipoli-inspired garden titled 'The Last To Leave'. This year he'll be participating as a judge alongside Graham Ross VMM, House Rules' Joe Snell, Director of Horticulture Operations at Royal Botanic Gardens, Jimmy Turner and Linda Ross.
Jim Fogarty will also join Nigel Ruck and Don Burke in the construction of a modern backyard farm garden that the public can watch evolve over the four days of the show from 4-7 September in Centennial Park. Garden show visitors will have the opportunity to contribute to some of the decisions of the design of the garden, elements of which will be made from recycled and/or re-used materials.
This year's show has doubled in size, featuring over 30 display gardens built by a range of expert and emerging landscape designers. The categories include two Feature Gardens as well as 10 Inspirational Gardens, 10 City Gardens presented by Debco and 10 Balcony Gardens presented by Yates that will be judged by a panel.
Andrew Fisher Tomlin, NHGA UK Garden Designer of the year, returns to Sydney to create a garden for the St Vincent's Curran Foundation, 2014 Official Charity Partner, that focuses on dementia – providing a place where those living with dementia can feel comfortable and safe. Andrew's design will look at the potential of gardens to offer a lifeline to those with early onset dementia by providing them with coping strategies, a sense of place and therapeutic benefits.
Welcoming the spring weather, Phillip Withers' 'My Island Home' brings a piece of paradise to the show, featuring a timber beach hut and bridge surrounded by tall palms and colourful succulents.
Myles Baldwin will also build an Inspirational Garden to be judged alongside Withers, Fisher Tomlin and others including Christopher Owen, Brent Reid, Adrian Swainand Peta Donaldson.
The popular Talks Series will feature over 80 talks, presented over three stages, providing visitors with the opportunity to hear from and engage with special guest speakers and experts presenting progressive ideas on gardening, design and wellbeing. Topics range from rooftop gardens, to Australian native orchards and worm farming.
Tickets and further program information are available at: australiangardenshowsydney.com.au