A stunning landscape that trumps the indoors, this extremely elegant swimming pool is a prime example of what can be achieved with a small space.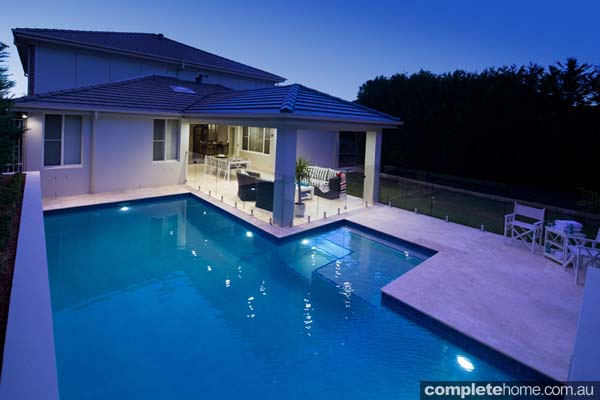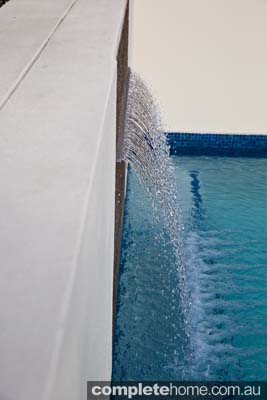 Divided into three sections, the area comprises the pool, the garden and an alfresco space that effectively adds another two rooms to the home. The swimming pool measures 9m x 4m, with a large swimout at the shallow end. On two sides of the pool, the wall continues out of the ground to form planter boxes with hedged screening plants.
The interior finish of the pool is Aristone (crisp blue) and the waterline and step indicator tiles are glass mosaics. At the centre of the shallow end, a 1200mm power stream water feature falls from the wall, creating the illusion of cascading water coming down from the planter box level above.
The equipment was set up for minimal maintenance and maximum ease of use and everything, including the gas heating, pool lighting and garden lighting, is controlled by an LED control panel located inside the house. From this everything is automated, including the filtration and Polaris cleaner, which is activated twice a day.
Included in the alfresco area are outdoor speakers, two ceiling fans that run off separate switches, three ambient ceiling heaters to take the edge off the cooler weather, and two banks of dimmable lights to ensure the owners never want to go back indoors.
Jakin Pools & Landscaping is owned and operated by James Watkin and is a division of the highly esteemed Jakin Construction Group. Using specialised architectural design services, Jakin produces the perfect outdoor area. Included in the team are architects, builders, pool builders and landscapers, who band together to produce a seamless flow between the indoor and outdoor living area. The team is committed to designs that are environmentally friendly and within the client's budget.
At a glance
Cleaning system: Fully automated
Chlorination: Salt
Heating: Viron heater
Filtration: Sand
Lighting: LED
Tiles: Travertine
Coping: Travertine
Fence: Glass
Alfresco heating: Ambient heater
Alfresco lighting: Two separate banks of dimmable LED
Alfresco cooling: Two ceiling fans running on separate switches
Alfresco sound: Flush-mounted ceiling speakers connected to internal amp
Design: ICR Design
Landscaping: Jakin Pools & Landscaping
Fact sheet
Jakin Pools & Landscaping Box 582, Round Corner NSW
Phone 02 9654 2979
Email info@jakin.com.au
Website jakinpools.com.au
Originally from Poolside magazine, Volume 43