Maison (a european design) has emerged as one of Australia's foremost supplier in unique & original products consisting of Reconstituted Sandstone large format Paving, Pool Coping, Retaining wall blocks, Columns, Water features, Tables, Wrought Iron chairs & screens, Marbledust-resin, Old Stone & Atlantis Pots.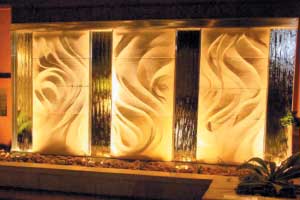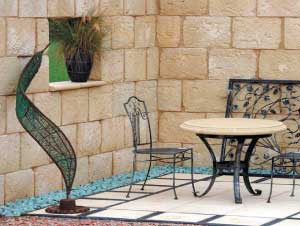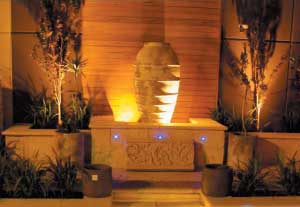 The display centre has just experienced a huge make over whereby 6 leading landscapers were invited to produce courtyard scenes using the Maison products.
These included a 'Night time" theme, a B B Q area and the use of Maison Sandstone with timber decking.The centre also houses " Gardens at Night " lighting landscape company again made use of in this amazinggarden ambience.
The Reconstituted sandstone is very differant to concrete & natural stone, it will not fade, bleach go dull & powdery like concrete is renown to do, has a grainy texture , ideal for "wet areas ", handmade, the sand is from a natural water spring in the Fleurieu Peninsula in South Australia, not brittle or porous, can be chemically cleaned and is now available with an addittive that produces a 31.7 M.PA rating.
Maison has released it's LARGE format pavers 1000mm x 500mm & 900mm x 900mm & cast the limestone blocks into pavers.
Maison's reconstituted retaining wall blocks are cast from the natural limestone blocks without problems like : breakage in transit, does not attract mould, lighter , easier to work with , can be used for retaining ( is hollowed for reo rods & core filled ) plus can be chemically cleaned or gurneyed.
To find the best outdoor surfaces and decorative items, contact Maison today.