This small but hardy inner city courtyard garden design manages to be both inviting and private.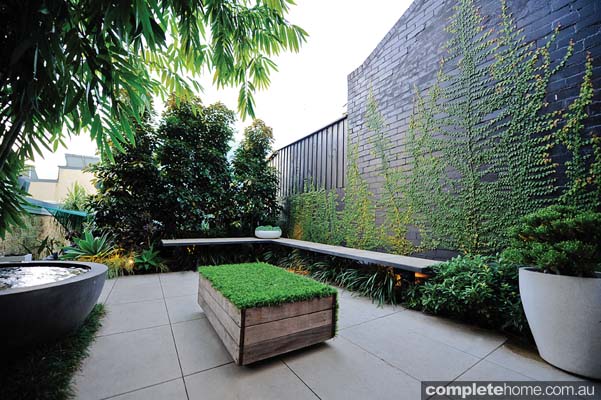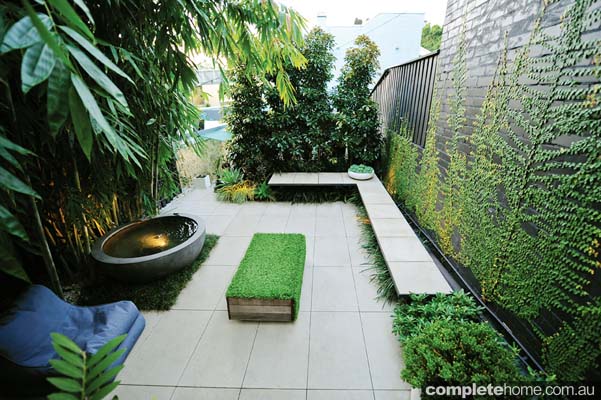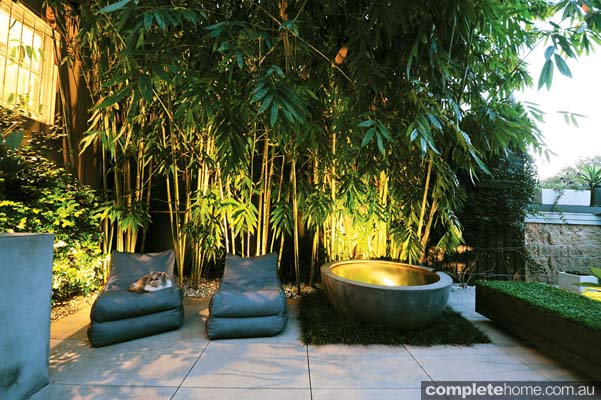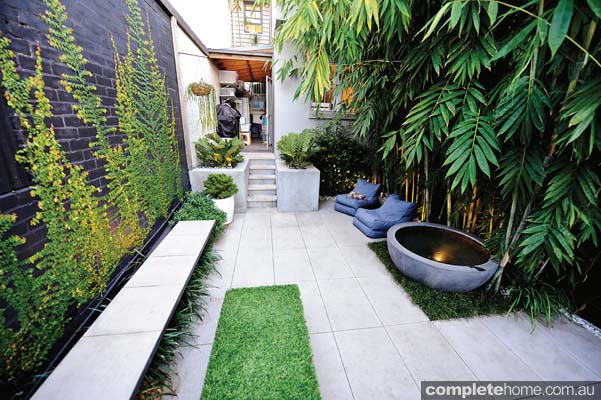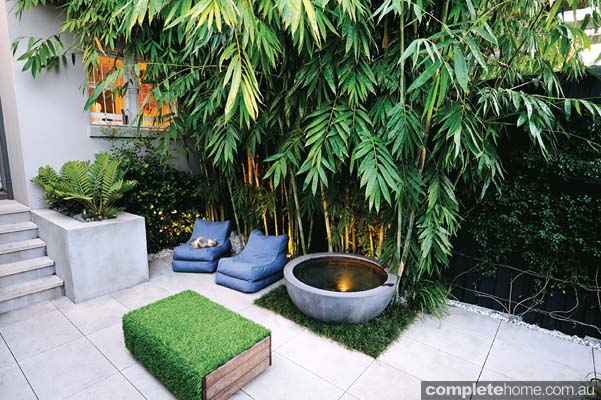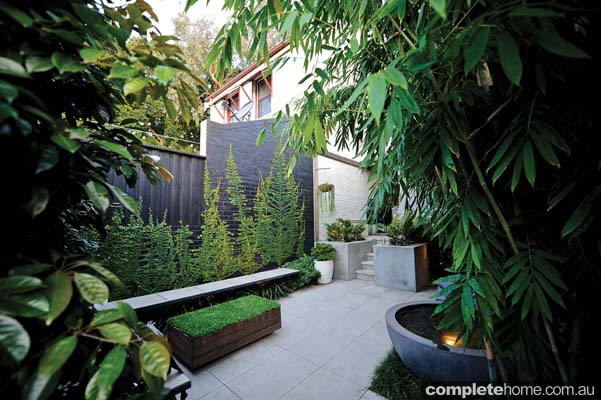 The owners of this serene inner city courtyard sought to create a contemporary, private and low maintenance garden space that was suited to outdoor entertaining. They also wanted the living area to incorporate a centrepiece that drew the eye, which in this case was a custom-made floating stone bench seating and elegant water element. They called on boutique landscaping company Bell Landscapes to design and construct the entire project and bring their vision to life.
"Being an inner city terrace, privacy was critical, so we endeavoured to create a private sanctuary where the owners could relax, entertain and enjoy the space with minimal maintenance," says Mark Bell, Director of Bell landscapes.
In order to create a sense of privacy, bamboo and Eleocarpus plants were used to give height and seclusion while also protecting them from the heat of the westerly sun. To soften the brick wall and create a soft "green wall", Bell landscapes used Ficus, a creeping fig. "Ficus was used to create a green wall with very little space available," says Mark. The Ficus will eventually create a stunning blanket over the imposing high walls.
On each side of the entry stairs were initially retaining walls comprising of unstable and unsightly red brick. This was repaired and rendered and purposely left unpainted in order to continue the minimal, earthy theme.
One of the key features of the space is undoubtedly the floating stone bench seating that offers a cutting edge, contemporary look. It is cantilevered over the garden so that at night it appears to float effortlessly over the plants beneath. Stainless steel in-ground spike lights were installed throughout the garden and beneath the seating to give it the suspended appearance at nightfall. Stainless steel submersible lights were installed in the charcoal water bowl, with all lighting operating automatically via a timer system.
The water bowl gives the setting a sense of peace and also adds another architectural element to the courtyard. The placement of the water feature works in harmony with the burst of green plantings that nestle around its base. The water bowl can also be used as a fire pit in the cooler months.
The overall contrasts between the lush green plantings, pale grey 500 x 750mm stone pavers and dark charcoal painted walls makes for a striking visual and contemporary effect.
Landscape design Bell landscapes, belllandscapes.com.au
By Kate McKee 
Photography by Mish Koh Photography