According to Blum, cooking in a kitchen with a dysfunctional design could be as stressful as a job interview. Find out how to de-stress your kitchen with these helpful tips.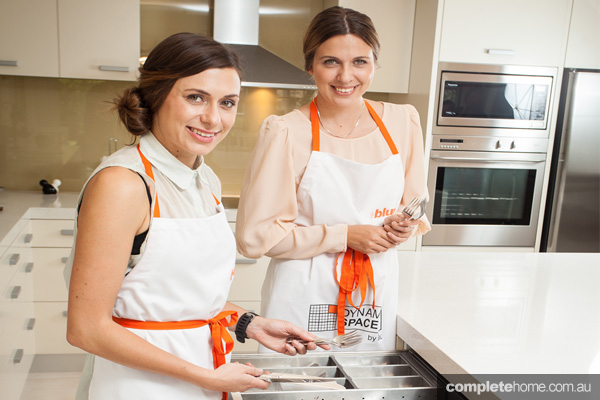 Tips by Sammy and Bella Jakubiak, My Kitchen Rules winners
Re-think the space
Kitchen furniture should meet three requirements: maximise space, provide enough storage, and be easily accessible. Gain extra space by replacing cupboards with deep drawers that extend so that you can see and reach to the back. Fit tricky corner spaces with drawers that open diagonally, while specially designed under-sink drawers can free up unused space.
Divide and conquer
Organise your kitchen so that all your equipment is easy to store and find while you're cooking. There's nothing worse than being on hands and knees digging through cupboards. Instead, install drawer dividers to separate pots and pans and to neatly organise utensils. You can see where everything is stored with a quick glance, and quickly pull out items you need.
Invest cleverly
How many times have you had both hands full but you need to open the bin? Or you have messy hands and need to get an extra knife from the cutlery drawer? Invest in kitchen equipment that will help make everyday tasks easier. This could be an electrical support system that opens the drawer with a light touch of your hip, a removable spice rack, or a built-in plastic wrap cutter.
Turn down the volume
Banish slamming cupboard doors with easy opening and soft-closing fittings. They open with a light touch and close silently and effortlessly, regardless of the weight of contents inside.
Follow your intuition
Create an intuitive kitchen layout according to the tasks you most frequently repeat in your kitchen. Imagine that you're preparing breakfast in the morning – you need cornflakes from the pantry, a cereal bowl, coffee mug, a glass for OJ and cutlery. When all breakfast items are stored as near as possible to each other, everything is close at hand. It saves you run-around time in the kitchen and you'll start your day more relaxed.
Plan ahead
If you're renovating, take the time to plan your kitchen with a focus on practicality and functionality. Have you ever thought about how often and in what ways you use your kitchen? Speak to your kitchen designer at the start of the process to make sure everything you need is incorporated in the design.
You can test-drive your ideas at a Blum Kitchen Showroom or be inspired at blum.com
From Kitchens & Bathrooms Quarterly magazine Vol. 20 No. 3