A generous and well-equipped outdoor addition provides room for entertaining and everyday living in this suburban Aussie home.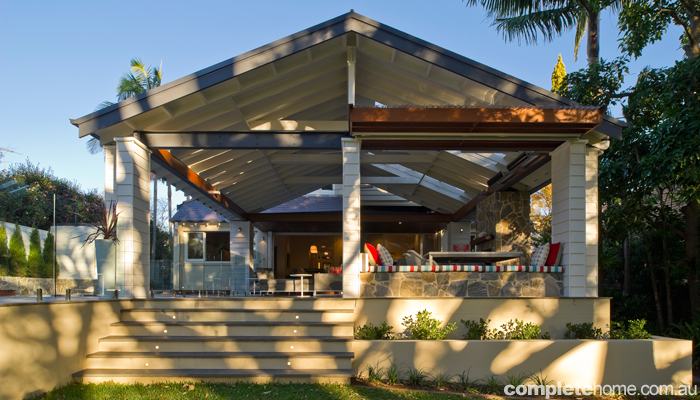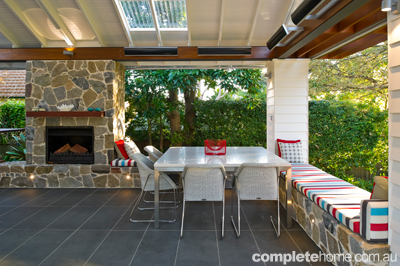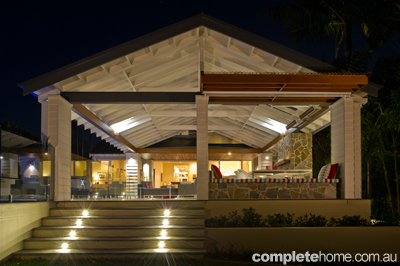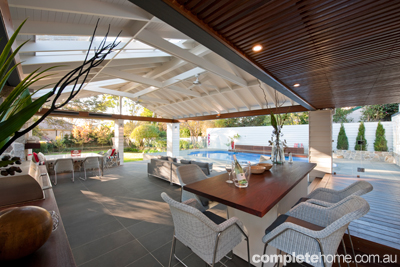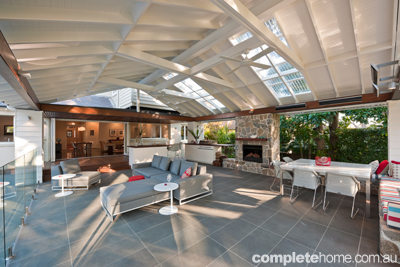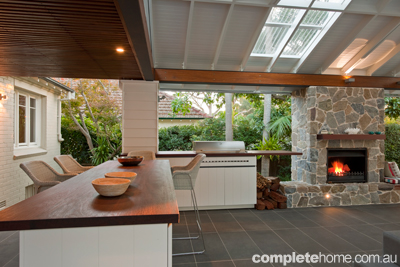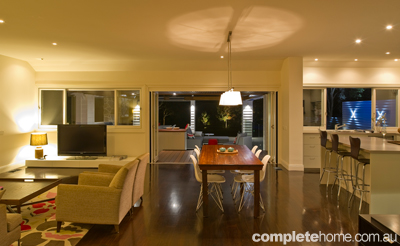 Picture this if I may indulge you for a moment; the bright Australian sun casts dappled rays of sunlight through the foliage of native trees on to the thick, verdant lawn. A light breeze wafts the pleasant aroma of sizzling meats mixed with the acrid tang of smoke, towards a group of adults indulging in their favourite tipple. The lilting sounds of idle conversation, broken intermittently with fits of laughter, drifts and mixes with the squeals of glee from children frolicking in the family pool, displaying an innocent exuberance only found in those too young to care.
One would hope that a scene like this is commonplace among the multitude of backyards found in the suburban Australian landscape. An ideal picture of friends and family, enjoying the ripe fruits of outdoor living that is afforded to us by living in a country with what many claim would be the 'perfect climate'.
Although Australia is subject to extremes of temperature and weather, generally speaking, warm sunny days and clear cloudless nights are what come to mind when one thinks of our climate. Because of this, outdoor living has always been a fundamental part of the modern Australian lifestyle. Ideally, every home would take advantage of the benefits of our general abundance of sun and temperate climate. And while many Australian homes do feature outdoor living areas, many either fail to match the comforts of the home or leave much to be desired.
This particular project meets both criteria. An enviously spacious and substantially renovated, two-storey Federation home graced with a large 900m2 north-facing rear yard is framed by deciduous trees; an ideal addition to an already substantial home. However, what you are met by is a rather drab and lacklustre 1970's external 'living area' – if it can be called such a thing. Pebblecrete pool, brick paving and an old timber pergola with a Laserlite pitched roof are the external companions to an otherwise attractive, modern and spacious home.
This is where Michelle Walker Architects enters the scene. The owners of this Roseville-based property were open to suggestions and looking for ideas on how to incorporate the existing pool into an ideal outdoor entertaining area. They desired something special "out the back". Their vision was an open planned, integrated indoor/outdoor living space that would be usable year round. A comfortable space shaded from the sun, protected from the rain and warmed by a cosy outdoor fireplace during the cooler months.
From the suggestion by Michelle Walker, the decision was made to build a separate pavilion structure detached from the existing home though linking to it with a newly furbished covered deck. The outdoor area could have its own look and character while still extending the existing internal living area.
A 9m x 9m steel and timber, pitched roof structure with annotations to 1920s Art Deco Manly Wharf, was erected at a comfortable distance from the house, to avoid any clash in aesthetics.
Connected by the timber deck "link", the pavilion provides an ample new living space, complete with outdoor kitchen and barbecue with adjacent bar space, including seating for "friends of the chef", bar fridges, outdoor wood fireplace and stone bench seating situated in one corner of the pavilion. This layout works in unison with the outdoor dining furnishings and lounge suite, which provide a multitude of configurations with room to spare for any occasion. Outdoor lighting, pull-down cafe blinds and wall-mounted outdoor heaters complete the pavilion, to provide an entertainment space that is comfortable for year round use.
Careful consideration was taken with the scale and size of the pavilion. Although large, within the boundaries of the yard and context of the scale of the existing home, it fits perfectly in the role of a transitive space between the home, pool and newly landscaped, expanded lawn area.
The pool area was by no means ignored either as the natural extension of the space that flows from indoors to outdoor areas, its place in the transition to home to garden was keenly utilised. Entirely refurbished with ceramic pool tiles, new plant equipment, gas heating and LED lighting, the "apron" was extended with a new concrete slab and bluestone paving. Frameless glass balustrades, timber decking with a built in bench for seating and storage plus an outdoor shower and weatherboard feature wall, all help to tie the pool into the pavilion's aesthetic design.
The outcome is a stunning living area that transitions effortlessly from indoor to outdoor space, providing ample room for entertaining and everyday living. The pavilion and newly refurbished pool create the extra layers of spatial evolution to complete the cycle from front to back. The sequence of spaces moves through the entryway, into the internal volume of the home, flows out into the transitional spaces presented by the new pavilion and pool, finally coming to rest in the deep and luxuriant rear yard.
This project was designed by:
Michelle Walker Architects
6 Mildred Avenue, Manly Vale, NSW
0422 393 600
mwarchitects.com.au
This project was built by:
Jetcharm Construction
0414 764 492
jetcharm.com.au
KITCHEN
Designed: Michelle Walker Architects
Kitchen Joiner: Benchmark Kitchens
Benchtop: Recycled Ironbark from Australian Architectural Hardwoods
Cabinetry: External grade HMR MDF – V-jointed panels, painted on-site
Appliances: 2 x Westinghouse bar fridges, Electrolux integrated barbecue 600mm wide with stainless steel integrated hood
BATHROOM FITTINGS
Outdoor Shower by Reece
Drainage: Stormtech strip drain "Tile Insert Frame"
LIGHTING
Light layout by MWA including down lights to porch, pavilion up lights, wall mounted spot lights, recessed step lights, in ground/paver lights, feature wall light
Light fittings: Inlight
OUTDOOR
Rainwater tanks: 2 x Slimline 2000L Colorbond by BlueScope Steel
Pavilion roof: Colorbond metal roofing in Ironstone, polycarbonate roofing to match Colorbond profile
Pavilion ceiling: V-jointed pine board, paint finish
Pavilion blades – cladding: Design Pine classic weatherboard profile 185 deep, 45 degree mitred joints with stopping bead
Paving: 800 x 400 large format pavers, orthogonal pattern Bluestone by Eco Outdoor
Decking: Spotted gum 140 wide, 18mm thick, countersunk stainless steel screws
Stone cladding: HOWQUA granite freeform cladding by Eco Outdoor
Perimeter steel frame: Painted in Ironstone, timber blocking to internal face to match decking
EXTERIOR COLOURS
Dulux Antique White USW
OTHER ACCESSORIES
Fireplace: Jetmaster
Café blinds: Café Blinds Australia
FURNITURE
Dining table: Brushed stainless steel frame, Corian (UV stabilised) table top
Outdoor lounge: Zendo by Manutti from Cosh Living
Outdoor dining chairs & bar chairs: Mood by Manutti from Cosh Living
Outdoor cushions: Interior Designer Louise Swan, Swan Studios
Pool: Smart Pools & Renovations, Belrose
By James Cleland
Photography by Rowan Turner
From Renovate magazine Vol. 8 No. 1