Check out our top tips so you can relax in your very own backyard cabana and enjoy a holiday at home.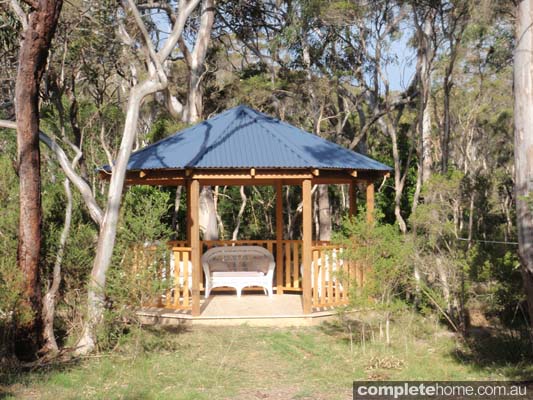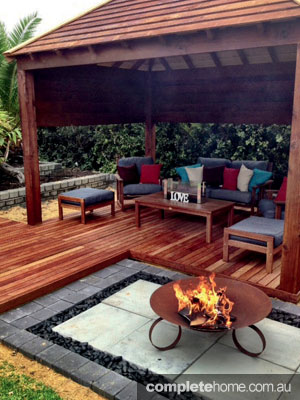 Cabanas are usually associated with being on holiday. In fact, travel brochures are full of them. You'll see them dotting the bays of some of the most luxurious resorts around the world — think Tahiti, Fiji and the Maldives — and in settings such as poolside areas, overwater bungalows and rainforest sanctuaries. With a large number of cabana options available, you too can have this holiday favourite at home and relax in your very own backyard luxury.
"Cabanas are the ultimate outdoor room, providing a weatherproof space to entertain and enjoy the beautiful Australian climate," says Adrian Swain of ecodesign Pty Ltd.
The choices:
Cabanas, huts, gazebos — the names used to describe them can be as varied as the styles available. Whether you're after a Balinese-style hut or a more modern aesthetic, there's something for everyone on the market. You just need to choose the style that will suit your home and garden, and your lifestyle. Matt Buchel of Tropical Lifestyle, a company that manufactures cabanas, says there are a few styles that are currently popular, including shingle-roofed designs, Balinese huts, and those made from Colorbond and multi-sided Colorbond.
"Generally, material selection takes its lead from adjacent or associated architecture," says Adrian Swain of ecodesign Pty Ltd. "At least referencing them in the design in some way demonstrates a considered design." Having a cabana design that links in design and aesthetic to your home will create the popular seamless transition that is so on-trend at the moment.
If you'd like to use the cabana more extensively than simply as a place to relax and take shelter, allow it to become an extension of your living areas by incorporating amenities such as gas for heating and cooking and electricity for lighting and cooling. "Passive solar design is also a significant consideration as this will minimise the effort required for heating and cooling," says Adrian.
Matt says you also need to keep the future in mind when planning your cabana. If you're planning to start a family or your family dynamic is changing, make sure you build something that will serve the whole family's needs now and in years to come.
DIY vs the experts
Depending on your desires and budget, you may opt to have a bespoke, custom-made cabana created for your backyard. However, if you're handy or looking at ways to keep the budget in check when renovating your backyard, a do-it-yourself option by way of a kit cabana could be just what you need.
Matt warns against skimping on quality to keep costs low. "Get the most for your money, otherwise you may end up wishing that you did," he says. "One of the most common mistakes is that people buy a cabana that is too small — the price difference isn't always huge but the problem is that you can't extend later on."
For those on a budget, a kit may be a good compromise as all the pieces are already built and need to be put together. Some kit manufacturers will also be able to put you in contact with, or supply, a contractor to install the cabana. "The advantage with a kit is that you save a little bit of money, and the disadvantage is that you may have to spend a little bit of time putting it up," says Matt. "Everything comes with it so it's a matter of literally screwing everything together, attaching the thatch and then sitting back and relaxing. A professional installer will cost you a little extra money but knows what he is doing and can save you some heartache if you're not so handy."
Other considerations
As with any major construction and structural project, make sure you have the relevant approvals and adhere to regulations set out by your local council and state government before you build. This can save you money, time, and a lot of future stress.
Now sit back, relax, take a sip of a cocktail and start planning your cabana.
Designer tip
Adrian Swain of ecodesign Pty Ltd shares his top tips for those planning to construct a cabana:
Timber flooring/decking will look best if covered by a roof. If partly covered, areas will weather differently and look odd.
An area of at least four metres is best, as this is the minimum space required to accommodate a dining table comfortably.
An experienced designer will ensure your structure is designed to complement the landscape and home, and therefore add significant value to your property.
Use a licensed and insured contractor to build the structure.
Words: Rachel Falzon
Originally From Outdoor Rooms magazine Issue 20