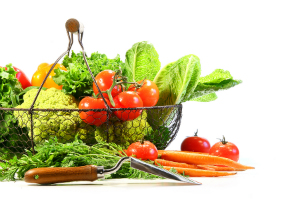 A productive garden can look as lush and colourful as a purely ornamental garden
Story: Karen Booth
There is nothing like cooking with home-grown produce, especially when that produce has been grown in your own garden. The options are legion. You could start with a humble herb garden, try a veggie patch in a far corner of the backyard or be adventurous and create a series of garden beds filled with a mix of flowers, vegetables and herbs.  
There are, however, many garden trees, shrubs, perennials and groundcovers that are both edible and attractive enough for use in your landscape design.
The Edible Oasis Garden display at the 2007 Melbourne International Flower & Garden Show (pictured here) gave life to a range of sustainable garden ideas, showing just how easy it is to have a garden that is both ornamental and productive. 
Designed by Vivid Design, the edible garden — complete with a multi-level deck and vine-covered arbour — was a paradise of geraniums, cyclamen, pansies and sunflowers, not to mention a healthy complement of herbs and vegetables (the latter including large leafy cabbages and lettuces, and fruiting eggplants and tomatoes).
Of course, you don't have to have a large block of land to have an edible garden. You can choose compact or dwarf vegetable varieties suitable for container gardening in courtyards or on balconies. You can also turn garden walls into growing spaces by training climbing plants (like runner beans or cucumbers) up a trellis or make use of a pergola by draping it in an edible vine.
Another way to make the most of the space you have is to opt for high-yielding veggies like carrots, onions, tomatoes, lettuce and spinach. Or you could use edible plants as an alternative to 'conventional' plants. For an alternative groundcover, for example, you could consider growing strawberries or spring-flowering thyme.
And remember, you can save space by putting vegetables, herbs and flowers together in the same bed. Mixing plants also allows you to implement companion planting — where certain plants are said to 'take care' of other plants by discouraging or attracting insects — which is one of the basic principles of organic gardening. To keep aphids away from your tomatoes, for example, you could try planting French marigolds and nasturtiums nearby.