Home builders north of Gympie, Queensland took the advice of a satisfied client when they went looking for a suitable design for their moderately sloping two-hectare block of land.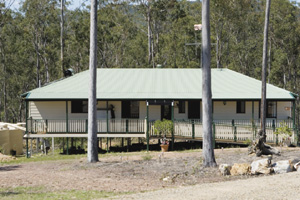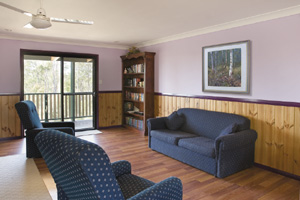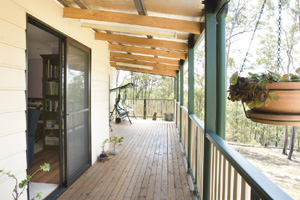 For this couple, Valley Kit Homes made an impression with its range of options and designs. The company's willingness to make changes to standard designs was also a deciding factor. The layout of the Alanna really appealed, with the master bedroom and ensuite placed separate from three other bedrooms. Affordability was also a prime concern. After a few minor changes to suit requirements, the family are now the proud owners of a Valley Kit home.
The Alanna is positioned so that the front looks over the pleasant block of land. Owners moved the front door to the dining room and added an internal wall to make a small entrance. A window occupied the original front door space, making a perfect place to have a small office. The bay window in the lounge was squared off and a sliding door fitted, giving access to the three-metre-wide rear verandah. A ramp at the front leads up to a two-metre-wide verandah.
Owners especially admire the look of the dado rail in the living areas, a colonial feature that adds to the visual appeal. Valley Kit Homes' flexibility allowed the clients to install a larger than normal shower in the ensuite and a shower catering for disabilities in the main bathroom. The Alanna's owners also designed their kitchen to incorporate a walk-in pantry.
Neither of the owners had previously built a home. With the help of Valley Kit Homes' efficient and caring team, they found the experience positive and rewarding. Their home is certainly value for money and, as a friend commented: "It's just like a bought one".
Valley Kit Homes offers a choice of more than 40 original designs in a range of sizes and floorplans. Contemporary tastes are accommodated with three ultra-modern, curved roof designs. Using recognised and guaranteed brands for all materials, easy-to-follow construction manuals, layout plans and expert back-up service, Valley Kit Homes has made building a home easy, enjoyable and economical.
Valley Kit Homes fosters high quality, low-cost production due to construction taking place in-house rather than outside contractors being appointed.
A wide range of external cladding caters to individual tastes.
All frames are delivered pre-assembled, ready to stand and are clearly marked to show their position in the building, ensuring easy construction. Kits are also designed and engineered to provide the structural strength to withstand a minimum of N3 (50 metres/second wind velocity). All components used are Australian-made and covered by Australian warranties.
The Alanna (modified by owner)
Size: 230.5 square metres (including verandahs).
Accommodation: Four large bedrooms (three with built-in robes and master with walk-though robe), lounge, dining, kitchen, computer area, bathroom, ensuite with toilet, laundry, huge four-door linen cupboard.
Construction time: 18 months to final council inspection.
Construction: Hardiplank Primeline Summit, Colorbond roof.
Special features: On steel stumps from 500mm to three metres high, walk-in pantry, oversize shower in ensuite, spa bath in bathroom, disabled shower, small foyer at front door, ramp to front verandah.