The perfect blend of indoor and outdoor living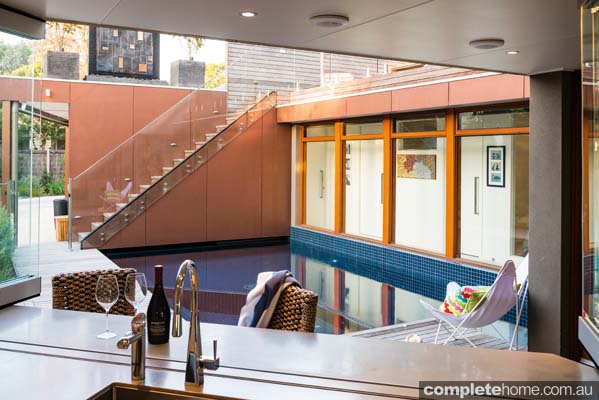 No pool or outdoor living space has merged indoors and out better than this idyllic and funky poolside setting by Aquarius Pools, in conjunction with Graeme Alexander Homes. An original masterpiece, this design cleverly utilises the available space, taking timber decking and outdoor finishes to the next level.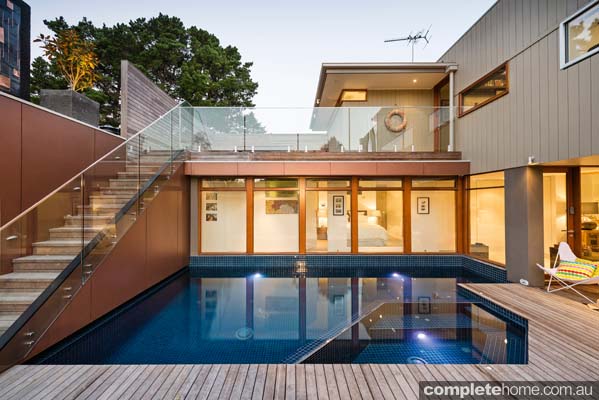 The innovative design ensures the pool and spa integrate perfectly with the shape of the existing house, which is situated on an irregular block. The unique shape of the pool and spa has been practically designed to be seen from all angles of the home. Nestled in the centre of the rear part of the home design, the pool literally brings the cool vibrant colour of the blue square tiles and calming water inside the home, creating a fresh feel to the overall flow of the design.
The house is transparent on the lower level so that the pool view can be enjoyed from the interior, as well as the panoramic ocean view from the upper deck. Views of the pool and spa from the upper and lower decks are maximised particularly at night by underwater LED lighting, creating a glorious and calming environment.
The lower-level kitchenette and bar open out onto the pool, spa and barbecue decking area, leaving you only to decide whether to sip your cocktail in the pool, bar or spa.
Aquarius Pools cleverly collaborated with the supplier of the pool cover to provide a slatted cover that would take in both the pool and the spa, despite the irregular shape. The fully retractable automatic pool cover cleverly disappears into a niche under the staircase and incorporates additional security features with its safety ledge and walkable surface, as well as minimising evaporation, chemical and power usage. With the solar heating, this helps maintain the pool temperature.
A unique feature of the pool is the Intellitouch controller, which allows the pool to be controlled via iPhone or iPad technology.
A family business, Aquarius Pools has been building high-quality swimming pools and spas along the Mornington Peninsula and Melbourne's Bayside and eastern suburbs since 1979. Managing director Chris Jackson says incorporating the lifestyle of the client, functionality, site placement and quality materials in the construction is what constitutes great design.
At a glance
Heating: Solar and 450 Viron gas heater
Tiles: Fully tiled
Filtration: Pentair Intelliflo pump
Lighting: Underwater LED lights
Outdoor furniture: Luxe Outdoor Living
Home built by: Graeme Alexander Homes
Fact sheet
Designed and built by Aquarius Pools in conjunction with Graeme Alexander Homes
1/6 Progress Street, Mornington Vic 3931
03 59 75 1314
Originally from Poolside magazine, Volume 44