Escape the hustle and bustle of the outside world and step into this calming tropical suburban haven to relax and unwind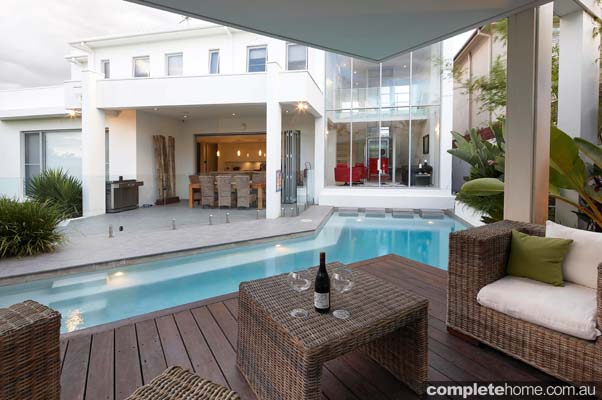 These homeowners have discovered the perfect place to completely switch off when at home — outside in their very own tropical retreat, which transports them worlds away from the daily grind. They envisioned an exquisite outdoor area that would make the most of their relatively small space and fit in with their contemporary new home. Privacy from neighbouring properties was an important factor, and a pool and outdoor entertaining area were also must-haves.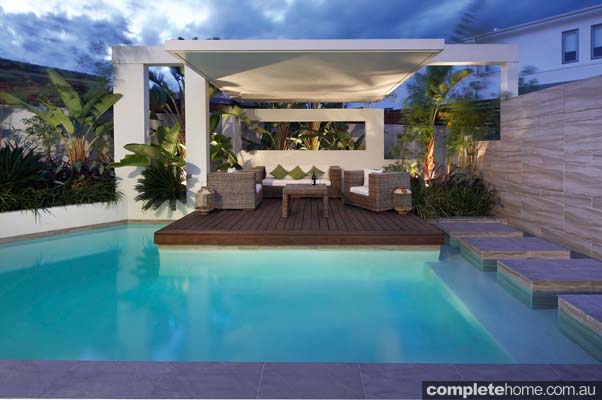 The landscape was to complement a new build on a vacant block, so the existing site presented to designer Dean Herald of Rolling Stone Landscapes was very much a blank canvas. "The clients really wanted a tropical feel, which was drawn upon for inspiration," says Dean. "Inspiration was also taken from a holiday resort experience."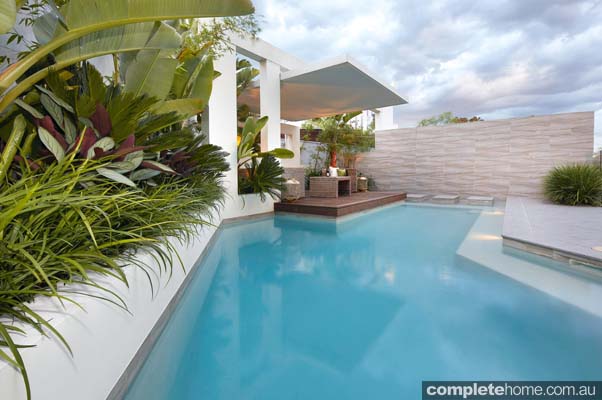 This beautiful private tropical retreat exudes a relaxed atmosphere and was expertly created in the backyard. "It's now a place where one can leave behind the day-to-day hustle and bustle and step into a calming space to unwind," says Dean.
A key feature is the uniquely shaped pool, whose 45-degree angle best utilises the limited space. Positioned directly against the house, it forms an attractive feature when viewed from either the ground or first floors. A large blade wall at the end of the pool offers complete privacy when the homeowners are swimming or entertaining, and at the same time the wall creates an inviting outdoor room.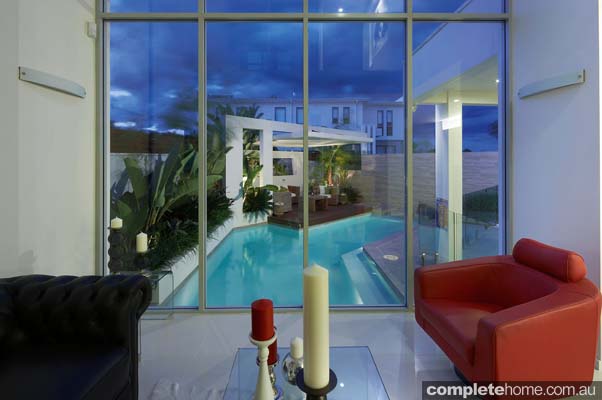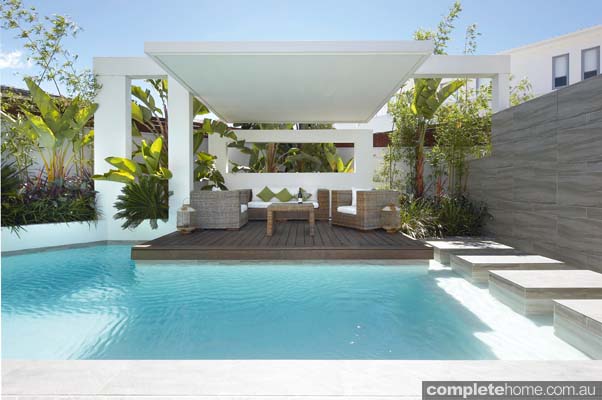 Privacy from neighbouring properties was accomplished thanks to the timber-decked open pavilion — Dean's favourite aspect of the project, complete with a ceiling that overhangs the pool. Positioned to look towards the house, it helps to connect those enjoying the pool and pavilion area with those in the dining space.
Wall cut-outs provide space for plants to grow through and soften the overall area, and the planting enhances the project's relaxed nature and lush tropical theme. These plants include Strelitzia nicolai (giant bird of paradise), Ctenanthe setosa 'Grey Star' (grey star Ctenanthe), Bambusa textilis 'Gracilis' (slender weavers bamboo), Liriope muscari (turf lily) and Cycas revoluta (Japanese sago palm). Plants screen the rendered wall, while the tiled masonry wall gives interest and movement to the space.
Rolling Stone Landscapes has ensured the small area it was presented with has been used to its full potential. "Clever use of the designed elements makes the most of limited space," says Dean. "The small area has been overcome with clever design to pack in many elements."
Plant list
Giant bird of paradise Strelitzia nicolai
Grey star Ctenanthe Ctenanthe setosa 'Grey Star'
Slender weavers bamboo Bambusa textilis 'Gracilis'
Turf lily Liriope muscari
Japanese sago palm Cycas revoluta
For more information
Landscape design and construction Rolling Stone Landscapes
Website rollingstonelandscapes.com
Words by Danielle Townsend
Photography by Danny Kildare
Originally from Outdoor Rooms magazine, Volume 26