A contemporary garden with a striking fan-shaped layout and a soft planting scheme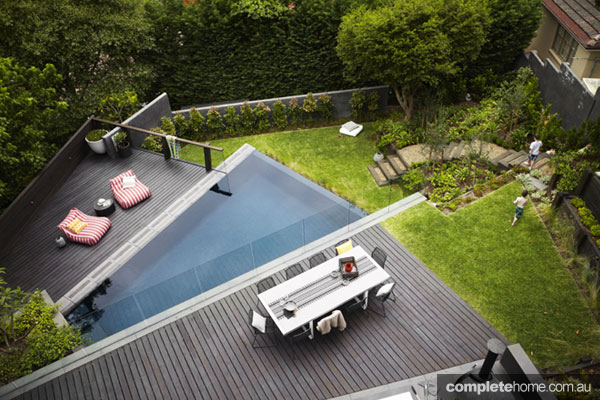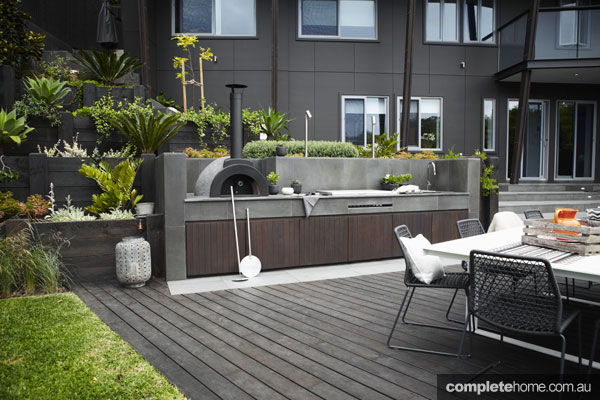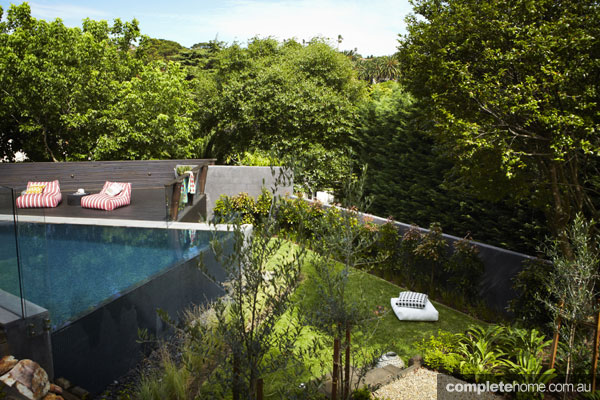 With a mammoth renovation and extension project finally completed, the owners of this modernised home on Sydney's North Shore were seeking a rear garden design of equal impact.
"When I first came to the site to meet with the homeowners, the backyard was basically a dumping ground for the construction site," says designer Josh Harrison from Harrison's Landscaping. "What the owners wanted was a swimming pool with a surrounding area that would provide ample relaxation space for their teenage kids, and a garden that would be ideal for entertaining."
As the home is very contemporary, Josh carried that into the garden, but only in select elements: the angular lines of the pool and decking, and the sleek bluestone tiles used for the pool coping and other paved areas. "The planting was kept informal and very soft to contrast the contemporary look of the house and the hard surfaces in the garden," says Josh. "Because the house is so big and seems to loom over the garden, I designed the backyard to 'fan out' from the house. This layout not only creates interest, it slowly breaks down the somewhat hard feel of the house the further you venture into the garden," he adds.
The fully tiled swimming pool is a key element in the fan shape and its irregular shape looks particularly impressive when viewed from the home's upper-storey balconies. The same applies to the two decks. These were built using tallowwood, which was stained a darker colour to link to the exterior colour of the house. This also marries with the dark-stained cedar screen along the side of the far deck.
The outdoor kitchen is a similarly impressive feature of the new landscape. It comprises a built-in, stainless-steel Electrolux barbecue, a woodfired pizza oven, a stainless-steel sink and tap, a servery and an under-counter fridge. Says Josh: "It's such a striking feature and the cedar doors, to which we applied a dark stain, go perfectly with the bluestone benchtop which my construction team had to hand-cut and polish on site."
Josh's planting palette is informal, as can be seen in the mix of hedging and boundary plants. These include viburnum, Camellia sasanqua, Magnolia grandiflora 'Teddy Bear' and Eleaocarpus eumundii (quondong). As a feature, a mature fangipani (which had to be craned in) was positioned in the planter box next to the pool and underplanted with star jasmine.
"There is also a winding avenue of olive trees either side of the timber stairs which are underplanted with Arthropodium cirratum, which has a beautiful white flower," adds Josh. "When I design a garden, I try not to over complicate things," says Josh, whose company continues to maintain the garden. "My goal is to complement the house and surroundings. And it's important that the garden is designed in a way that suits the family's lifestyle. There's no point designing a high-maintenance garden for a super-busy family. I'd rather they spent their time actually enjoying the garden."
Written by Karen Booth
Photography by Natalie Hunfalvay
Originally from Backyard Design & Garden Ideas Volume 12 Issue 2