Modern and clean design allows this pool and the views to speak for themselves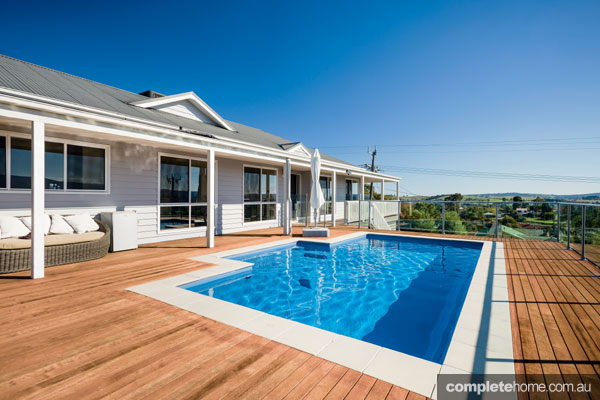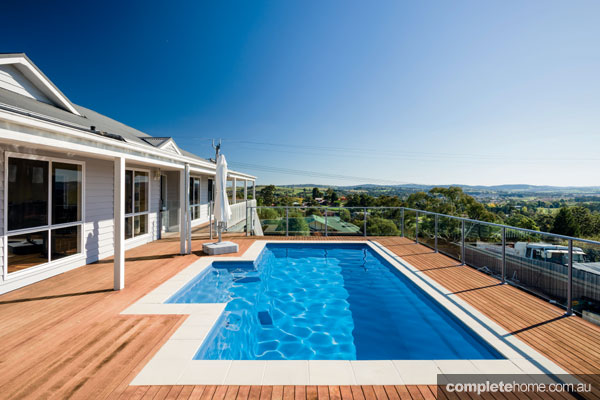 As you step onto the deck of this property, you are not only welcomed by the stunning family-sized pool, a clever design by Wayne Gibson @ Pool Installations Australia, but also the gorgeous views of this region's vast plains and mountain tops.
This Island Blue fibreglass pool, with its clean lines and large swim-out area which is also the main entry of the swimming pool, is a stand-out feature in this landscape. The owners can walk out of their living area and directly enter their pool, in which they can enjoy a spa (the swim-out has been lined with a Spa Jet system) for added comfort after a long work day.
The oversized umbrella in one corner adds shade as well as a unique touch. Surrounded by bespoke timber decking and Quantum Stone coping, this pool design accomplishes the indoor-outdoor look that the owners wanted to achieve.
To meet the brief, the team at Pool Installations Australia had to engineer and construct a platform to elevate this pool 2.5m to join the existing floor level of the house. The deck was married into the pool structure, adding a seamless look to the entertainment space.
The heavy-duty pool shell that was used, designed and manufactured by Miami Pools, is self-supportive, allowing the deck to be built into the one structure as well as allowing for the coping pavers to be installed, once again providing that seamless look.
The team at Pool Installations Australia used a number of features to ensure this creation can be maintained well and enjoyed for many years to come. Davey pool equipment was used, with a Davey Silensor series pool pump, Crystal Clear Media Filter and a Chloromatic self-cleaning chlorinator. The pool is illuminated with PAL 2000 H4 halogen pool lamps, a necessary featuring for night-time swimming.
Project details:
Cleaning systems: Davey Chloromatic self-cleaning chlorinator
Filtration: Davey Crystal Clear Media Filter and Silensor series pump
Coping: Quantum Stone, Masterstone bullnose custom copers
Decking: Merbau decking
Lighting: PAL 2000 H4 halogen pool lamps
Fence: Semi-frameless glass fencing and safety gate — AS.1926.1 Australian Standards compliant
Company profile
Pool Installations Australia Pty Ltd
A: 104 Northgate Drive, Thomastown Vic 3074
P: 1300 857 665
M: 0412 382 126
F: 03 9416 4628
E: wayne@poolinstallations.com.au
W: www.poolinstallations.com.au
Originally from Poolside Showcase Volume 21