Easy to use, energy efficient and designed for all decors and lifestyles – Waterco's Aquamaster Pool & Spa Automation system simplifies pool management to the press of a button
The wall mount touch screen control panel can be operated from the convenience of indoors, allowing homeowners to easily manage pool, spa and ancillary functions such as pump, filter, heater, cleaner, landscape lighting and water features.
"This is a very sophisticated solution that takes the thinking out of operating a complex pool system," explains Bryan Goh, director of Waterco.
"It also has the smarts built-in to maximise energy savings via the control of energy savings pumps," he said. "In addition, it features a solar priority, maximising the use of solar heating prior to the operation of a conventional heater."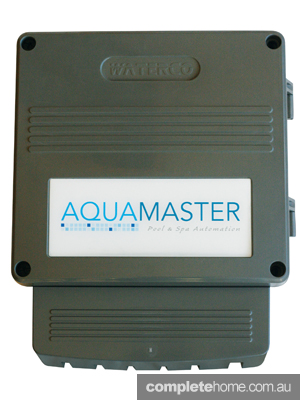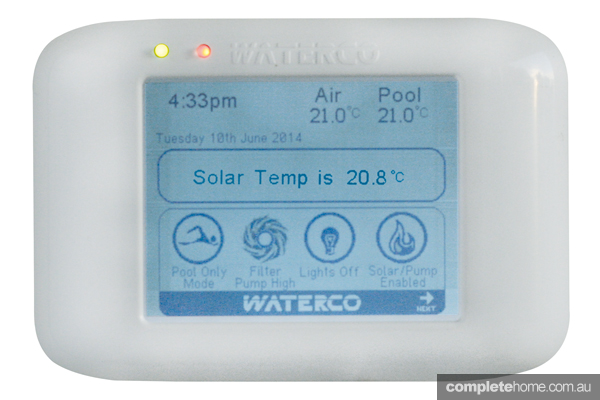 Aquamaster's touchpad control brings a wealth of benefits to pool owners, including:
1.         Easy-to-navigate LCD screen automates and operates filtration equipment
3.         One touch switching between pool, spa and pool, and spa modes
4.         Ability to check outside air temperature, pool and spa water temperature as well as monitor equipment status
5.         Reduced power bills through automated management of energy saving pumps and LED
coloured lights
6.         Reduce heating costs with integrated commands that maximise the use of free energy
from the sun before activating conventional forms of heating, such as a heat pump or gas
heater
Aquamaster also makes it easy for pool builders with a host of special features ranging from plug-in sensors for easy installation through to intuitive set-up and programmable lifestyle settings.
For more information
Waterco 36 South Street, Rydalmere NSW 2116
Phone 02 9898 8686
Website waterco.com