By Karen Booth  
If you're planning a new pool and cabana, plan for maximum fun and year-round entertaining.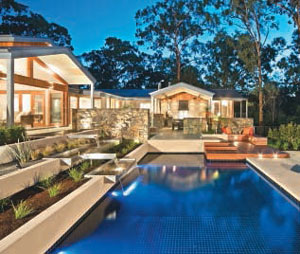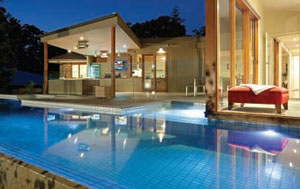 As the popularity of the outdoor room has grown, a new phenomenon has emerged: the fully equipped, custom-designed poolside pavilion. While there's nothing new about having a shaded area where you can cool off between dips, the modern poolside cabana or gazebo is a fully fledged outdoor room.
A poolside outdoor room can take many forms. It might be an extravagant fully equipped cabana with bathroom facilities, outdoor kitchen, daybeds, ambient and task lighting, a TV, dining and lounge furniture, plus an outdoor fireplace or something of more modest design and proportion. The key is to get the positioning right and ensure the room is seamlessly integrated into the overall landscape, working as part of the pool area and complementing the home and its surrounding outdoor spaces.
"When contemplating a built structure, the style you choose will depend on your personal taste,the design of your pool and the architecture of your house," says John Storch, a Sydney landscape architect and principal of A Total Concept. "The scale and specifications will be determined by your budget and your lifestyle needs, but at the most fundamental level poolside structures need two key components: a seating area where you can relax (and supervise the children as they play in the pool) and shade. Anyone who wants to use their pool on a regular basis needs to provide adequate shade or you will find yourself venturing out only when the weather isn't too hot. This is where a built structure with a roof has the advantage."
The roofing you choose will be determined by the style of the structure and, if the pavilion or cabana is in close proximity to the house, the materials used for it. So you might have a poolside cabana with a tiled roof, a thatched gazebo or, perhaps, a pergola covered with a retracting or louvred roofing system to allow greater flexibility.
The materials used in your poolside outdoor room should be complementary to the rest of the property to present a unified look. In a large garden, changing material types to create a themed poolside structure might be possible but for smaller or average sizes gardens, opting for a unified approach will work best.
While you want the flooring of any room, inside or out, to be non-slip, this is especially important in an outdoor room where wet feet are going to tramp in and out on a regular basis. Decking boards can look great but choosing a textured paver can be a safer idea, and if you have paved pool surrounds you can use the same paving to create a coordinated look.
Of course, how you light your poolside room is important. If you plan to cook and serve food at night, then good task lighting is essential. Access steps also need to be clearly lit, as does the path or area that leads from the pool to the outdoor room. 
Adequate pool lighting is also essential and this should be a combination of safety lighting (such as on the entry steps) and ambient lighting (such as uplighting water features). This not only makes the pool pleasing to be in, it makes it a mesmerising sight when viewed from the comfort of the outdoor room.
You might also like to consider if you want doors or screening around your structure for privacy and weather protection. Bi-fold doors are a great idea for larger structures if you'll want to use your outdoor room on chilly, wet or windy nights. If you have solid walls, louvred windows can be a good idea too as you can adjust them to regulate the amount of sun entering the room or reposition them to capitalise on cooling breezes.
"Essentially, the mark of success for a poolside outdoor room design is that it looks great, fulfils the functions required of it and integrates seamlessly with the surrounding landscape and your home.
Great flow, great layout and great materials are what will make a pool cabana or pavilion an extension of your home," says John.
Of course, the same planning needs to go into creating the pool itself. It's easy to dream about having a pool in your backyard, but where to start? The first thing to do is talk to the family and work out what you want from the pool; is it exercise, entertaining, somewhere for the children to play? Do you want an integrated spa or a standalone spa? How about a swim-up bar? Do you want a water feature? Then discuss what style and size of pool you'd like. The next step is to contact a reputable pool builder or pool designer. While many pool builders design and construct the pool from start to finish, others prefer to work from plans from a landscape architect or designer. Either way, these industry professionals hold a wealth of information that can help you bring your dream pool to fruition.
Landscape architect Peter Glass of Sydney's Peter Glass & Associates says a consultation from a design expert before the construction of your pool and landscaping project can provide huge benefits in the long run, including the best possible design solution, maximum value added to both your property and your lifestyle, and peace of mind from knowing that everything is being looked after by the experts
"Pre-planning is important and the old saying 'if you fail to plan, you plan to fail' is often true," says Peter "When it comes to the design elements of the project, it's important to plan the pool and the landscaping at the same time. This also includes all poolside areas such as the spa, shade structures, retaining walls, paved areas, pool fencing and drainage solutions."
With advances in technology, part of the planning process might include a virtual tour of your planned pool and garden. Jamie Loft of Queensland-based 4Blue landscape architects and specialist swimming pool builders says the virtual reality programs available can give clients a realistic look at what their completed pool and landscape will be like.
"This also gives them the chance to change small things in a flash, such as the colour of the pool interior, allowing the client to make decisions based on taste and aesthetic appeal. For example, they can view their preferred concept in a pebble pool interior, a tile or quartz, all at the click of a few buttons," says Jamie. "We figure if we can show it to you visually, as in take you on a tour of your design and backyard, you can imagine it with us and make educated decisions about what works best for you."
From a builder's point of view, the visualisation programs provide an avenue to realistically communicate the design and ideas to clients. The clients also gain from seeing their dream pool before it has been built, as they can decipher whether the design meets all their requirements and needs and can see whether their pool will enhance their property and be aesthetically pleasing.
"The obvious benefit of the 3D is that clients are more involved in the entire process. They can view the pool and its surrounds from all angles and check simple things, such as how high a wall at one end of the pool will be and how that will work within the property," says Jamie.
Peter says a combination of both visualisation software and drawn plans is the usual way of doing things. "We use both, as plans are required to submit the project to council for approval, to obtain tenders and to form part of the construction contract as well as enable the project to be constructed. We often use a combination of plans and 3D visual imaging to help the client picture exactly what their finished project will look like well before construction commences."
With your new pool built and your poolside pavilion standing at the ready, the next step is to choose some stylish outdoor furniture (sun lounges for beside the pool, a dining suite or modular lounge arrangement for the pavilion) and you are ready for the summer entertaining season.