By Jordana Reid 
The home elevator can be much more than a practical measure. With a plethora of new options, it's a viable way to lift the style of your home.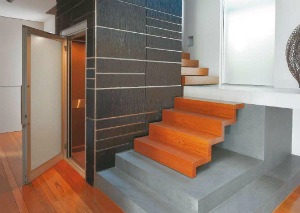 While those who own luxury homes have adorned the common staircase with floating treads, intricate balustrades and ornate timber boards for centuries, the home elevator is fast becoming an attractive supplement, with a range of new technological and design options on hand. Like any significant investment, the purchase and installation of a lift for your home requires extensive thought and consideration. From energy efficiency to noise levels and finishes, all details need to be considered; expert advice across all aspects will ensure an optimal end result.
According to Dijana Vojvodic from Easy Living Home Elevators, it's an investment in your home and will have an impact on it for more than 20 years. "The customer needs to explore the lift ranges available as much as possible," advises Dijana. "It's not like a car; if you purchase a product you are not satisfied with, you cannot trade it in and move on." We spoke to three industry experts to guide us through the process: Bernard Edwards from Lift Shop, Dijana Vojvodic from Easy Living Home Elevators, and Natalie Xylas from Liftronic.
The key benefits of home elevators: 
What are the leading advantages of home elevator installation? 
Ease and convenience: A home lift is a great way to improve access; it can ease the burden of carrying groceries up stairs, says Dijana Vojvodic from Easy Living Home Elevators. "The lift can do the work," she says. "It can effectively turn your multi-levelled residence into a single-level living space at the touch of a button." 

Future-proofing your home: Natalie Xylas from Liftronic says that an elevator can future-proof your grand design. "If you're investing your heart and money in building your dream home, you don't want to have to sell it in your twilight years because the stairs have become difficult to manoeuvre." 

Use of space: Bernard Edwards from Lift Shop says having a home elevator can maximise the design potential of your home, often capitalising on views. "By having a home elevator, multiple levels no longer pose a problem. It also increases creativity for architects and designers by maximising the use of any building site, rather than being constrained by concerns of having too many levels." 

Long-term investment: having installed many customised lifts into luxury homes, Bernard from Lift Shop says the home elevator is becoming an expected feature. "Having a home elevator ticks one of the many boxes of what is expected these days in luxury homes. Once it was items such as a pool, tennis court or air conditioning — now it's the home elevator."
All in the finish: 
Dijana Vojvodic: The appearance and feel of the lift as an architectural part of the home is as important as the drive system. Our lift finishes from the large standard range include our lightweight granite stone flooring selection, various types of stainless-steel colours and textures, mirrors and glass, and the lift car can be fully customised to suit your application. A wide range of doors is also available, from swing doors to automatic sliding doors in a selection of finishes such as stainless steel and the ultra-modern frameless glass sliding door system, which transforms your elevator into a remarkable designer show piece. 

Bernard Edwards: Lift Shop has a high-calibre range of standard inclusions and finishes as well as upgraded finishes that can be customised by local trades. Popular finishes range from coloured skinplates, decorative glasses, fabric walls and veneer walls to decorative door claddings, embossed/etched stainless steels, LED lighting, classic stainless-steel selections, composite aluminiums and glass shafts, just to name a few. 

Natalie Xylas: Glass is very popular, but due to the demand and requirements of lifts in private homes, the selection of finishes is constantly increasing. Our clients are seeking architectural, aesthetically pleasing finishes for their lifts to blend with their home interiors.
Trends and technologies: 
Going green: New single-phase power supply systems have resulted in minimal energy usage and lower running costs. These innovative options make home elevators a sustainable option for the eco-friendly buyer.

LED lighting: Automatic LED lighting offers significant power savings as interior lighting remains off when the lift is not in use. "With the increase in electricity costs, our clients are now becoming savvier than ever," says Natalie Xylas. 

Space saving: Low pit depths and minimal footprint dimensions have resulted in less invasive building procedures. These options minimise the need for excavation and machine rooms, and reduce installation timeframes. 

Electric traction: The move away from older-style hydraulic lifts is being embraced by architects, builders and homeowners. "They appreciate the energy efficiencies offered and the cleaner feel of a lift that doesn't rely on potentially smelly hydraulic oils," says Bernard Edwards. As such, discerning home elevator buyers are following the trend to work with the larger lift companies which offer electric traction lifts (making the most of counterweight advantages). 

Home automation systems: It is now becoming more common during the building stages for people to invest in stateof- the-art full-automation systems that control everything, from sound and entertainment to security. "The residential elevator has become an extension of this, another means of futureproofing the home for the technology of tomorrow," says Dijana Vojvodic.