This pool is a fine example of the quality produced when one company looks after the entire project
For those who have commissioned any work on their home, it's hard to imagine a project running entirely smoothly without causing stress or interfering with work or weekends. For the owners of this cleverly designed urban oasis, the process was a dream. Boutique pool and landscape designer/builder, Urban Escape, took care of the entire project from start to finish, creating a pool and outdoor space that exude quality and meet the owners' wishes and requirements.
The smart-looking pool was designed for a young family of four in Artarmon, NSW. The professional couple and their young children required a pool that would cater for fitness and relaxation, as well as entertainment and safety for the children. Urban Escape hit the nail on the head with this 9m x 4m pool and surrounds.
To make the most of the backyard, the pool was positioned along the back fence of the property to allow space for a lawn area suitable for a growing family. A swim-up bench provides an area where adults can relax and enjoy a glass of wine, while watching the children play. Swim jets were incorporated into the pool, further adding to the pool's functionality by enabling lap swimming.
Understanding a need for seating without intruding too much on the pool area or lawn, the team from Urban Escape designed and built a bench seat adjacent to the pool, which is neatly tucked into the garden. Plants such as star jasmine and pleached pears have been chosen to suit the New South Wales climate and grow lush to eventually provide shade and fully cover the fence in foliage. Solar heating and rainwater tanks have been incorporated into the design and are cleverly hidden.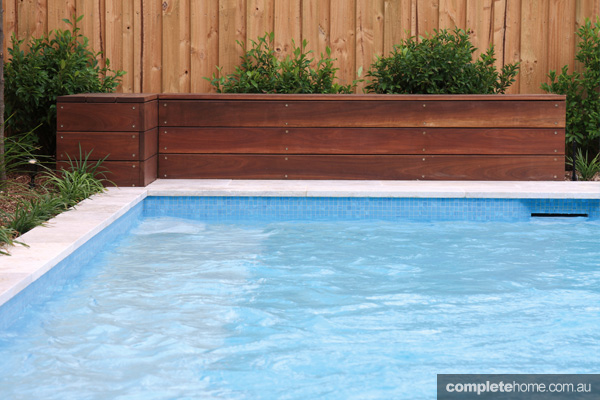 Urban Escape owner, Nick McCarthy, started the award-winning structural landscape company more than 19 years ago. Market demand inspired Nick to become a licensed pool builder as he noticed more and more people were looking for one company to look after both the pool construction and landscaping.
Offering a truly comprehensive solution to any outdoor area, Urban Escape builds approximately seven to 10 pools each year in Sydney. Construction is limited to what the group can personally manage, ensuring each client receives a truly boutique service.
As a member of SPASA, LNA and AILDM, Urban Escape has been recognised for its impressive design and execution of projects with many industry awards. Most recently, Urban Escape won a gold state award and gold metropolitan award for its swimming pool construction in the $50,000 – $100,000 category at the 2014 SPASA Awards for Excellence and also received a bronze award for Best Pool Renovation over $25,000.
For more information
Urban Escape
Address: 48/28 Barcoo Street, Roseville NSW 2069
Phone 02 9417 8004
Mobile 0416 180 530
Email nick@urbanescape.com.au
Website urbanescape.com.au