Designed by Cantwell Pools, this entertaining area is something truly spectacular. The wet edge on this pool creates water so smooth you could walk on it.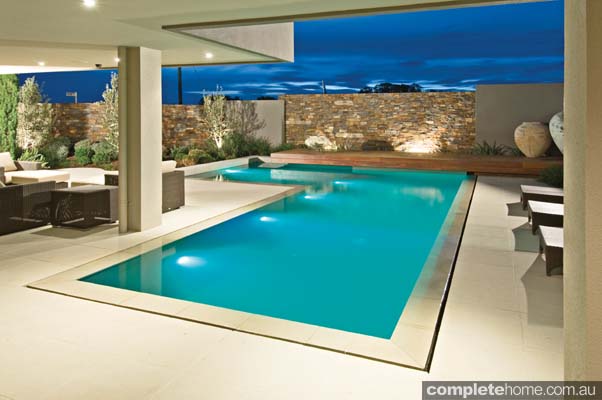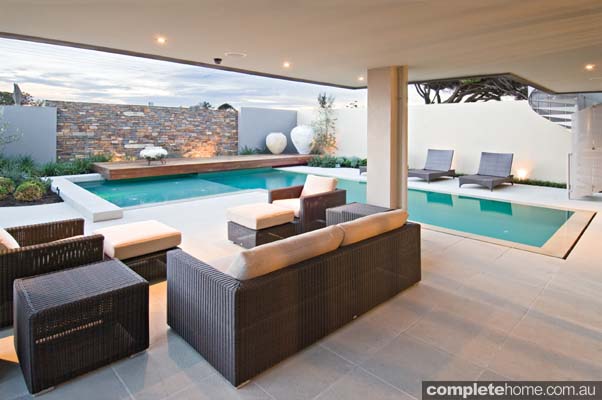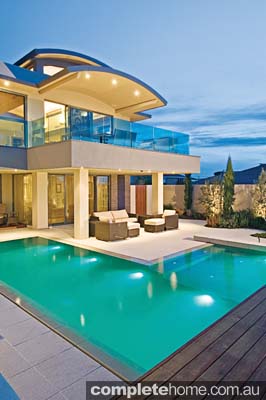 This stunning courtyard pool has many attractive features, but without a doubt the most striking is the wet edge surrounding the pool, which creates a beautiful water surface as smooth as a sheet of glass.
This pool was planned to create clean, straight lines to complement the contemporary design of the house. The irregular shape of the pool gives it another point of interest, making it an eye-catching water feature that follows the lines of the courtyard.
The pool's wet edge complements the modern design aesthetic by forming the smooth water surface and a modern, yet relaxing ambience in the courtyard. For essential maintenance, the pool has been installed with in-floor cleaning and an auto water filler, which ensures the pool is almost entirely maintenance-free.
A large swim-out has been built into the pool on the fence side, forming a shallow area for wading and relaxing. The spotted gum timber deck adds another dimension to the courtyard, creating a relaxing area for sunbaking.
The pool has been surrounded by natural sandstone blocks with straight-edge cuts. This is contrasted beautifully by the glass mosaic tiles inside the pool, which create a spectacular blue colour in the water.
At a glance
Tiling Bisazza glass mosaic
Filtration Astral RX400 sand filter with an Astral B x 1.5hp pump
Sanitation Astral VX9T salt chlorinator with reverse polarity self-cleaning cells
Pool covering PV3 automatic in-pool cleaning and circulation system
Heating Astral MX400 electronic natural gas heater and Swim More solar heating with separate Astral pump and automatic sensor controller
Lighting Five Spa Electrics recessed niche lights
Paving and coping Hand-dressed sawn sandstone
Fact sheet
Cantwell Pools & Courts
254 Lower Plenty Road, Rosanna, VIC 3084
Phone 03 9458 1902
Email info@cantwellpools.com.au
Website cantwellpools.com.au
Originally from Poolside magazine, Volume 43