A modern design married with a modern home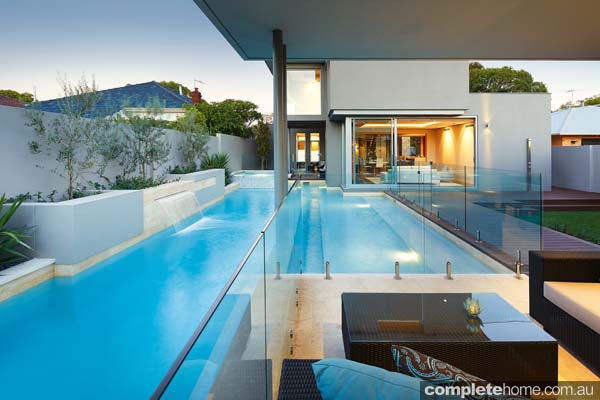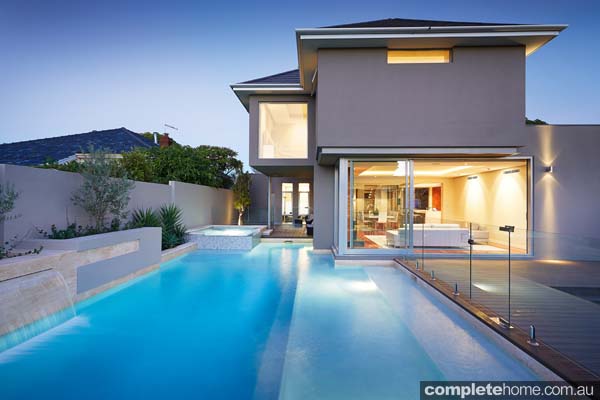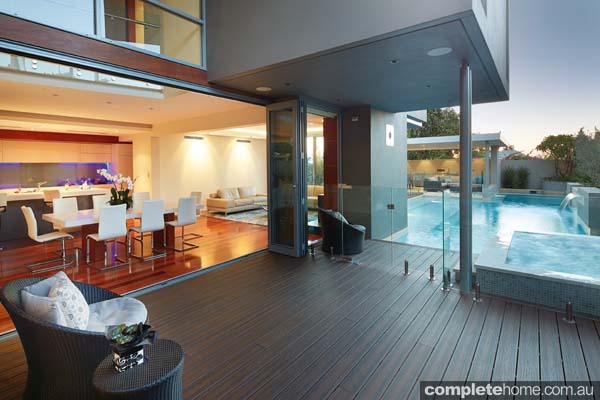 The featured pool/spa combo is a beautiful design that seamlessly blends with the owner's house. At 18m long, the pool caters to both the owner's exercise and relaxation needs while remaining a stunning aesthetic and functional addition to the residence. The adjacent spa occupies its own distinct space from the pool and is surrounded by frameless glass fencing, through which there is a crystal-clear view from the house, the entertaining area and the outdoor kitchen.
The water feature allows for the spa water to cascade into the pool, providing a lovely attraction for the children, and the opposite side of the pool is built with a seating area for those who wish to dip their feet in the water. Equipped with energy-efficient pumps, the pool also prides itself on minimising its carbon footprint and reducing the running costs of electricity, while the Dolphin robotic cleaning system ensures the pool needs next to no maintenance. The glass mosaic tiles in the pool's interior also inspire a vivid contrast with the wood composite decking, marrying the pool to the home.
The Quality Dolphin Pools team was started by John Conley and works closely with clients to both understand and realise their needs, however diverse. Through 3D drawings, the team plan their designs and watch the work come to life. Quality Dolphin Pools works on approximately 120 pools a year in the metropolitan Perth area and is a proud member of SPASA, HIA and MBA. Among its many awards are the Pool of the Year award, Lap Pools award, Pool and Spa Combos award and the Traditional Pools award.
Project details:
Heating systems: Solar heating Heliocol
Cleaning systems: Dolphin Robotic
Filtration: Austral 800 with glass with Viron P600 pump
Coping: Travertine
Tiles: Glass mosaics
Pavers: Travertine
Lighting: WN950 LED Multi Spa Electrics
Decking: Wood composite
Fence: Brick and rendered and painted
Designed by Quality Dolphin Pools
dolphinswimmingpools.com
Originally from Poolside magazine Volume 43