With an equally ambitious budget and timeline, this water tower conversion in central London is one of the bravest projects we've ever featured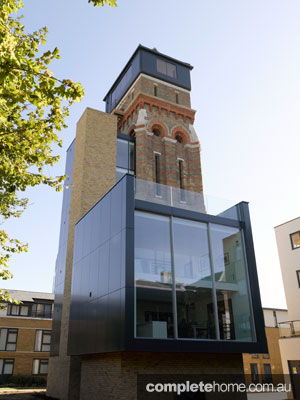 "This is going to be party central," says Leigh Osborne from what was — only months ago — a huge empty tank atop a Victorian water tower in Kennington, London. Now it's a spectacular living room that soaks up panoramic views of the London Eye, Big Ben and The Shard in one clean sweep. "It's probably the best living room in London," he says. "I know where everyone's going to be this New Year's Eve."
It certainly makes the climb, both literal and metaphorical, worthwhile. "I've never done anything on this scale — this was frightening," says Leigh, who develops and manages investment rental properties for a living. So frightening, in fact, that he and his partner of 10 years, Graham Voce, nearly let the building pass when it came on the market for £380,000 ($AU650,000). If it weren't for the calming words of architect Mike Collier, with whom Leigh has worked for years, the 30m tower would probably still be on the English Heritage register of buildings at risk.
"Mike was more important than we were in this project," says Leigh. "He reassured me that we could do this. Without him it would never have happened. He's been obsessed with the detail and done all the finishing. He's been terrific."
And he needed to be. The tower, which Grand Designs UK presenter Kevin McCloud referred to as a "monster", a "beast" and a "crumbling giant", was built in 1877 and had been empty for decades. There were gaps between the bricks, trees inching their way through the walls and hundreds of dead pigeons inside (plus the poo of many more, still alive). There were also two extensions to incorporate into the renovation: a four-storey cube for the kitchen-dining-living spaces, and a new tower for the lift and all the bathrooms, with a glazed link connecting it to the water tower.
And then there was the crazy deadline. Leigh had negotiated 12 months' access across vacant land owned by the freeholder so trucks, cranes and a small army of builders could get onto the site. However, this was whittled down to five months by the time he got surveys, drawings and planning permission in place. In the end, there was a bit of give in the agreement and the work was finished in eight months, but it was still a sprint of Usain Bolt velocity for such a complex project.
Leigh says there were several factors that allowed him to complete the project so quickly. "First, I've had great builders and a great architect. Second, I've had no holdups with planning or the local conservation officer. Third, I've had the money. And fourth, it's had me pushing it."
Graham, who runs a conservation charity and sourced much of the interior for the project, says Leigh's talent is to expand the limits of what's possible. Leigh says Graham's talent is to hold him back. "I don't have any patience and I can get completely carried away," Leigh says. "Graham is opposite to me in every way, which is why we work. And, luckily, Mike Collier is the same."
The downside of having to rush the work was that they had to hire a builder quickly, based on rough costs, rather than have a competitive tender between a few companies and get a quantity surveyor to finalise the costs. Mike hired builders he knew and trusted, with experience in conservation and steel work (essential for the large spans in the extension) and Leigh was a decisive client. But the loose budget spiralled on site and Leigh and Graham had little bargaining power to keep down the costs.
"Before you enter into a contract there's an element of competition," says Mike, "but once you're on site your hands are tied. There's nothing particularly bad about that — it's just the way it works. And the final figure is one that everyone is reasonably happy with. There's always a premium when you rush, I suppose."
Glazing alone cost £240,000 ($AU407,000), scaffolding hire was £60,000 ($AU102,000), and within the first half-hour on site the price for the foundations went up by £25,000 ($AU42,000) when the builders realised they would have to dig deeper. Plus Leigh and Graham spent £35,000 ($AU59,000) on a hi-tech audio-visual system that lets them talk to each other in different rooms, making this seemingly impractical home easier to live in. They also spent £25,000 ($AU42,000) on an air-source heat pump, which provides all their hot water and heating. In total, Leigh says they spent £2000 ($AU3400) more than the original budget for every day of the build.
Luckily, Leigh has deep pockets, thanks to a property portfolio built up in the 1990s when prices were low. "I had a well-paid job as a fashion-recruitment consultant and I was buying a property virtually every month for a year," he says. He was able to remortgage and sell some properties, borrow money from friends, and max out a scary amount on seven credit cards to get the building to its current state, where he can now get a mortgage.
So is the tower worth more than he spent? "No comment," he says. "And the fact is, nobody knows. The estate agent who sold it to me gave me a figure based on a hunch. But it doesn't matter because we're not selling. We're not going anywhere."
And how has the reaction been? "Crazy," says Leigh, who has been recognised in the street and had hundreds of emails and Facebook friend requests since the program aired on British television. "It's like living in a tourist attraction," he says. "People take photos from the ground and everyone who visits — even for deliveries — wants to go to the top. I'm humbled."
And as a self-confessed showman, he's also clearly chuffed. "It's been the most amazing journey. I've loved every minute of the filming and of doing this building and sadly they both finished at the same time. I keep thinking, now what?" Perhaps a more beastly conversion? "Definitely," he says. "I've got the bug. I'm ready to do another one."
PROJECT TEAM
Architect ACR Architects (acrarchitects.co.uk) Contractor Project 1 Design and Build (project1db.co.uk) Restoration and conservation Arc Restoration (arcrestoration.co.uk) Interiors consultancy Sue Timney (suetimney.com)
WORDS / Luke Tebbutt PHOTOGRAPHY / Jefferson Smith
From Grand Designs Australia magazine Vol. 2 No. 4