Each year, Australians spend millions of dollars renovating old terraces, either to make a profit as an investment or to turn their dwelling into a dream abode.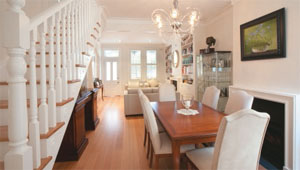 Justin Quinlan, managing director at Archengine Architects, says "The traditional terrace is not designed for the Australian way of life. It has heavily enclosed separate living and dining areas to the front (an old English model) with service areas to the rear, whereas most Australians gravitate towards their backyard. Also, most terraces were originally workers' cottages with poor finishes that invariably have not aged particularly well," he says. "The most common renovations address two areas; extending the full width at the rear of the property to create an open-plan living area with skylights running down the existing lightwell, and then upgrading the finishes throughout."
Top 10 tips for renovating terraces:
1. Understand your motivation: Are you doing this to make money or to have an amazing place to live in? These are two very different briefs, and when it comes to terrace renovations, it is very hard to achieve both. If you are doing the renovation to live in, run your figures on breaking even if you had to sell immediately, rather than making a profit. This will ensure you maximise the quality of the dwelling and are not left regretting the corners you cut. It is highly probable you will have the property for at least five years, after which time capital growth in the land should have given you a healthy profit margin.
2. Do a financial timeline: Frequently when analysing the potential yield on a development, people look at end sale value against the total invested capital and see a healthy profit. However, if they'd mapped out their finances, they would have noticed that the interest payments on the borrowed finance would effectively bankrupt them six months before the project was completed. Make sure you can reach the end comfortably, because there will always be overruns and delays of some kind.
3. Know your regulations: Just because your neighbours went up two floors and covered the whole site doesn't mean you will be able to. A significant amount of the regulations put on developments today are a reaction to poor development from the past. Make sure you're not basing your end-value figures on something that is unachievable.
4. Space versus rooms: With small sites, different factors come into play when looking at the potential end worth of a development. With a big house, every room adds additional value, however in a terrace the most important factor is the feeling of space. Don't sacrifice all of your room sizes, light and ventilation just to add an extra small bedroom. Be sensible with the space available.
5. Get the base building right: The terrace house is not an Australian invention. In fact, it is not designed for our climate at all. They are heavily internalised and have poor natural light and ventilation. All too often, I've seen terrace renovations that rely entirely on the quality of fixtures and finishes to add value. I would recommend paying close attention to the base building, especially if you are going to live there yourself. Maximise light penetration, cross ventilation, mechanical ventilation and insulation. You won't enjoy the finishes half as much if you are sweating in the dark. The finishes can always be upgraded later.
6. There's a car in the living room: These days, the standard terrace house renovation usually involves moving the living area to a new full-width extension at the rear of the site, with big bi-fold glass doors opening onto a deck. Usually the deck is barely two metres wide and completely open to the carpark. With the addition of the bi-folds it is going to feel like the car is in the room with you, so make sure you either love your car or ensure a form of screening, be it physical or vegetation, is built into the design.
7. Old school or new school: Traditionally, we suggest blending traditional features from the original terrace into the front few rooms and move to a more hardline contemporary architecture at the rear.
8. Use the attic: Terraces usually have generous roof pitches, so there is a readymade room up there just waiting for a dormer window and lining. The key here is relocating the stairs to the side wall. If you come up in the middle of the room there won't be much useable space left.
9. Some functions don't mix: We have frequent discussions with clients who are determined to have a powder room or bathroom downstairs in their newly refurbished open-plan terrace. No one wants to lock themselves in a cupboard next to the dining table, and the people at the table won't like it either. If you are going to keep a wet area downstairs make sure it is tucked away around a corner somewhere.
10. Avoid visual clutter: As with Tip 4, perception of space is the key. Keep the furnishings and the finishes light, bright and open.