Trends in interior design move forward almost as quickly as fashion. The good news is we're now seeing a return to times gone by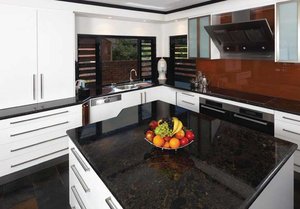 Identifying trends is never an easy task, but with the assistance of a designer, a design award jury member and an architect our job was certainly assisted. All we had to do was find the proof! The following feature delves into the key trends in homes at the moment and highlights how you can update your environment with a few simple changes.
Jonathan Richards of SJB explains why certain interior looks evolve and others move right along: "My take on that is that style moves as a reaction to what came before it, so in more recent years we had the really pared-back clean lines of the 90s. In reaction to that we went to an almost baroque aesthetic; chandeliers, intricate wallpapers, lots of colour. Now we've moved diametrically away from that. Blacks, whites, silver and natural materials; everything that wasn't there five years ago. It's a reaction against what they've just been doing and it'll keep happening."
In short, follow your heart, work with a talented designer who understands your taste and don't be afraid to be bold. Take a little inspiration from the following pages, but always avoid being a fashion victim.
1. Natural , Raw & Ethical:
People are still immersed in a "cocooning" phase. They are using their home as a refuge and shying away from the pace of the big bad world. This is particularly noticeable when we look to home furnishings and materials, especially in the heart of the home.
Jonathan Richards was a member of the jury in the Interior Design Awards for 2010. During the judging process he observed, "An apparent trend was the use of natural materials as opposed to man-made materials. We're seeing a move away from reconstituted stone to kitchens with solid timber benchtops and timber wall linings, and natural stone is being used more liberally."
Within that trend, we discovered a bit of a sub-category. "Green" awareness has been around for quite some time, but giving consideration to the entire efficiency of the manufacturing process is the latest development. "Designers are being more conscious in the design process to specify recycled products or those which have an environmentally responsible approach. Products are being chosen for low-energy manufacture," Jonathan explains, and his opinion is most definitely widely shared. "We hope [it] stays around and isn't a passing fad."
Key elements:
• Bamboo flooring
• Timber panelling and veneers
• Calcutta marble
• Leather and linens
• Vertical gardens
2. Juxtaposition:
With all these natural palettes and deep, dark backgrounds, we are already seeing a slight rebellion in the use of bold, bright colour splashes. Andrea Lucena-Orr describes what she witnessed in the Dulux Colour Award finalist projects: "We saw some entries that utilised saturated limegreens in a small quantity, which shows a freshness and vitality. Feature colours were still widely used, either to provide a separation to distinguish areas of the home or purely to create interest to an item on the wall or to accentuate specific colours."
Daring colours highlight unusual aspects of architecture, bringing to the forefront vinyl flooring, structural details or simply a favourite piece of furniture or accessory. Porter's Paints has released the new Fluoro Tang colour range, which they say "can accommodate the wildest colour scheme or can be used as an accent in a more muted, natural palette".
Colour is not the only way of opposing the norm, though. Clean walls and finishes are broken up with raw, rustic materials, and rusty surfaces become a feature in an otherwise slick environment.
Key elements:
• Splashes of super-bright colour
• A touch of rust
• Bold (vinyl) flooring
• Vibrant accessories
• Any jarring element
3. Black & White
One of the major trends identified by Jonathan Richards was boldness with black-andwhite in residential design. "A lot of the award entrants submitted monochromatic interiors with an absence of colour: black kitchens or black-black bathrooms reversed out on white walls or white floors. The high contrast in tone heightened the drama of the interiors and let the colour of the furnishings bring it to life."
But the drama did not stop with the walls and floors alone. "The black-and-white theme continued through to the selection of appliances and fittings, with many of the major retailers now providing a completely black range of kitchen appliances like Electrolux and Miele."
The combination of black and white is a very refined and classic look, but this new trend really mixes things up and results in a powerful, theatrical look. Andrea Lucena-Orr, Colour Planning and Communications Manager for the Dulux Group, has also identified the benefits of working with a darker foundation. "Charcoals or 'near blacks' are being used more in residential projects to create a sense of drama and a great backdrop to key furniture pieces." From this backdrop, whites and colours are really accentuated.
Key elements:
• Black walls and joinery
• High drama and bold combinations
• Whitewashed floors
• Black "whitegoods"
• Reversal of typical application
• Black cupboard carcasses
4. Adaptation:
From the shackles of past trends. Current designs embrace history, but reference it in a completely contemporary, often tongue-in-cheek, way.
Felicity Joll, Creative Director of Yellow Diva, explains: "We have recognised the intrinsic importance of good design and believe that carefully selected products should add value and meaning to our environments." As a result, we see antiques, modern classics and contemporary interpretations all coming together in these eclectic and sensational environments.
Felicity continues, "In response to, and to counter, our throwaway age we are now aspiring to create contemporary heirlooms: exemplary, original works to be treasured and handed down through the generations. I have plenty of treasures my parents and grandparents passed down to me. What will we pass on to our children?"
Predictably, this trend spreads wider than interiors. Products reference history with a modern twist. Skye Molyneux, director of Bleux, shares her thoughts on the matter. "There is nothing new under the sun, just different interpretations. And it's these interpretations that excite us because it provides a new way of looking at the iconic. It's also fun to challenge people's concepts of familiar designs."
Bleux's new Houndstooth wallpaper is the embodiment of this sentiment. "Our latest range of designs is based on fabric texture, but the twist is the scale. All of them look amazing when supersized."
Key elements:
• Classic and contemporary mix
• Iconic aesthetic with a twist
• Bold combinations
• Reference to history
SJB Interiors
interiors@sjb.com.au
Melbourne: 25 Coventry Street Southbank VIC 3006
03 9686 2122
Sydney: Level 2 490 Crown Street Surry Hills NSW 2010
02 9380 9911
Yellow Diva,
51 Victoria Crescent Abbotsford Victoria 3067.
03 9421 8844
info@yellowdiva.com