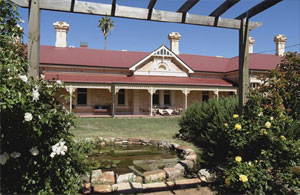 As you make your way from one room to the next in the South Australian property of North Bundaleer, the décor both transports you back through time and takes you on a journey around the world. The magnificent 1901 pastoral homestead, now run as a country retreat B&B by Marianne and Malcolm Booth, has had its accommodation rooms decorated in different themes by the couple.
"The rooms were styled by us," says Marianne. "In some cases the style was influenced by what we already had to work with, such as lovely tiles in a fireplace or original colours found under subsequent paintwork, for example. Additionally we were guided by the furniture we brought with us. As far as our style goes, we wanted the impression that the house contains an accretion of furniture and collectables that you would see had it been continuously occupied by successive generations.
"Each new generation will add particular pieces from their era without throwing out the precious things left by the previous generation. This way, you get an eclectic mix of items chosen for their appeal rather than because they match a particular style or era. I suppose this resembles the English country house style with an Australian interpretation."
The home's Red Room incorporates a Georgian-style canopy bed and has the adjoining Chinese Sitting Room with its Eastern influences and a bathroom built into the home's original conservatory. The Blue Room overlooks the rose garden and the ensuite bathroom has a claw-foot bath in front of an open fireplace. The William Morris Room, with its antique brass bed and ensuite including claw-foot bath, is decorated in typical Arts and Crafts style, while antique African artefacts adorn the African Room.
All these differing influences combine with the home's other grand rooms, such as the dining room, drawing room and library, without conflicting with them at all. The common denominator that brings all these styles together in the home is one of classic elegance throughout.
"One of the pleasures of the house is that we have many different spaces to enjoy, depending on one's mood," admits Marianne. "I don't really have a favourite but sometimes I will take a book and sit in the Chinese Sitting Room in front of the fire because it's cosy and intimate. I really like the drawing room because of its beautiful proportions and it is a very feminine room.
"My husband and I will sometimes sit and have a drink together in the library in winter in front of the fire. I love the dining room when we have guests. It comes alive at dinner when the candles are lit and the conversation is lively. Fortunately, I also love the kitchen. The Aga stove is a joy, which is just as well as I seem to spend a fair amount of time there," she laughs. "When the guests have gone I will often sneak into the Blue Room bathroom for a long, hot soak and a glass of wine in the bath."
While North Bundaleer is incredibly impressive today, there was a time not so long ago when extensive work was needed to both the property and the gardens to restore them. When Marianne and Malcolm moved from Sydney to South Australia in 1999 they commissioned a Conservation Plan from the National Trust Building Advisory Service to identify the significance of the property.
It traced the property's history back to its farming beginnings in 1841 through to the present day and was used in restoring the estate to its present grandeur. Historic photographs of the once ornate Late Victorian-style gardens were particularly helpful in enabling Marianne and Malcolm to resurrect them to their former glory.
"We managed the restoration and did a lot of the work ourselves," remembers Marianne. "But we relied on experts, where necessary, and employed a local stonemason and a carpenter, who worked on the homestead full time for almost three years. We also brought in trades from Adelaide to assist, as the project was so large, but did not use the services of an architect or designer for the restoration.
"We found signatures and dates of previous builders and decorators who had worked on the homestead hidden all over the building," says Marianne. "And all of the builders and crafts people who worked on the restoration project added their signatures, including ourselves — as wallpaper hangers. The building was originally completed in 1901 and the restoration substantially completed in 2001, exactly 100 years later, after it had remained unoccupied for almost 30 years."
Marianne has never considered herself and Malcolm to be serious collectors but she has been lucky enough to inherit a few things from her mother and some items from her great-grandmother. "Knowing their history has kept me connected, in a sense, with my heritage and this has probably caused me to want to continue to own things that have a history attached," she says.
"All would have a history, if only we knew what it was. When I inherited a bureau on my mother's death, I found a theatre ticket in one of the drawers dated May 4th 1799 to 'Mr Sedgwick's' at the Theatre Royal. I also found a letter dated 1867 from my great-grandmother to her mother, written in beautiful copperplate when she was only six years old. She mentions going to the Crystal Palace."
With a few more ideas in the works for North Bundaleer in the future, Marianne and Malcolm have also renovated a small cottage in Adelaide as a B&B. Because of its size it had to be decorated simply and in an uncluttered way to maximise space — and to remove the previous 1970s-style décor.
"It seems as though we both enjoy the challenge of taking something that seems like a lost cause and bringing it back to life," Marianne admits. "But I am not sure whether we will have the opportunity, or the energy to do any more," she laughs.
For more information or bookings at North Bundaleer, contact Marianne or Malcolm Booth on (08) 8665 4024 or email at stay@northbundaleer.com.au or visit www.northbundaleer.com.au