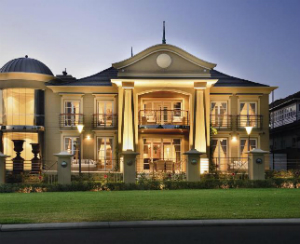 Exhibiting classic French design, this home is a stunning exhibition of style and comfort.
A master in luxury homes and a perfectionist in interior design, Palazzo Homes was the company the owners of this majestic home turned to for all requirements for their new residence. Palazzo is recognised for its expertise in luxury homes and apartment complexes and has won many accolades, so the client knew he could put his trust in Palazzo's hands, and with stunning results.
For a prominent and busy overseas businessman, the brief was to create a home away from home — but not just a holiday retreat. In the thriving and family-friendly city of Perth, the home needed to be fully equipped for extended stays — a home where the family could hold grand dinner parties in style and have plenty of room for visiting guests while being comfortable enough for quiet times spent with the family.
An essential element in the creation of this home was the collaboration between builder, architect, supplier and tradesperson, which helped to achieve a one-off design in exterior and interior features. Desiring a home that had an immediate aura of untouchable elegance, the design is of a classic French château style with a twist of modern Art Deco interior.
With a commanding presence on the site, the home resembles that of a luxury hotel more than a conventional home — and what better way to command attention than with a gorgeous foyer in soft, creamy shades, giving the space a vast aura made ever-present by the grand piano that sits near the charming staircase?
Off in the wings are the formal living and dining rooms, and the kitchen and informal living room. In the formal living area, neutral tones are a subtle complement to a space with impressive sofas and marble fireplace. Lighting features hang from the ceiling, providing the room with warmth and a slight contemporary feel.
The adjoining dining area works in much the same palette. Behind grand pillars and on French oak herringbone timber floors, this refined space features a heavyweight dining table fit for the most elegant of occasions. Dining chairs upholstered in delicate fabric create a beautiful touch.
From the living space, large glass doors open to an undercover outdoor setting. The exterior colours take on a more earthy tone than the interior, providing a definite transition from indoor to outdoor entertainment. A stainlesssteel barbecue area sits to one side while a white wicker table setting provides room for special outdoor occasions. Earthy shades are fresh and inviting. The outdoor living space overlooks the gorgeous swimming pool, built behind glass fencing, so a sense of space is still achieved.
In the opposite wing is one of two kitchens. Adorned with walnut cabinets and wall panelling, deep shades highlight the ruby and black granite benchtop and blonde wooden dining table. The space includes a lounge area where residents can simply relax on leather sofas in front of a built-in fireplace and flatscreen TV.
From the travertine entry flooring, you move up the marble and polished stainless-steel inlays of the staircase, all set under the internal "Vegas" skylight ceiling, to find six bedrooms. The interiors of each encompass classic French styling, with an array of golden tones, light pinks and browns, while lavish flowing curtains are the picture of pure luxury.
The pinnacle of stunning opulence is found in the master bedroom, where no expense was spared. Comfort was a major factor in its design, with throws and pillows in gold and rich purples and a stunning gold duvet enhanced by the elaborate bedhead.
Like a sun beginning to set, this unique and elaborate design is what sets this master suite — with its own terrace with gorgeous views of the Swan River — apart from the rest.
Nine bathrooms feature throughout the home in immaculate style. One standout feature is the stunning pattern-matched marble in the master ensuite, which allows the pristine white freestanding tub, amenities and cabinetry to really shine.
With the client's busy lifestyle taken into consideration, a meditation room complete with massage chairs was incorporated into the home's construction, and a large private study with ample desk and filing space shows the enormity of the house.
Needing to cater to a large family, this home has delivered a six-car parking area at the rear of the residence, off the private roadway. A stunning example of luxury home design, all effort was poured into this home to make it one of a kind. In order to create a home away from home, Palazzo was incessant in producing a sense of familiarity without losing outstanding style in the comforts of living.
PALAZZO HOMES PTY LTD Ground Floor, Palazzo House, 229 Stirling Highway, Claremont WA 6010 Tel: 08 9384 6100 Fax: 08 9384 6199 Email: palazzo@palazzohomes.com.au  Website: www.palazzohomes.com.au Photography: D-Max Photography and Karen Elizabeth Photography