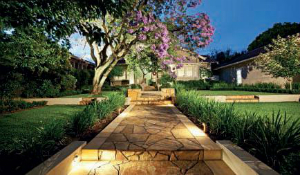 This graceful garden serves as an elegant entrance to the period-style house
By Karen Booth

Photography Patrick Redmond
Combining formal and contemporary design elements, the front garden of this Melbourne property makes a powerful impression, especially at night when the carefully considered lighting scheme utterly transforms the space.
The jacaranda is just one of many design features highlighted at night. This stately tree was retained from the original garden and integrated into the new design by Mark Rolton Landscapes.
"Creating an oasis was paramount to this design," explains Mark Rolton. "What we wanted to do was create a space into which the owners could escape. With their first steps through the garden's grand entrance, we wanted them to feel like they had left their hectic work schedules far behind.
"The garden was also designed to be representative of, and complementary to, the architectural style of the house," continues Mark. "In addition, the modern formal interior is reflected in every aspect of the landscape design, creating an effortless flow from inside to out."
Tree canopies envelop the house and surrounding garden. Wide paths, planter boxes and deliberate groupings of plants allow the eye to traverse the whole garden, making the walk to the front door like a stroll through a beautiful park.
The path from the front gate to the steps leading up to the house is stunning and features Castlemaine slate crazy paving with a sandstone border. All the sandstone garden edges were cut down to brick size and laid to tie in with the path, a painstaking task undertaken by Mark Rolton Landscapes, as was the rest of the garden's construction.
"Water storage was an issue for such a large property, as was trying to keep the tanks out of sight," explains Mark, "which is why we put a 25,000-litre rainwater collection tank under the lawn. This preserves the look of the landscape while providing the owners with a non-mains-water means of keeping the landscape looking lush between periods of rainfall."
From the concrete block retaining walls, rendered and painted to match the house, to the fringe planting and choice of paving, every element of this garden works in harmony with the other and complements the exterior look of the house. But matching the landscape to the architecture was only one half of the designer's goal.
"The owners both lead busy corporate lives. We wanted to create a calming garden so when they arrived home they feel instantly relaxed in their own haven and removed from the corporate world," says Mark. And this is exactly what they now have.