This unique opening systems strikes a balance between design and functional comfort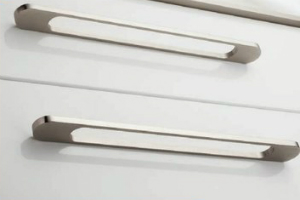 There are things in life that are so ideally suited to one another that you couldn't imagine them being any other way. The Grass Sensomatic Opening System from Häfele is one of those things. It is essentially two items in one. It combines the Sensomatic, which enables electro-mechanical opening of drawers with the Airmatic, the inimitable soft-close, mechanical dampening system. Together they are the ultimate partnership, combining to create maximum comfort in all parts of the home.
The Sensomatic device operates through touch. All you need is a gentle push to automatically open drawers. This opening system can be activated by a touch anywhere on the front of the drawer, which makes Sensomatic the perfect movement system. The action is even, precise and elegant.
An additional benefit is that Sensomatic offers ideal solutions for the furniture designer: the electro-mechanical opening system allows the use of handle-free surfaces, clean lines and simple elegance of form.
Sensomatic is also extremely frugal in terms of power consumption and the space occupied by the drive unit behind the drawer. It takes up minimal space and only leaves a small environmental footprint. Sensomatic ensures that each movement offers something for everyone — functional precision and ease of use to suit
your lifestyle.
The Sensomatic Opening System can be used for all applications including double-walled steel drawers, timber drawers, wire baskets, waste bin systems and even pantry units. All Grass Nova Pro Drawers up to 1200mm wide and 70kg weight capacity can be combined with Sensomatic, without having to modify the drawers.