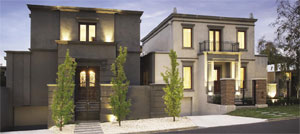 The site was small but the objective huge: create a pair of luxury townhouses, each with its own identity, while at the same time maximising the use of the land and allowing each home to comfortably accommodate a family of four.
Designers from Ravida set about their task with the usual consummate professionalism, coming up with a solution that was simple yet visionary, as well as incorporating a basement garage into the twin dwellings.
Basements in residential dwellings used to be the domain of huge Toorak mansions, but can now be found anywhere from Brighton to Kew to Balwyn. The reason? They are a space-saving phenomenon and not only that, they can drastically increase the value of a house and have the added bonus of removing unsightly garage doors from the front of a property.
In the case of Cleeve Court, Toorak, the basements not only provide ample off-street parking, but also plenty of extra storage. By freeing up the ground level, there was additional living space and room for important things such as an outdoor courtyard and entertainment area. One of the homes even has enough room to fit in the small pool.
The ground level of the homes comprises a central entry, formal lounge and dining areas to the front, laundry, study, centrally located stairs and a lift that is both practical and acts as a feature. Here, the family room and kitchen face north, overlooking the charming rear courtyards.
Meanwhile, upstairs there are three bedrooms, two with built-in robes and a third — the master bedroom — with its own ensuite, walk-in robes and a balcony to the front (in one of the townhouses, all three bedrooms have their own balcony). Other features include a home theatre, wine cellar and 3-3.2- metre-high ceilings, complete with decorative cornices that are a delight.
Stunning stained oak parquetry flooring graces the whole of the ground level, while antique timber entry doors add their own special beauty. There are elegant fireplaces, stairs with solid wrought-iron balustrading, gorgeous skylights and feature light pendants that are to die for. These are complemented, of course, by ever-stylish downlights to create an intimate yet thoroughly modern ambience. In the kitchen, luxurious solid timber cabinetry combines with antique marble benchtops that really make a statement.
And let's not forget the smart automation these homes feature, such as the innovative C-Bus smart wiring system, designed to make homes safer and life easier and, of course, the lift, which makes movement around the home just about effortless, effectively converting the three-storey dwelling into a single level at the push of a button.
Although each of these townhouses follows a similar floorplan, Ravida has succeeded in its bid to create two quite distinct homes, each with its own unique character and appeal. Then again, this is an experienced team, one that's been in operation for more than 30 years and has been responsible for building some of Melbourne's finest homes.
RAVIDA 1351 Malvern Road, Malvern Vic 3144
Tel: 03 9821 0244
Fax: 03 9821 0255
Email: info@ravida.com.au
Website: www.ravida.com.au
Photography: Michael Downes from Urban Angles