Exciting new trends in design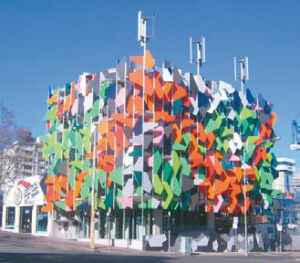 Pixel perfect:
Grocon's Pixel building, the first carbon-neutral office building in Australia, has achieved the highest Green Star score ever awarded by the Green Building Council of Australia. Pixel has achieved a perfect score of 100 points under the Green Star rating system for building design, with 75 points the benchmark for a six-star rating. It gained an extra five points for innovation. Included in Pixel's five innovation points were points for carbon neutrality, a vacuum toilet system, the anaerobic digestion system and reduced car parking. The water initiatives in the project mean the building could be self sufficient for water — in this context, the project is water balanced as well as carbon-neutral.
Alex Perry: 
Residential Recognising that fashion influences not only what we wear but also where and how we choose to live, Australia's leading fashion designer Alex Perry has formed a unique alliance with property developers Chrome Property Group to create a range of Alex Perry Residential apartment buildings. Designed in collaboration with Cottee Parker Architects, the Alex Perry Residential project will transform the corner of Ann Street and Chester Street in Brisbane's Fortitude Valley into a distinctive residential address, just metres from the Emporium and James Street retail and entertainment quarter. Design features include a glittering marble and chandelier-filled lobby; a rooftop Grecian-inspired pool and lounge area, and apartment designs in a choice of "blonde" or "brunette" colour schemes. Alex's role as creative director of the Alex Perry Residential portfolio will see him bestow his signature style on each building. He has applied the same principles to Alex Perry Residential as he does to his couture, incorporating his knowledge of proportion, scale, colour and texture to spaces, instead of bodies. The couture approach will provide something unique for buyers rather than the usual cookie-cutter approach taken by many of today's new apartment developments.
Lava: 
The Home of the Future will start construction in late 2011 on the rooftop of a new furniture mall in Beijing, China. An ETFE (ethylene tetrafluoroethylene) geodesic skydome provides a year-round microclimate that opens up the home to a garden filled with sun, light and fresh air, away from the pollution and noise of the city. Visitors will experience 15 different living spaces, from internal/external bathroom zones to kitchens flowing to vegie patches and barbecues to sunken bedrooms with dreaminducing lighting. At night, the home and tropical garden turn into an otherworldly experience, with the underlying technology, the electronic veins of the system, coming to life. The design is inspired by nature's efficiencies — corals, cells and bubbles — and creates an environment where technologies are invisibly integrated to satisfy everyday needs and senses. Its fluid design and organisational strategy based on cells is easily modified to suit specific requirements. The Home of the Future integrates the latest improvements in comfort and instantaneous information technology with a space that embraces nature. Chris Bosse, director of LAVA, says, "The Home of the Future acts as a metaphor for the questions of our times, our relationship with nature, with technology and with ourselves."
A'Beckett Tower: 
Sitting on a 900sqm block, the awardwinning A'Beckett Tower by Elenberg Fraser is a prototype for high-density residual infill. The transition from podium to tower is treated non-traditionally, with a thin veneer of apartments surrounding the carpark, which is accessed via elevators for cars, liberating the streetfront from ramps. With 347 louvres in 16 different colours, it is evident that Elenberg Fraser embraced innovative design and an elated colour scheme for this project. From the moment you enter the lobby and your eyes feast on the art by Daniel Crooks and John Warwicker, you realise this is not your typical inner-city apartment complex. The interiors of A'Beckett Tower's apartments embrace the anonymity of city life, allowing you to choose your own adventure. From inside or out, A'Beckett Tower boasts ground-breaking design.