This inner-city courtyard in Melbourne demonstrates that convenience and flexibility have truly reached the home entertainment arena.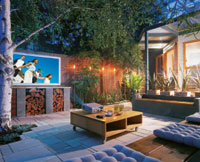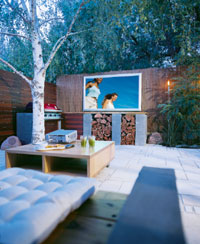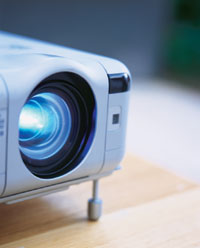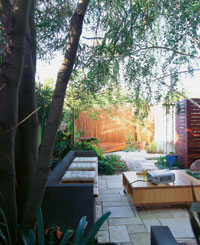 As part of their home cinema installation, the owners have incorporated the innovative gv Athena frame screen by Herma. This screen can be easily relocated into the garden during the summer months and shows that now even heavy-duty entertainment equipment is going mobile.
The gv Athena frame screen features a brushed aluminium frame finish and is normally situated on the lounge room wall. But through the use of EzyMount#, a system devised by Herma, within minutes the screen can be moved into the peaceful surrounds of the garden.
Although the screen isn't designed to be a permanent outdoor installation, an EzyMount# strip, which is powdercoated to match the colour of the fencing, is permanently left in place. An lp morgan Skyhook# projector mount is used to suspend the projector indoors and can be readily taken down and moved outside for screening.
For the final touch, waterproof garden speakers are installed outside, so the owners can simply switch through their A/V receiver to a separate zone to put sound to the pictures.
In this application, the gv Athena frame screen by Herma offers the flexibility to create an easily operated system that is tailored to the client's home and lifestyle. Demonstrating one of many applications of this versatile product, this project proves that as technology advances, so, too, do the opportunities for innovation.
For reputable installers visit www.cedia.com.au.
Photography: Derek Swalwell.