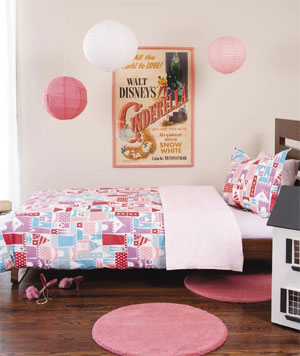 When planning a child's room it makes good sense to establish an adaptable base, for the room will surely be reincarnated several times over the coming years. 
"There is a garden in every childhood, an enchanted place where colours are brighter, the air softer, and the morning more fragrant than ever again." – Elizabeth Lawrence
Have you ever watched the face of child when, after giving their room a makeover, you open the door to reveal the space that will become their private domain? There is an unequalled aliveness to their faces, as if they are already imagining the pirates they will overcome, the ponies they will ride and the fairies who will visit. No matter what the colour scheme or the proportions or the furnishings, they seem to delight in the fact that this is their own private space. Should that space be decorated in their favourite colours, have their favourite toys on display and be adorned by their favourite characters, then all the better. If your child's room isn't keeping pace with their imaginings, let alone inspiring their play, it might be time to pull out the paint cans to give the room a magical makeover.
When planning a child's room it makes good sense to establish an adaptable base, for the room will surely be reincarnated several times over the coming years. Consider choosing versatile wall colours, flooring, furniture and curtains that can grow with your child, as these are the big ticket items. Add life with easily changed, and less expensive, wallpaper borders, feature walls, bed linen and accessories.
When putting your child into their first big bed, why not select one that will last the test of time, such as a classic iron bed, a sleigh bed or a Federation-style timber version? It's far more cost-effective to select your child's favourite age-appropriate bed linen than to select a pink bed plastered with decals that your little one will soon outgrow. A classic country-style bedside table and wardrobe (if you don't have built-ins) are great to add permanent country flavour to the room — no matter what is added afterwards.
The main reason for creating a shell that will grow with your child is that they are bound to want to include the latest "hot" character — be it Barbie, Bob the Builder or whoever. The minute a new superhero comes into favour they will be asking to redo their room. Save your sanity and money by limiting the really trendy must-haves to bed linen, which can be changed over relatively painlessly. You can make your dollars stretch even further by mixing a patterned character fitted sheet with a plain, coloured top sheet, saving the character flat sheet to cut up and decorate a student's chair, cushion, lamp shade and the like.
Another way to infuse fun into a child's room is to add some wacky trim to blinds and curtains. Big, pink bobble or oversized ric-rac braid for a fairy-themed room would look great or thick rope tie-backs on calico for a pirate's den. The mood can be built up layer on layer by adding amusing details.
A particular challenge for country decorators is in giving the room a country flavour and still keeping it fun for the kids. That's not so hard when they are very small; a little gingham or check in among the decorations, old prints taken from books on the walls. It can be a real headache when the children are a bit bigger and all that plastic starts to invade your country home.
You might need to relax your country standards a little and remind yourself that this is your child's special space. After all, if a bright pink and purple bejewelled fairy castle is the apple of your little one's eye and brings them hours of enjoyment, surely you can turn a blind eye to it when you enter the room.
A few special country ingredients can go a long way to countering the plastic invasion. A sturdy, safe toy chest — be it timber chest, trunk, old suitcase or a set of hat boxes — will help corral the plastic clutter. Plenty of timber, either plain or painted, will add country flair. Work some check fabrics into the scheme and some classic children's books that work with the theme. Use the vintage Golden Books such as Scuffy the Tugboat, The Little Engine that Could etc for a room dressed in tip trucks, trains and planes or some vintage Pookie books or those illustrated by the quintessential fairy painter Ida Rentoul Outhwaite for a fairy-themed room.
Be sure to include some good storage in the room, too, and the "less is more" philosophy should definitely apply to decoration. Just remember all the little treasures your child will add at birthdays and Christmas over the years and plan to accommodate them.
Flexibility is key to saving your sanity. If all else fails, close the door on the plastic. After all, it is their dream room, not yours.