Handmade glass, particularly beautifully coloured, has always been highly prized.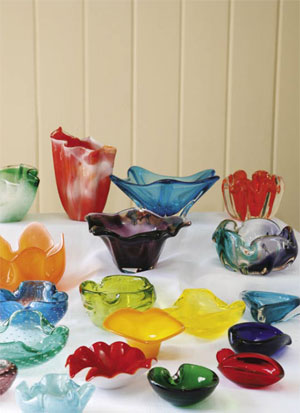 There is something very special about glass-making techniques and the individuality and fragility of each piece that makes us admire and want to own a piece for ourselves. Art glass and studio glass are areas of glass collecting that, while not appealing to everyone, do attract passionate and committed followers who will go to great extremes to further their collections.
Art glass is one of those collectables you either love or hate. It's not really for me. While I can and do appreciate the workmanship that has gone into crafting the piece, the bolder colours don't actually fit with my decorating style so I tend to leave them alone.
But there are many who would argue that this type of glass can work with any décor and that the bold colours are what attract them to this type of glass, so let's explore a little about art glass.
Like other collectables, there are varying qualities in art glass. There are also two periods of art glass that collectors can choose from. Firstly there are the Art Nouveau and Art Deco pieces by famed artisans such as Rene Lalique and Emile Galle. There are also the more contemporary, but still exquisite works of artists such as David Lotton, Mayauel Ward, Lino Tagliapietra and Dale Chihuly. There are also the much more modestly priced works of unsigned artisans from all over the globe.
Prices for art glass can vary from top-of-the-range signed pieces, which may sell for many thousands of dollars, to the works of lesser-known artisans and studios, which you can still find at markets and garage sales for $10 to $20.
Art glass is produced in almost every country in the world but some countries have become synonymous with it. Scandinavia and, in particular, Sweden and Finland had one of the strongest art glass communities of the 20th century including such sought-after names as Orrefors, Kosta, Iittala, Johansfors and Nuutajarvi. Of course the handmade glass of Venice and Murano is also known throughout the world and highly prized by collectors.
Here in Australia, the 1970s seems to have been the heyday of art glass, with many small studios producing beautiful works. To recognise and acknowledge these artisans the Wagga Wagga City Council has established the National Art Glass Collection at the Wagga Wagga Art Gallery, a permanent display of Australian art glass and the largest public collection of its type with more than 400 works.
For collectors, as with other types of collectable glassware, condition is paramount. Depending on the age of the piece, some marking is almost certainly going to show on the base and this will help authenticate the piece as original. But what you do not want is any chips, cracks or staining. Such damage will cut the value of the piece instantly.
Art glass is a specialist fi eld, particularly at the high end of the market, so it is well worth investing in specialist books and in seeking out other collectors to talk to. Fakes and forgeries of the better- known artisans are around so before parting with large amounts of money, research extensively the piece and the artisan. Top-end art glass can be an investment but with all investing, you need to know what you are doing. For those wanting to collect something that is handmade and colourful the lesser-known studio glass of the 1970s is a perfect place to start. Items are relatively easy to fi nd and can still be found fairly inexpensively. The jewel-like tones of the glass look magnifi cent when displayed in a group. A striking piece can also make a superb centrepiece or focal point.
Another possible place to start is with a contemporary artist. There are many such artists, including Garry Nash, Keith Mahy and Ray Ansin of New Zealand as well as Joanne Bone, Keith Rowe, Kevin Gordan and Matt Ryan of Australia. The works of artisans such as these are attracting attention from galleries and collectors but they are not yet in the many thousands of dollar price range.
To further your interest visit galleries, museums and exhibitions to learn as much as you can about the artisans you are interested in and to fi nd out how and where to make acquisitions. Visit antique fairs and antique shops but be ever vigilant for imperfections and damage. And if you are new to collecting art glass, remember: all collections start somewhere even if it is with one piece of '70s studio glass.