A classic home provides that little something extra.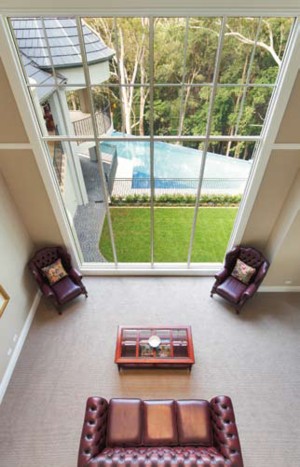 Despite strict development control plans from the local council, this grand residence stands tall and proud in the street and offers all the luxuries. Designed for the owners and their growing family needs, this five-bedroom masterpiece, designed by Justin Lowery and built by Lowery Group, is exactly what was required.
Externally, the home has a definitive look to its structure and form that Justin says is "provincial or more so American provincial". This is evident by the look of the façade including texture, style, window placement and attention to detail. Stepping over the threshold of the custom-made front door entry unit, one cannot help but marvel at the five-metrehigh feature window directly opposite. The window provides a sensational view of the pool and bushland out the back, while natural light is invited to flood through the home. Here by the window in the foyer, plum-coloured leather furniture sets the classic design trend that is inherent throughout the interior. Solid hardwood parquetry flooring is used throughout the open-plan kitchen, meals and living area.
The polyurethane kitchen is classic in form, with particular attention given to detail. There is a smooth flow to the home and even with its large area, it easily stays warm and cosy in winter, with the inclusion of three strategically placed fireplaces. Other notable inclusions of the home are the billiards room, home theatre room, home office and conservatory. The bathrooms are stunning in themselves, each lined with smooth marble which adds a touch of luxury. The oak on the cabinetry, bath façade and bordering the mirrors of the main ensuite contrasts with the feature basins and spa bath, continuing the classic period-style charm. Moving outside, a stacked-stone outdoor fireplace with outdoor kitchenette is the perfect addition with entertaining in mind. The alfresco area generates an indoors-outdoors ideal and the pool is a stunning design aspect in itself. Lowery Group was forced to work with a steep slope at the back and to incorporate the pool and garden area as requested by the clients, while still keeping within council's bushland protection policies, the pool is situated on piers.
The fence surrounds the remaining perimeter of the pool with the one side acting as a dropoff point. For more than 30 years, Lowery Group has been building custom-designed family homes, including alterations and additions, throughout Sydney and has once again hit the nail on the head. Over the years, founder Fred Lowery and his team have won several awards for both custom designs and outstanding quality. This provincial dream home isn't any different, with attention given to detail and quality. 
Overall, this is a home of distinction and with its stunning qualities, such as the feature window overlooking the back bushland and the hardwood merbau staircase, it is a classic home the family can be proud of.