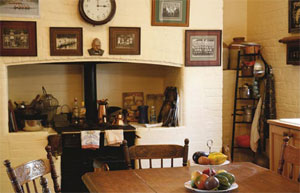 Every kitchen, it seems, is as individual as its cook.   
That the kitchen is the core of the family home is of no doubt to any child who has sat and done homework while mum prepared dinner, any woman who has caught up with girlfriends while making a cake or grandparent who has rocked a baby while stirring a pot. But what is at the core of our kitchens varies from house to house.
From the way we plan its layout to our choice of benchtops, no two kitchens are the same. While all may start with the same basic ingredients, each kitchen takes on a little essence of the homeowner until it becomes its own unique composition for food preparation.
This really struck a chord with me when I sat with friends stitching recently. One friend had just completed the renovation of her kitchen and we began discussing what made up our ideal cookhouse. Some dreamt of lots of bench space for displaying collectables and preparing food simultaneously. Others said they envied my separate pantry room to hide away any clutter. But, I think my friend Michelle hit the nail on the head when she said "Your kitchen has to fit you".
It's true that this room, perhaps above all others, must be right for you. If you've ever had a disappointing result from a dish cooked in someone else's kitchen, which is foolproof at home, you will know what I mean.
I know when I moved house, I was always looking in the wrong place for things as I had all my items huddled together in the pantry rather than in the work zones I was used to.
Not only do we organise ourselves differently, choosing open shelving rather than cabinets or drawers over shelves, we also decorate individually. Even among country decorators, the choices available are limitless. We can opt for sophisticated cream cupboards and black granite benchtops with stone floors, grand turnings and elaborate corbels; more rustic French-provincial farmhouse-style with timber benches; or simple white accents with soft pastels and myriad other combinations.
Decorating the country kitchen today is great fun, although a minefield when it comes to choices.
Timber can now be golden pine or dark walnut, benchtops can vary from sleek CaesarStone to rustic and hand-hewn. Even aluminium accessories are now on the agenda when mellowed with classic collectables. For every single kitchen accessory, there are choices to be made — right down to the humble dish rack. Remember a few years ago when the only acceptable country option was a simple timber rack? Now you can drain your dishes on French iron racks in one tier or two, sleek chrome vintage reproductions, enamel versions and more. It's little wonder no two kitchens are alike.
After the humdrum decisions are made for the kitchen necessities, we can option up our kitchen much like a new car. Do we want ceramic canisters or metal, a chrome kettle or a pretty one in pink, blue, cream or red? Do we want curtains, shutters or vintage leadlight windows? Tiles straight or on an angle? With a border tile or without?
Then there's the whole issue of additional furniture. Do we add a table to make our kitchen an eat-in affair or would we rather dedicate the space to a Welsh dresser for display? These are the personal choices we make that give our kitchens their distinct personalities and charm.
Sometimes these choices are purely aesthetic. Other times they have far-reaching consequences that demand a good bit of research and thought. I am still trying to decide on my choice of flooring, given the limitations of a part cement slab and part timber subfloor. This choice is not simply one of aesthetics, although that is paramount to the overall look of the kitchen. It is also one of comfort on tired (and ageing) legs. I have been seriously considering stone, but a friend keeps telling me this may be a less than optimal option when it comes to comfort. There is also the matter of maintenance and ability to repel stains. Although tedious considerations, these matters will be what stand out long after the new gleam has left your linoleum.
Another decision that sometimes awaits the country kitchen remodeler is whether or not to incorporate an existing fuel stove into your scheme or whether the space would serve you better if put to another use. This is a very personal decision and also not one to be taken lightly. If space allows, a fuel stove is a charming addition to the kitchen and will instantly add a feeling of comfort and homeliness that can be unequalled. It not only gives a focal point to the room and conversation starter to your chats but it can also be a great place to gather your favourite kitchen-themed collection. If the stove still works, it can also be a practical addition to warm your home in winter. But should space considerations win out, the hearth that housed your old stove may be better put to use as the home for a new electric or gas stove.
Don't forget about the kitchen dresser. The Americans call it a sideboard, in Wales it's a dresser and in Australia we often call it a buffet or a buffet hutch but in France they are known as vaisselliers — large, open-shelved units sitting above cabinetry and enclosed by doors. No matter what we call them, they have been a mainstay in the country kitchen around the world for centuries and early versions are much-prized by decorators and collectors alike. 
Our kitchen truly reflects of our personal preferences and prejudices. And, when we get it right, they fit us like the proverbial glove.