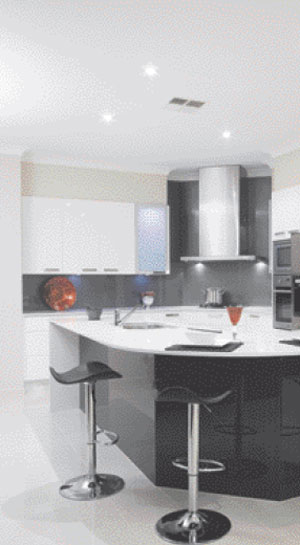 This wrap-around kitchen is a first homeowner's entertaining dream.
Owning your first home is a major milestone in life. Having the opportunity to plan a brand new kitchen rather than have the design and finishes dictated by a project home builder is icing on the cake. Such was the case with this owner who entrusted Ann Gillis with the design and Jacaranda Kitchens with crafting an exceptional kitchen masterpiece.
"Being our first home and working in the building industry, I wanted to achieve the best result to promote our building company and a prime saleable property," says kitchen owner, Adele Munroe. "The floors and walls were not a problem. I needed someone to design the cabinetry and make the most of the space I had. With the help of Ann's exceptional talents in kitchen design we have achieved a great result."
The owners, Adele and Chris, were very particular about what they wanted with two major stipulations: no join in the island bench and a room that would be the central entertaining hub within the home. This made the design a little more difficult, as the size of the island was therefore restricted. However, as can be seen, the layout works brilliantly and the owner loves to entertain in this space. With a simple yet striking colour palette, the kitchen welcomes family and friends into its space while plenty of seating around the island creates the perfect location to sit and chat with the owner as he cooks. The designer has cleverly wrapped the island bench to allow the owner to also enjoy the vista of the alfresco area.
In terms of fittings and finishes, the owner wanted something that would be timeless and wouldn't date quickly. Polytec Shannon Oak was used on the back of the island bench and adds depth to a solid space and blends with the metallic grey of the glass splashback. The kitchen truly is an entertainer's dream with masses of storage, an excellent layout to aid functionality and plenty of room for guests.