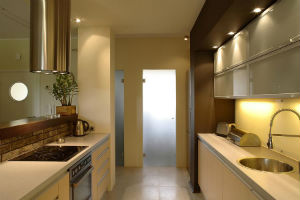 Lighting in general can change the mood in any room. See our handpicked selection of bright lights
Expert Advice
Greg Thompson of Häfele Australia sheds some light on how LED lighting saves costs in your home
Why do you think LED lighting in the home is so popular?
It's popular because the public are becoming so much more aware of the global position regarding greenhouse gases and global warming.
Another of the other major reasons is because LED lighting is so efficient, that although at this time the amount of light is less than some of the alternatives, you can use more lights to highlight features in the home. Pictures, cove lighting and accent lighting in kitchens are just a few examples. The low running costs and very long life of the LED allows for more ingenuity with internal and external lighting.
How do these lights look and function differently to other lights?
The LED is a light Emitting Diode that has been available for many years but only recently has the white LED been available. With the availability of the white colour, there are also different shades — for example warm white, cool white and daylight white.
These different whites are all popular but the warm white proves to be most popular, as this is the closest to a halogen. The halogen has been very popular and has been installed in a large number of houses in Australia and overseas.
There are major differences between incandescent, halogen and fluorescent lights. Incandescent globes have a filament that glows red hot when the light is operated. This produces 95 per cent heat and 5 per cent light, which is not very efficient.
Halogen is similar but slightly better, with the amount of light produced relative to the power consumption.
Fluorescent is the next best, although they cause major problems for recycling as they contain mercury. They also are slow to reach full light when first operated, and they require some time to warm up and reach full output.
What is so significant about installing LED lights in your home?
The most significant advantage of installing LED in the house is the 80 per cent lower running costs for lighting. No ultraviolet light is emitted (so this will not degrade pictures and furniture over time) and virtually no heat produced (imagine the savings in air-conditioning costs of a commercial building).
There are so many advantages to the use of LED lighting, and so far I have been unable to find any disadvantages.
You might just want to light your Christmas tree with them. While traditional bulbs on a tree will cost you roughly $6 to $10 in electricity for the season, LED lights will cost you a mere 13 to 17 cents, according to the Electric Power Research Institute. If everyone in the United States made the switch, both on trees and outdoor holiday lights, the total savings would be $250 million a year.
What is Häfele's view on saving energy through the lights that you use?
Häfele, as a worldwide company, has made lighting a major item for special attention and marketing over these next years. Many companies and individuals are emphasising the use of green materials, and Häfele has always been at the forefront of style and innovation.
LED lighting has become a major seller over the past eight or so months and we in Australia are finding that the LED range is already taking over from the sales of halogen lights, which are slowly dropping in sales.
This is largely due to the advantages of LED over halogen, one of which is the heat produced by halogen and the constant replacement of the halogen globes, which have a service life of about 2500 hours as opposed to up to 100,000 hours for LED.
For more information, contact Häfele Australia on 1300 423 353 or visit www.hafele.com
There are many benefits and advantages associated with using LED lights in the home, says Greg Thompson of Häfele.

? Little to no heat produced
? Super-efficient with very low running costs
? No ultraviolet light
? Flexibility with different types of LED lights for natural and accent lighting
? No harmful residues when being recycled
Fluid Dimension of Light
The new collection by Andromedia, Melt Meee, is a collection of dreamlike, fluid shapes coupled with the finest quality of handmade glass. Gianluca Vecchi reveals the inspiration behind the collection
Describe the design process?
Working side by side with masters like Tobia Scarpa and Philippe Starck, we gradually developed a sensibility that brought us to search for new ways of expression. It has been a natural growth and business maturity.
How do you feel the Melt Meee collection relates to design and function?
I don't need and feel they have to be functional. Instead, to me they have to be beautiful, to express emotion, to suit the dreams of the client and to make those dreams come true.
What precautions or thought do you put into making your pieces environmentally friendly?
By using as much low-consumption electrical components as possible.
How would you describe your design style?
Free from cages and trends. Our style changes constantly to suit the client's own needs. To redesign, to evolve concepts, to find new ways to express our needs. It is not an aesthetic style; it is a mental attitude to a project.
What are the trends you've noticed here in Australia when it comes to lighting?
Australia is definitely searching for its own style identity, developing a very interesting demand for clever products.
Describe the collection in five words or less?
Pure beauty, playful sensuality.
Light Up Your Home
Follow these top tips on how to best light up your kitchen and bathroom

Special Lights has a range of products available specifically for bathroom lighting, including The Pipe by Steng, which also produces the Optimal downlight system. The Pipe is ideal for mounting on bathroom mirrors and vanities.
Head of design services at Special Lights, here are Scott Fuller's top tips for lighting your bathroom:
? Ensure you select and light the key features or objects in the bathroom, ie, bath, feature wall etc.
? Reflected light can be sufficient to provide general light throughout the bathroom space, ie, a downlight above a white sink will reflect light under the chin.
? Lights can be used to provide more than one lighting solution — for example two downlights over a bath fitted with a high intensity lamp can provide both general light for the room, high visibility to the bath itself and act as task reading lights.
? Mirrors should ideally have a light source at face height that provides both reflected and direct light to the face, ie, a wall light set on either side of the mirror. Pendant lights are also very effective for this purpose.
? Floating cabinets should have a light under them. This enhances the floating effect and stops the area under the unit turning into a black hole. Attaching this light to a sensor allows the fitting to double as a night light.
? Feature walls can benefit from a 'wash of light' down the surface, which can act as a great source of general light. The reflected light will also have elements of the colour of the feature wall reflected into the space.
? Switching and dimming should be considered carefully for the bathroom. For example, when having a relaxing bath it is desirable to create a mood by switching off the downlights and dimming the mirror lights to a soft glow.
Along with bathroom lighting, Special Lights also provides products specifically designed for the kitchen. The Micro Pendents range from Heart Glas and the Herring range from Steng are some of the products available for the kitchen.
Scott's top tips for lighting your kitchen:
? Ensure you light the key areas within the space; pay special attention to work areas.
? Reflected light can be used to provide general light throughout the space, with a combination of cabinet lighting and/or pendant lighting used to achieve stronger levels of light where you commonly perform food preparation.
? Lights can be used to provide more than one solution. For example, micro pendants over an island bench provide both a decorative feature for the room and their positioning allows for clear, uninterrupted task lighting to the benchtop.
? Switching should be considered carefully for the kitchen. When using the area for cooking, clear task lighting is the highest priority. But as the kitchen becomes more integrated into living areas features such as pendants should be switched separately to allow them to be used independently for decorative effect.
? To eliminate dark cupboards, use a liner light running vertically through the whole height of the pantry, allowing light to illuminate each shelf.
? Place accent lights on kitchen feature areas. For example, an LED strip under the front of an island bench (correctly installed) will produce a nice soft glow in an area that is traditionally a black hole and often home to very expensive facing materials.
For more information, contact Special Lights on 02 8399 2411 or visit www.speciallights.com.au