The beaches of Blairgowrie and the rough terrain of the national park were the inspiration for this unique Inform Design home.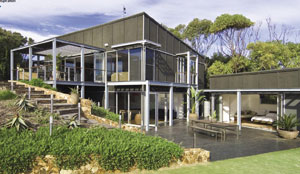 This house sits in a resort-style complex that was developed with a focus on a relaxed recreational lifestyle. The home was designed by Inform Design with functionality in mind and provides seamless flow, from the drive-through boat shed and car park area to the layout of the house itself.
Inside, the home is split into two levels, with the upper level housing two bedrooms, a main living space with fireplace, dining and kitchen. This upper floor also opens out to a huge deck with barbecue and outdoor entertaining area. The ground floor is abundant in space; there's two extra bedrooms, a dedicated pool room and separate TV lounge, providing plenty of room for leisure.
The home draws on simple and stark geometric shapes. These are diffused and softened by the skeletal nature of the attached balconies and pergola, as well as a careful composition of window openings. In fact, the concept plays with contrasting materials and finishes, mixing dark stain on plywood panels and chunky timber battens with galvanised steel and raw materials. This contradiction is further explored through the commercial aluminium windows and expansive areas of glass.
All in all, the home is distinct, yet fits in beautifully with the surrounding rugged landscape and other homes in the development. All materials are lightweight and, though juxtaposed with each other, meld with the landscape perfectly. This was one of the main requests of the clients to LMA Architects (who worked with Inform on the project). The clients also DOORSwanted to have the flexibility to accommodate a lot of people from time to time and function well with a busy house.
The indoor kitchen relates well with the outdoor barbecue and entertaining areas, and guests are also treated to privacy with a separate pavilion outside of the home. A tennis pavilion (also housing a king-sized bed) and pool provide a great recreational area with LMA Architects tying this area into the home and being mindful of the way each element sits in the scheme of the land. Both the pool room and the pavilion open via bi-fold doors to an enormous tennis court deck, which is a great space for gatherings and parties.
Oakleaf aged oak timber flooring was used in most floors and staircase. A combination of blackwood and stainless steel features in the kitchen benchtop and cabinetry. Stainless-steel appliances and the glass splashback give the area a strong contemporary edge.
Inform Design and Construction has created a truly unique and versatile home which boasts the ability to be a tranquil hideaway and welcoming entertaining space. This dynamic quality not only shows itself in the design, but also in the careful selection of contrasting materials. The team at Inform are experts in drawing the best out of the landscape and incorporating this into the character of the homes they build. It is this element that makes this house not only a functional residence, but a stunning home. –CHD–
Inform Design & Construction p/l
229 Bay Road,
Sandringham Vic 3191
Tel: 03 8567 3800
Website: www.informdesign.com.au
Photography: Andrew Lecky