Situated at Sydney's Whale Beach, this recently renovated property has made the most of its spectacular views.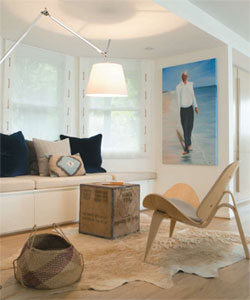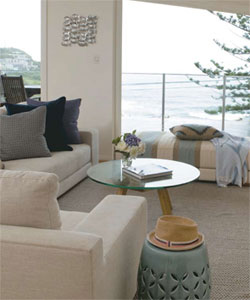 Ian and Julie were living in a home that their architect described as "a dog's breakfast" – a three storey dual residence, consisting of a self-contained flat on the top floor and very constricted, poorly laid out on lower levels – before they approached architect and interior designer, Brooke Aitken to help with their renovations.Situated at Whale Beach in Sydney, their property had spectacular beach views; however, it could only really be appreciated from the outdoor terrace because of the poorly designed layout of their home.
Brooke worked with Ian and Julie to create a liveable, relaxed beach retreat that's open to the sea views and ocean breezes. The internal layout underwent extensive alterations. The small galley kitchen and the dining and living room walls were knocked down to create a large, open living space, which is separated from the sizeable deck terrace by concertina doors.
The self-contained flat was converted into a family room, along with two ensuite bedrooms.
When describing the external layout of the property, Brooke said, "It was a massive form painted in a '70s brown colour with aluminium windows and odd roof extension and glassed-in terraces. The house was quite noticeable from both sides of Whale Beach." During the planning process, Ian and Julie decided not to make costly changes to the exterior of the house. They agreed with Brooke that the best course of action would be to remove the glassed terraces completely, along with the odd roof extensions, as well as replacing the existing rood and windows. Further improvements to the home's exterior included installing a spa and a grassed area as well as rendering and painting the property a dark charcoal grey with lighter grey trims and a dark grey roof. These changes have helped create an appealing and cohesive new look for Ian and Julie's home.
Brooke said the unique thing about this particular project was working together with Ian and Julie to redesign the home into a property that could entertain two other families without losing a sense of privacy. "There's a range of relaxing spaces spread throughout the residence," she concluded.
Get inspired by this home renovation