Old European buildings inspired the creation of a new brick range.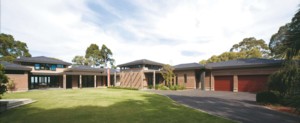 On half a hectare of beautifully landscaped lawns and garden sits an elegantly designed Daniel Robertson brick home. Established in 1853, Daniel Robertson has been supplying the building industry for more than 155 years.
The home was constructed by Sierra Hills Constructions, also a family business that has operated successfully for the past 10 years. Owner Adrian Sier, with wife Jodie, who is an interior decorator and designer, specialises in custombuilt homes, renovations/extensions and multiunit developments. Daniel Robertson's Roman brick range was developed when clients noticed the bricks in ancient buildings in Europe and in old English estates were slimmer than the Australian brick. At only 50mm in height, the Roman brick is thinner than the Australian-standard 75mm. This brick appears longer and enhances the horizontal dimensions of a building, anchoring a newly built home. Additionally, the use of this brick allows ceiling heights to be maximised when the building may otherwise look too upright with a standard brick. Robertson's clay bricks in both the Roman and standard ranges are fired for tonal variation and have a textured rustic face. Before delivery, the bricks are hand-sorted into packs to ensure the correct balance of tones appears in the finished wall. Hand-sorting enables Daniel Robertson to custom-blend bricks to clients' requests.
The brick blend selected for this home is Hawthorn Tan, a blend of rich desert tones, rusty tans and sooty blacks. The rustic clay bricks and the rough-sawn "fat" ironbark posts texturally complement one another in their natural setting. The clever mix of architectural design emphasising horizontal planes, the use of natural products and master craftsmanship has culminated in a truly elegant home comfortable in its surroundings. Daniel Robertson is renowned for producing old-style bricks with an aged character, sought by discerning clients. 
Many of Melbourne's finest homes have been built with Daniel Robertson's stunning bricks.